delete
delete
Originally Posted By Ekie:




Originally Posted By Atomrally:
Here's a contradiction to all the lovely FAL's on here, my dirty old 1962 Australian built, Ex-New Zealand Army L1A1.
Not much blue left on the old girl. She has a new gas tube, otherwise original.
Still shoots very well in Service rifle matches, and can occasionally do OK in 3-gun.

Rumour is our SAS boys have been using them (New ones of course) in Afghanistan for that extra range compared to the current mouse guns...

i12.photobucket.com/albums/a223/Atomrally/L1A1.jpg




Very nice SLR, I like it.
I agree, Old and old school. Nothing wrong with it.
(remember it's a real military rifle, not a civilian copy
)
Here's the one I bought back in 1988, Like the one above, from the NZ Army.
Great L1A1's :) of all the FALs, its the inch pattern I like the best ( I have had a 50.00 and 50.63 metric models in the past)
Here is my SLR with my RRA Tactical Entry
and mine with a SUIT and Browning, Para smock and MK6 kevlar
SA58 Medium Contour
G1
Imbel
Back in my younger days as a humble trooper.
Current toy. South African R1 parts kit, DSArms upper receiver. IAR sight.
NTM
Excellent photography of that shiney beast
Indeed.... Sweet pic. Show us more of it...
Rmpl
Originally Posted By Rmplstlskn:

Indeed.... Sweet pic. Show us more of it...

Rmpl
Side photos
More photos
Close-ups
Form code mix up
Double post
L1A1 built on an Enterprise Arms receiver with a new Australian barrel and bolt. I refinished it with Norrells MolyResin in Socom black on the metal parts and Duracoat Matte black on the plastic.
Custom SA58 built by DSArms:
New 18" Imbel hammer forged, chrome lined barrel
Short Austrian FS
Lt Wt aluminum lower receiver
L1A1 style selector
Paratrooper Adj. sights with tritium inserts
M249 SAW grip
Full length handguard and upper rail system
L4A1 magazines
IOR M1 4x24 with drugunov reticle in IOR steel mounts
This is my SHTF weapon for Zombies or rabid dogs(democraps).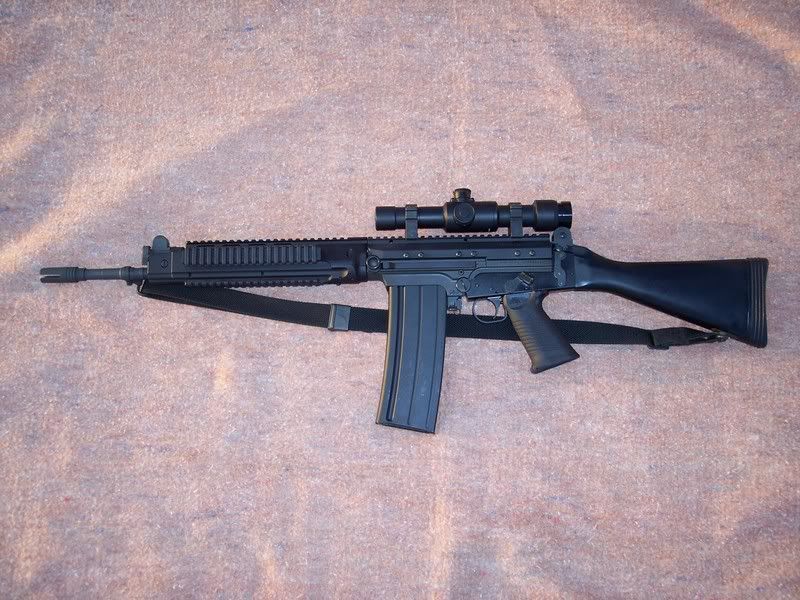 The latest addition......
"KISS" Para.....
My new G1 Is this sling backwards?
Just for fun
WOW
, I didn't expect to see one of these again! That G1 rifle has once been issued to the police in the City of Hamburg.
In that last pic of kiwicollector's post one can clearly see the X-ed out possession mark of the Hamburg police, which is the little castle in front of the serial-#. Compare it with these pics of my issue SIG-Sauer P6 and HK MP5 (I'm a LEO in Hamburg since Feb.1987):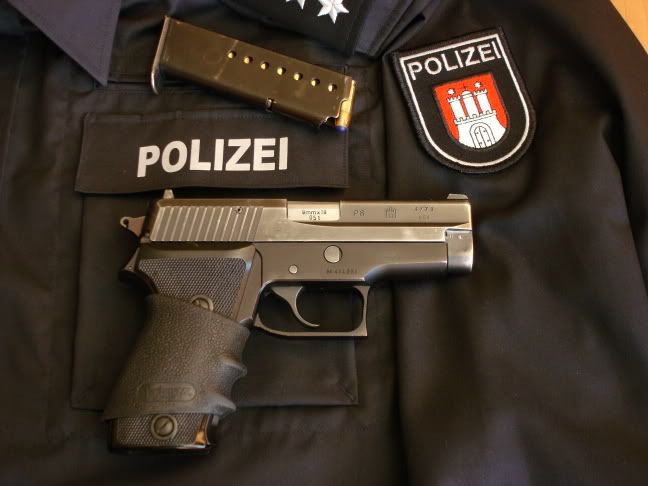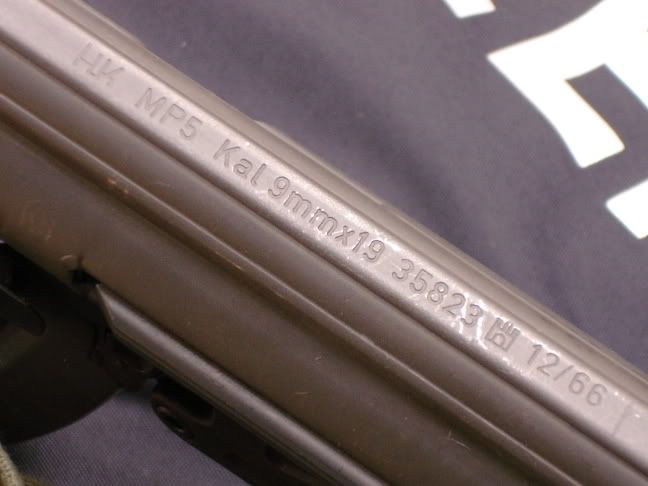 The little castle-like heraldic emblem is the official sign for Hamburg (you can see it on the shirt's sleeve patch as well).
I've received training with the G1 rifle in the fall of 1989, when I entered the "Bereitschaftspolizei" (riot police), after having completed 2 1/2 years of police academy and an introductory phase.
The presence of G1 rifles in the police inventory has been a relict of the cold war. The G1 rifles were former Bundeswehr equipment, given to the police after the Bundeswehr had completed the adoption of G3 rifles manufactured by Heckler & Koch and Rheinmetall in the 60ies.
I've been among the last batches of officers to be actually trained with the G1 in Hamburg. After the fall of the Berlin wall in Nov.1989 and the german reunification in Oct.1990 the G1 rifles in Hamburg were kept in storage for some time and were then given back to the german government.
I always believed that they have been scrapped due to the harsh german export laws for guns, and therefore wouldn't have expected to see one of them again (converted to semiauto, as one can tell by the roll pin blocking the selector lever).
I remember that we had small teargas-grenades that were meant to be propelled with the G1. The grenade was called the RW70/4 (RW = Reizstoffwurfkörper), it was about 6-7 inches long, was red-colored and looked like a rifle grenade (complete with fins contained in a ring). When firing the RW70/4, the G1 rifle's gas valve had to be turned from "A" to "Gr" and the grenade was propelled by shooting a special blank round.
Having served in the Bundeswehr in 1984 and 1985, I knew the G3 rifle as well. I was never sure, which rifle -the G1 or the G3- I would've prefered if the s*** hits the fan. Each rifle had its good points over the other (the G1 was easier to clean, had a better trigger feel, featured an open bolt after the last shot, had a little easier to manipulate controls and had a bipod; the G3 was shorter, could be easily equipped with a retractable stock, had a freefloating barrel and a much sturdier magazine; I liked the sights on both and would've felt well equipped with any of them in combat as I could shoot them both accurately).
kiwicollector, if you're reading this, please tell me, is that your own rifle in the pics? If so, do you know how it came to NZ?
.
From_HH thank you for the detailed information on your experiences with the G1! Its great to hear some of their history from someone with first hand knowledge.

Yes the rifle is mine, I only purchased it recently from a gent who has owned it since it first came in to the country in the late 1980's. He believes that he brought it in 1987. Since the last owner was ex-NZ army he wanted a SLR type rifle as a memorial keep-sake.

Going by changes in our gun laws in the early 1990's (there have been no more significant imports of semi-automatic rifles into NZ since about 1990). It is fairly safe to assume that it arrived here no later than that.

Since the rifle has no British Nitro proofs, is all matching and does not have a US importers mark on it, I believe that it came directly from Germany. I have seen at least three other G1's in the country and there is presently one for sale in Christchurch (at an exhorberant price). But I didn't have the presence of mind to inspect them closer at the time.

I'll ask around and see if I can find out who the original importer was.

Cheers

Bas
Thank you for your answer, kiwicollector!
No need to tell me about stupid and senseless gunlaws. We've suffered through different versions of that nonsense over the last decades here in Germany too. What used to be an evil no-no yesteryear is good to go today and vice versa
.
Unfortunately there's no way to legally convert post WWII fullauto weapons to semiauto here in Germany (there's a "once a machinegun, always a machinegun"-rule for them). Only WWII all original fullauto guns may be converted to semiauto. Post WWII designs can only be had as clones, meaning that they have to be produced as semiauto-only guns from the start up and they have to be rated as "non-machinegun" by the Bundeskriminalamt (= the german FBI equivalent). Therefore we cannot take advantage of converted surplus rifles like the G1 or StG58. The newly manufactured G3 or AR15 clones from manufacturers like Sabre Defence, Oberlandarms or Schwabenarms are somewhat expensive. To keep it affordable, I stayed with M1 Garands so far (having a lot of fun with them too
).
Although I don't think that any G1 rifles from Hamburg were given away before 1990, I'd better try to verify that with our armory sometime soon.
I enjoyed all the nice photos of your G1!
regards, from_HH
.
That's exactly the type of FAL I'll have one day.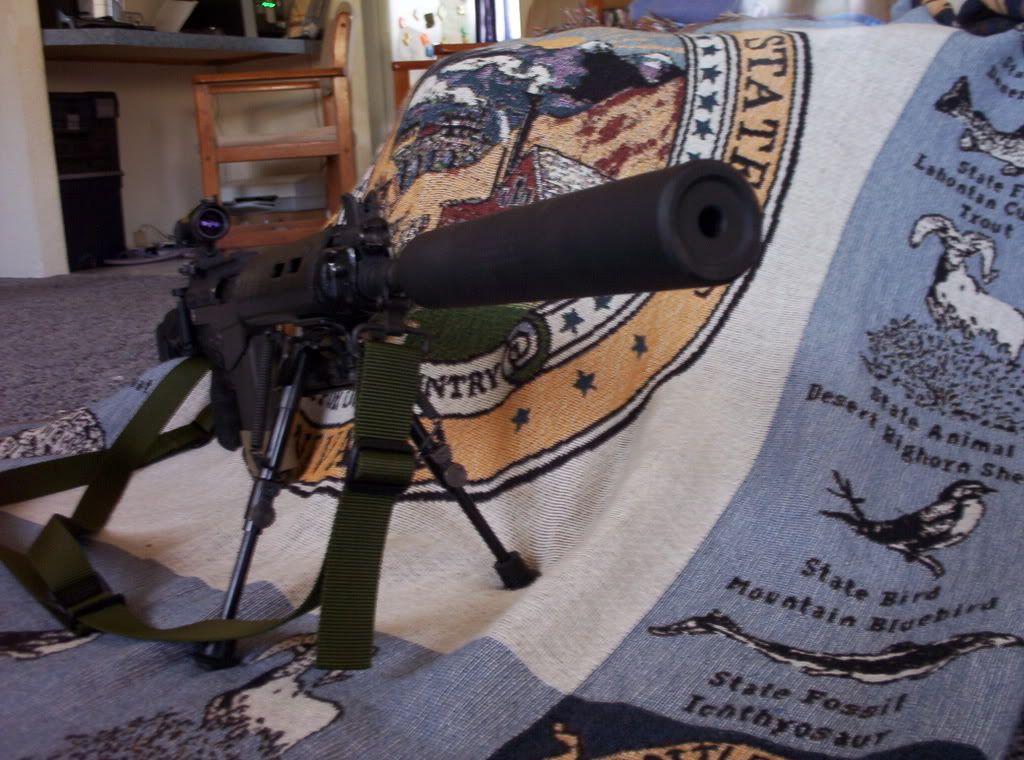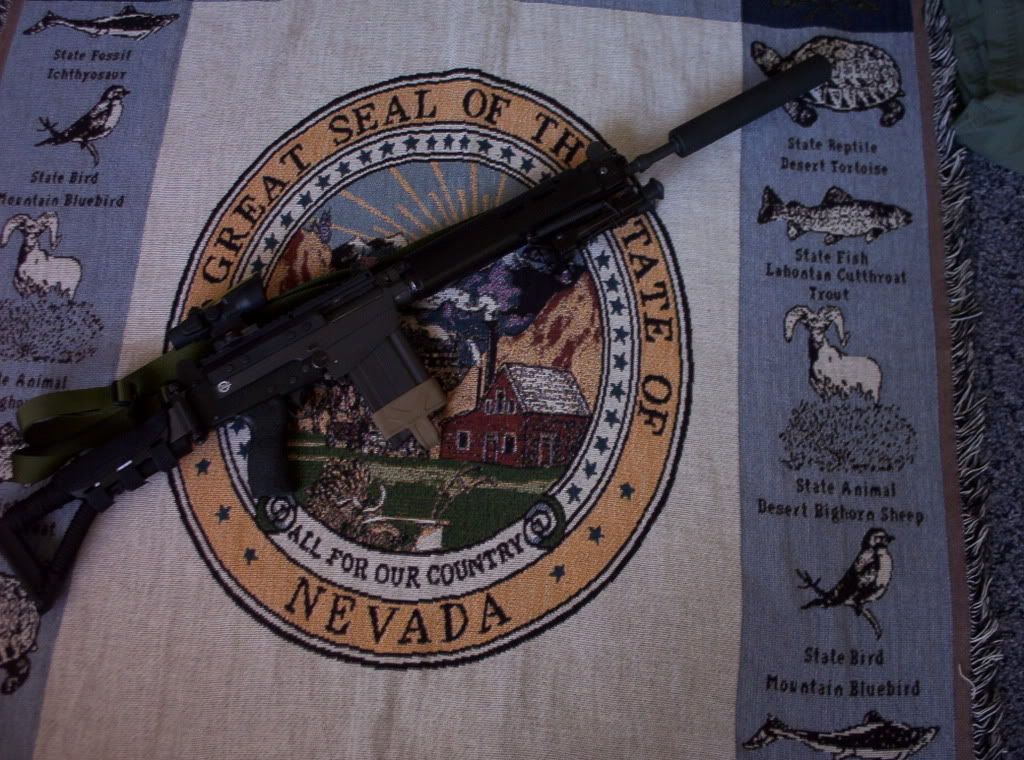 Mostly Imbel PARA FAL.
DSA 16" barrel, FALCON T/H/S with TPR (makes the trigger absolutely awesome by way of comparison to the original!) gear logo receiver and Imbel para stock assembly.
DSA extreme PARA scope mount, Trijicon Compact ACOG + amber reticle on Larue QD mount.
SAS .30 Suppressor. Specter 3pt sling.
MY FAVORITE RIFLE IN THE WHOLE WORLD!
I changed out my Eotech for an Leupold 1.5X5 scope. I really like this setup better.
I agree, Old and old school. Nothing wrong with it.
(remember it's a real military rifle, not a civilian copy )
Using the old girl, Ex NZ Army 1962 L1A1 at a small club shoot, and struggling abit at 300 yards (Operator issue only) It was a soggy windy day.