This is my take on the "possibles bag" as carried by frontiersman. It provides a basic survival kit for use when on a day hike or could be kept in a vehicle. It's designed to help provide me with basic shelter, warmth, water, and food for two or three days.
The bag I used is a an EOD Utility Bag or mine bag from Countycomm.com. Here's a look at the front of the bag: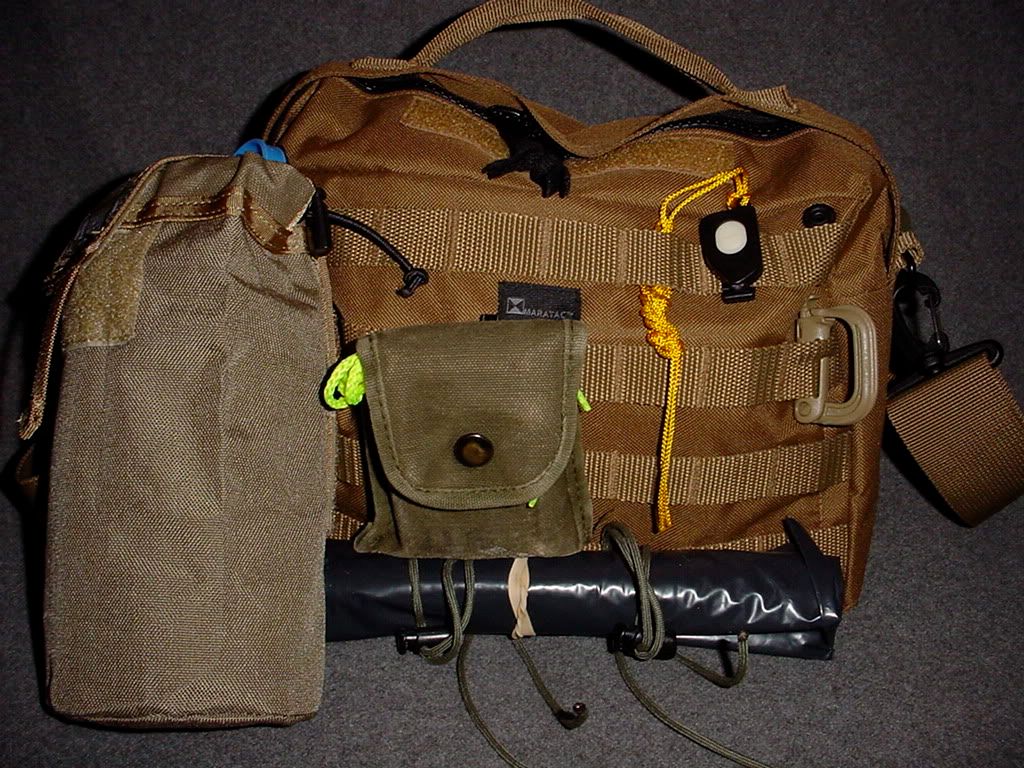 As you can see, the bag has rows of PALS webbing on the front (it's also on the bottom and back). Attached to the webbing I have a Maxpedition Mini Roly-Poly bag containing a 32 oz. Nalgene bottle of water, a Brunton compass in an old USGI pouch, an SO-LED light from Countycomm, a Maxpedition Grimlock carabiner, and a heavy duty contractor's garbage bag. The garbage bag is for use as an expedient shelter or poncho and attached with some paracord.
Here's the back: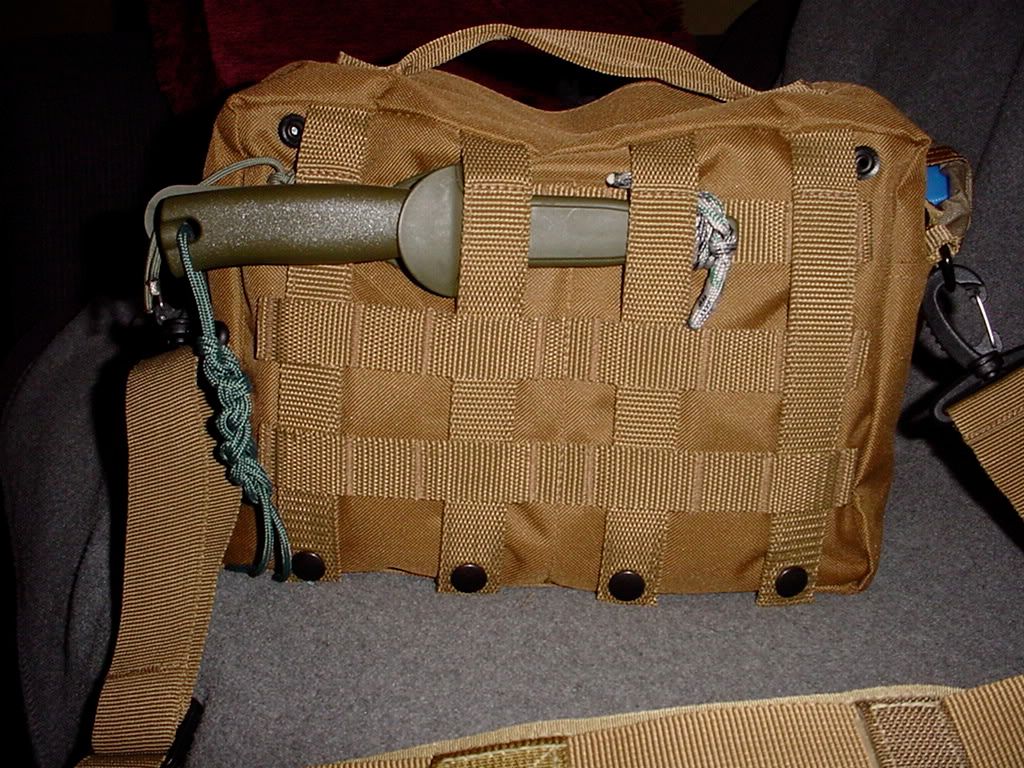 It's not very visible in the pic but I added a Maxpedition pad to the shoulder strap to help distribute the weight.
I've lashed a Frost's Mora Swedish Army knife to the PALS webbing using some paracord. Moras are great bush knives and very reasonably priced, under $15 each.
Next, a peek inside, and then a look at some of the contents:
Left to right in the top row:
-Olicamp stainless steel cup (a 32 oz. Nalgene nests into it, but the cup won't quite fit into the water bottle pouch)
-Ziploc containing some paracord, flat pack duct tape, a P39 can opener, and several large safety pins
-Tobacco tin containing fatwood tinder and REI storm proof matches
-Esbit stove with hexamine fuel inside it
Middle row:
-Ziploc containing a basic first aid kit
-Ziploc containing Moleskine notebook and a pen
-Ziploc containing a bandana and some tissues
Bottom row:
-N95 mask
-Two light sticks
-Space blanket
-Task force 3xAAA LED flashlight in pouch
Here's a look into the tin: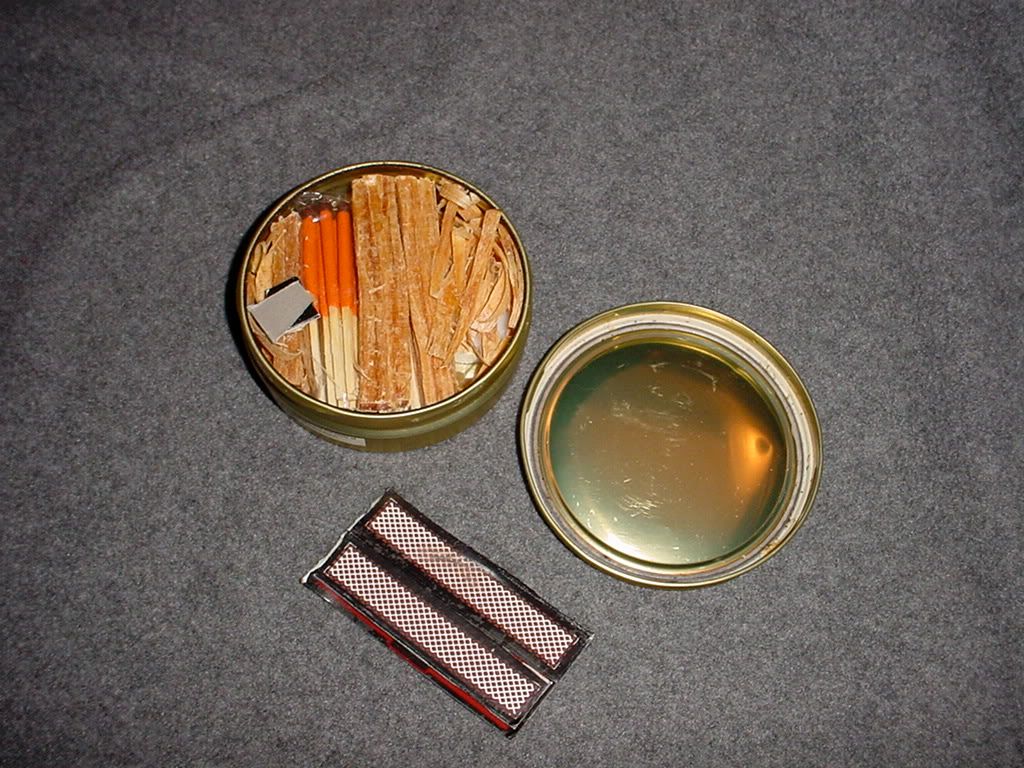 It contains a pack of REI storm proof matches, the strikers from the match box, a couple pieces of cardboard from the box, and fatwood, both sticks and shavings. Fatwood, or pitchwood, is pine that is saturated with pitch (sap). It burns very hot and is easy to ignite, greatly assisting you in getting a fire going.
Here's the rest of the contents:
-3600 calorie Mainstay ration bar pack
-Ziploc with some tea bags and boullion cubes
-Ziploc with water purfication tablets, a tealight candle, Swedish fire steel, and 35mm film container of cotton balls impregnated with petroleum jelly
-Pocket straight razor and Pocket SERE saw from Countycomm
-Whistle with a compass and thermometer
There is still some room left in the bag for me to pack a lunch and a spare pair of socks.
The EOD Utility bag is very well made and a great deal at under $20. Likewise, the Maxpedition Roly-Poly pouch is quite well made and the MALICE clip attachment is secure.
This is not a comprehensive get home bag or bugout bag. Rather, it's intended for use on dayhikes or if for some reason I needed to grab something light and compact which could keep me going for a couple days.