NOT!
---
Originally Posted By HighCaliber:
Seattle sank and was built over. If you go downtown you can get a tour of the Seattle Underground.
---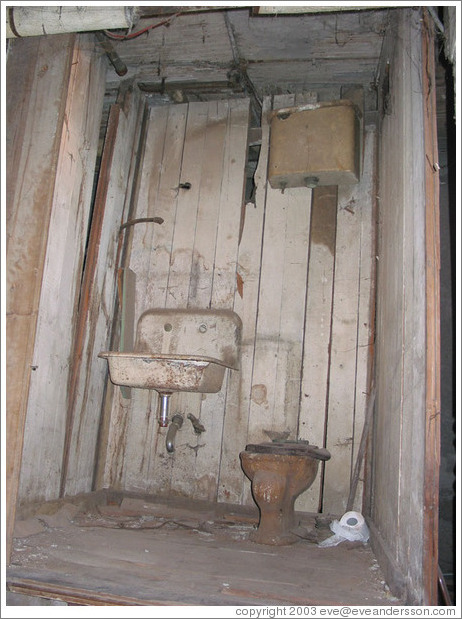 Seattle History Underground
By Barbara Smith
A slightly weather-beaten sandwich-board sign stands on the sidewalk in Seattle's Pioneer Square. Thousands of downtown office workers walk past it daily, most paying no attention to its ad for an "Underground Tour." Anyone interested in history only needs a glance at the sign's "Guided Walking Tour, Seattle History" to know this is something to check out. The sandwich-board entices 150,000 people a year to venture into Seattle's subterranean past.
"We're here today celebrating stupidity," guide Barb deadpans in her introduction to a 90-minute tour under three blocks of downtown Seattle, a walk as entertaining as it is informative. This isn't an excursion for people clinging to the notion history is dull and dry.
Motivated solely by profit, Seattle's founding fathers set out to build a town on a 1,500-acre mud flat. In their aesthetics-be-damned town, slapped-together frame buildings stood on wooden stilts. Heightening the ramshackle look, the town was criss-crossed by sewer and water pipes made from hollowed-out scrap logs propped up on wooden braces. Dollar signs maybe blinded the first settlers to how ugly the place was, but it's hard to understand why no one spotted the obvious—they'd built a fire trap. On June 6, 1889, a fire turned Seattle into ashes. This could have been the chance to start over, to raise the land at least to the point where the replacement buildings didn't have to stand on stilts. But, Barb explains, they rebuilt first and then raised the land around the new buildings, creating the "Underground."
We tour group members exchange looks. Either the guide is kidding or her "celebrating stupidity" phrase is no joke. Descending from the sidewalk on a crumbling cement staircase, Barb explains the area we're going into is condemned—and has been for nearly 90 years. She has our attention now.
While our eyes adjust to the sunless cellar my first impression is, yes, this place looks and smells exactly as you'd expect a place condemned for nearly 90 years to look and smell. And along with the dank aroma, there's a story of an old, abandoned city below-ground.
Here are storefronts, windows, doors and sidewalks where they shouldn't be, architectural oddities silently testifying to logic motivated by greed. Then something stranger still catches my eye. A toilet. Not just an ordinary toilet, though. Of course it's old and dilapidated like its surroundings. The strange thing about this toilet is its placement atop a raised platform. Although the fixture's elevation invites the inevitable quips about a "throne," it also appears to make the modern convenience extremely inconvenient. Imagine scrambling up some four feet or so every time nature calls.

But installing a toilet at Seattle's original ground level was an invitation to disaster. Until the land was raised above sea level, successfully flushing a toilet depended upon the tides. When the tide was out, ground-level plumbing worked well. When the tide was in, one flush could result in an impressive geyser shooting from the bowl. To avoid this, toilets were built on platforms. As an extra precaution the daily newspaper ran the tide schedules on the front page.
Walking the passageways past rows of underground windows and doorways, I realized the city must have looked even stranger once the new buildings were up than it did before the fire; all new stores and office buildings had big fancy entrances one story above the then-current street level. Stranger still, there would have been no obvious way of getting up to those fancy doors. At street level, however, beside the boardwalks there were also windows and doors. The lower entrances, the ones accessible while all the road raising was going on, were much smaller and less elaborate.
There was at least a convoluted sort of reasoning behind this. The plan was to get the buildings up as quickly as possible to get the economy moving again and then raise the level of the streets a story. The more decorative entranceways would then be at street level and the lower, plainer first stories would become basements. The plan worked, to a degree. Once the street level was raised, businesses moved up to the new first floors.
As these moves took place an additional problem surfaced, or rather, didn't. Businesses that couldn't move up for one reason or another were buried. The city fathers wouldn't hear of a money-making venture being entombed while it was still pumping cash into the community, so they needed a way to get the customers down to the buried stores. The solution they chose was simple and, of course, inexpensive—ladders were placed at each street corner. When darkness in the lower levels became a problem they set glass blocks here and there into the sidewalks above so sunlight could filter down.
The downtown core of Seattle operated on this two-tier system for nearly 20 years, but business on the bottom floor soured, and the area became unpleasant and eventually unsafe. Finally, in 1907, the original first story of Seattle's reborn downtown business district was condemned. Human nature being what it is, condemning the area didn't keep people from using it.
For years Seattle's homeless called the place home. And that might have been the end of the story if not for a reader's inquiry in the "Trouble Shooter" column of the Seattle Times on August 3, 1964: We have read several times about the early day Seattle storefronts and sidewalks which are still intact underground in the First Avenue and Yesler Way vicinity. Are tours of this interesting area available to the general public? -- N.P.
The columnist replied:
Tours are not conducted on a regular basis, says William C. Speidel, who has served in the past as guide for small groups. Speidel says he hopes future tours can be planned and suggests that interested persons write to him in care of the Pioneer Business Men's Association . . . so that they may be informed when a tour is offered.
Bill Speidel, a Seattle native and publisher of the weekly Seattle Guide, grew up on stories of "The Forgotten City." He believed the ruins should be appreciated; they were attributes, not embarrassments, to modern Seattle. His interests were unofficial; he was merely a citizen with a preservationist bent.
Speidel knew people enjoyed inspecting the unusual historic site, but he was unprepared for the response to the brief mention in the Times. Over the next two days he fielded an incredible number of phone calls and received some 300 letters from people anxious to learn more about the Underground.
The publisher was glad so many people showed such interest, but the Underground was condemned—filthy and unsafe. It couldn't be opened to the public on a regular basis in its current state. He recruited a small army of eager volunteers, not to sanitize the place, but to at least make the former first floor safe enough for people to walk through. Oddly, groups of high school students made up a large percentage of those who volunteered. They shoveled and swept and hauled for weeks in preparation for the first public tour slated for "Know Your Seattle Day" in May 1965. No one, not even Bill Speidel, could have predicted the extent of public interest that day. By nightfall 500 people had paid $1 each to follow guides around the crumbling catacombs. They were the first to officially commemorate the "stupidity" of Seattle's 1889 city planners.
Encouraged, Speidel formed a company and ran regular tours. "The father of the Seattle Underground," as he became known, died in 1988. Today his heirs operate the company, helping those 150,000-plus people a year enjoy a journey through modern Seattle's strange birthplace.