---
Originally Posted By photoman:
So what is the diferances that make the HK mag so much better???
---
Mag body: steel construction with impressive weld tolerences instead of spot weld of the others, and are finished with what appears to be baked enamel
Spring: heavier duty, siliconed (maritime ver.) , wider.
Follower: hard chromed, glides "like on ball bearings" smooth, maritime version is coated to prevent corrosion (so have been the standard ones I have gotten lately) and will NOT tilt.
Has a rubber core bushing that runs the spine, to minimize vibration and protect against the "I dropped my mag on the pavement" incidents. (I guess)
You can get them here------------>
@ Cal's Sporting Armory for as little as $41.80 when buying 5 or more or $44 ea.when buying less
I will post a couple of pix to illustrate the weld differences (for those who care)
This shows the weld difference between the HK and a Labelle Teflon, which I owuld consider the very best of the rest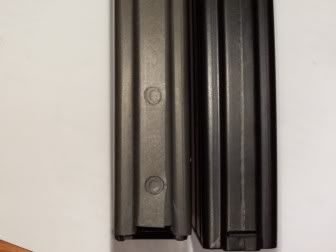 and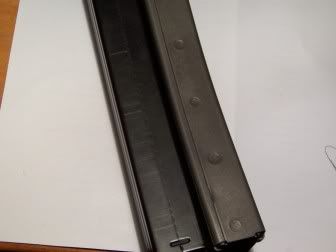 would I buy all HK's? No, I do not use an AR in my work.
But I like them...... and my Labelles and Colts as well
- Redfisher (arfcom's resident un-paid, HK mag pimp, and hyper)
ETA: Has anyone used/tried these------------->
DSG High reliability Mags
They look as though they may respresent another upgraded USGI option