At about 9:30, Jr45 decieded it was time to go hunting......the conversation was as follows-
Jr45-"Daddy...." (from the other room)
Jr45-"Daddy, Daddy, Daddy...."(Still in the other room)
Matt45-"What Jr45...come here and watch the movie."
Jr45-"No Daddy, I don' want moobie...I wanna go huntin'" (Yet still. In the other room)
Matt45-"......Huh?..OK Jr45, whaddya mean Hunting?"
Jr45-"Daddy, I waana go Army huntin' wit' you."
Matt45-"Wha'????....OK, get in here"
Jr45-"Daddy- I got's you Army....I wanna hunt deers." (Remains in other room)
Matt45- *Who finally Looks left* "Don't move."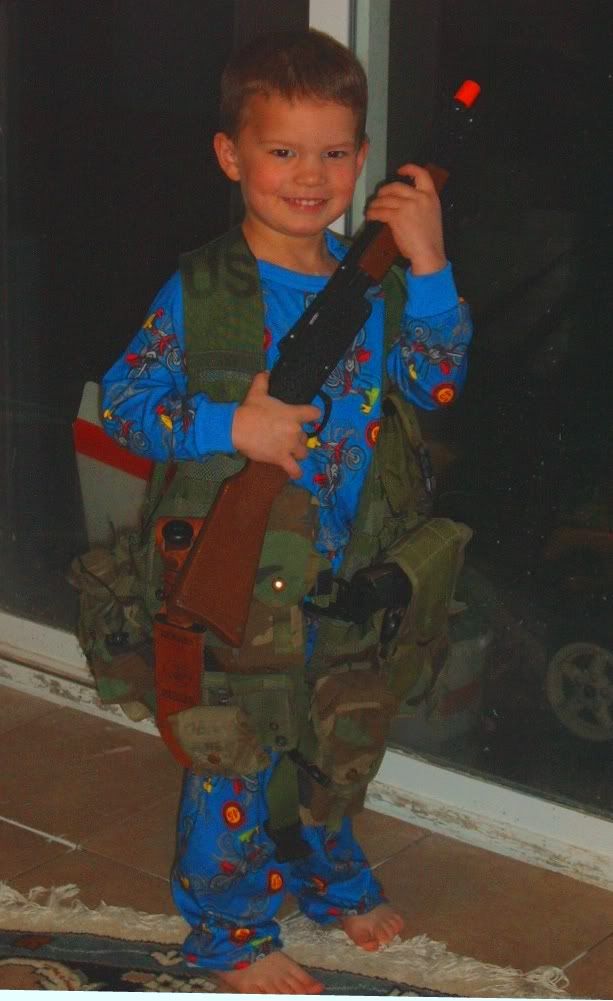 I *Think* I
may
have an influence on my son. 9:30 at night, raining, he's sick and has a cough, but the little STUD wants to go hunting with me. *sniff*
And yeah, that is HIS capgun he's put in my M9 holster...
AND
secured the flap.