I recently took Tactical Response's Fighting Pistol and Fighting Rifle (Feb 9-12, 06) at the Bradford Sporting Clays (Correct me if I'm wrong on that name) in Graham, FL (Starke). The class was instructed by Rob Edwards.
First off, a big thanks to Rob Edwards for instructing us. He flew it solo cuz rest of the Tactical Response crew were off at SHOT. He did an outstanding job. Very likeable guy and full of good info. Rob ran an informal class, but kept us in line and kicked us in the ass when it was needed. Next I'd like to thank the guys at the range. We were treated very well, and more importantly left alone!! The only time, our class was interrupted, was when one of the crew came down to us and and invited us to their cookout (they were running a trap match on the other ranges). Knowing it to be impolite to turn down free food from the locals, we all went. Despite our appearance (mud, knee pads, etc.) we were warmly greeted and treated like everyone else. This was my first time to this range and I feel they are all a class act!
Ok, in case you don't care about anything else, here are the pics that I got...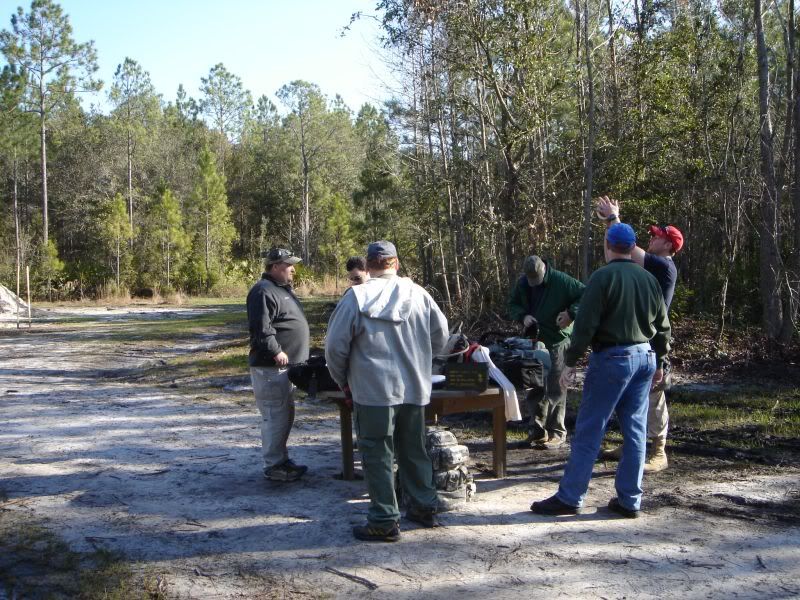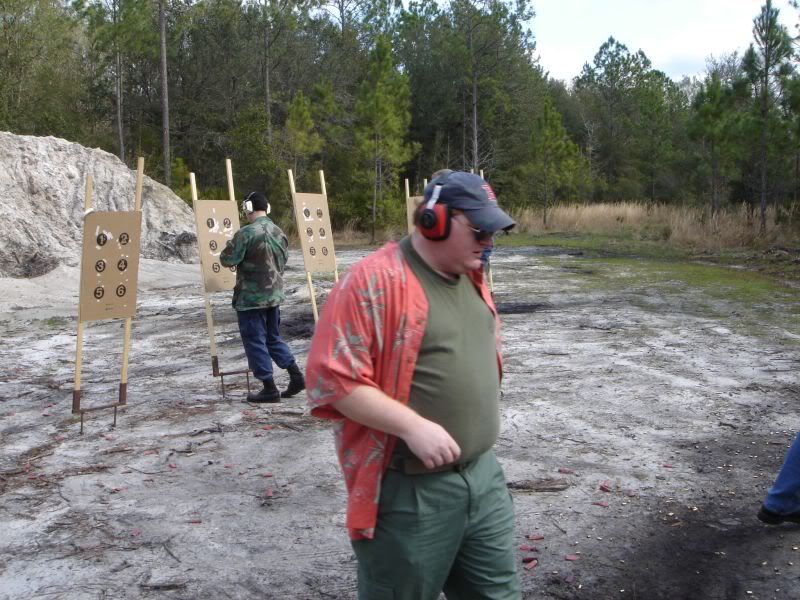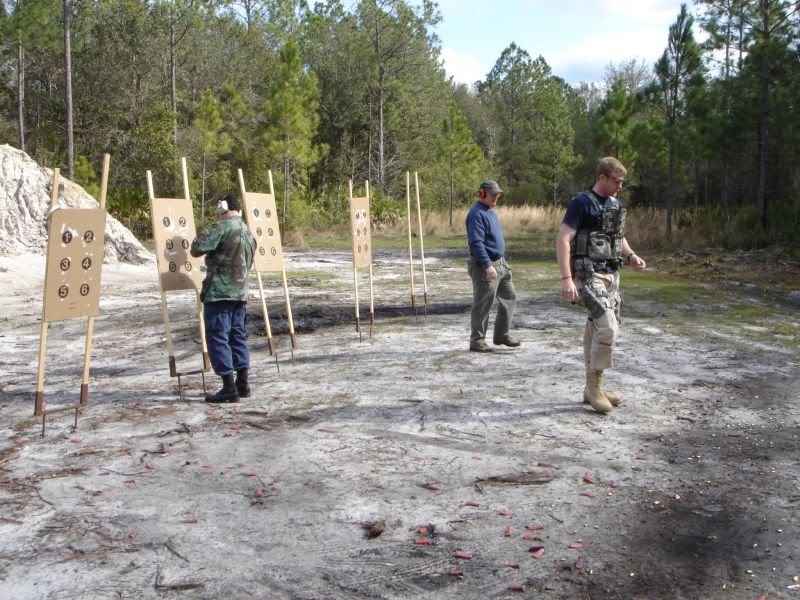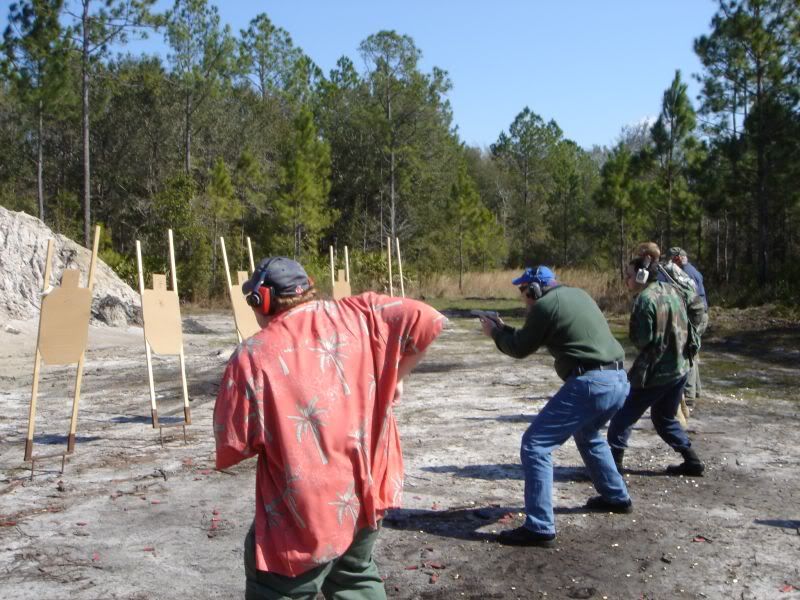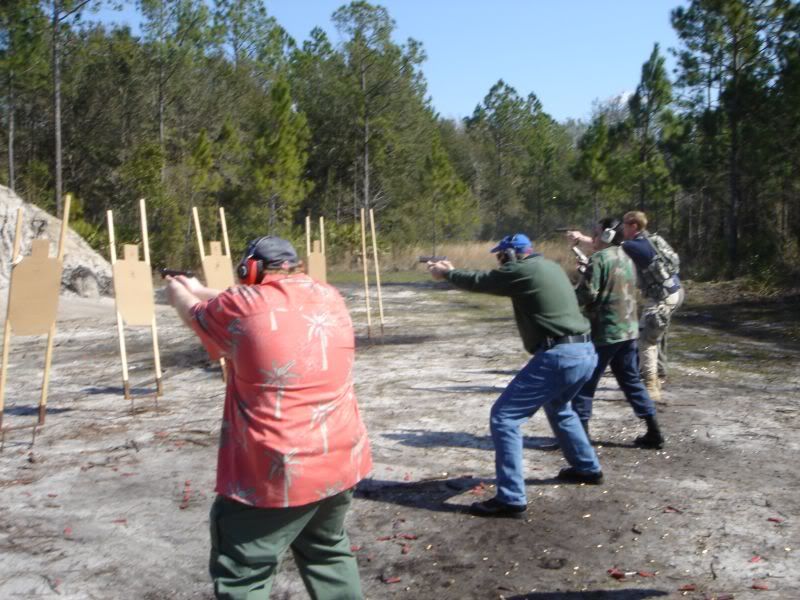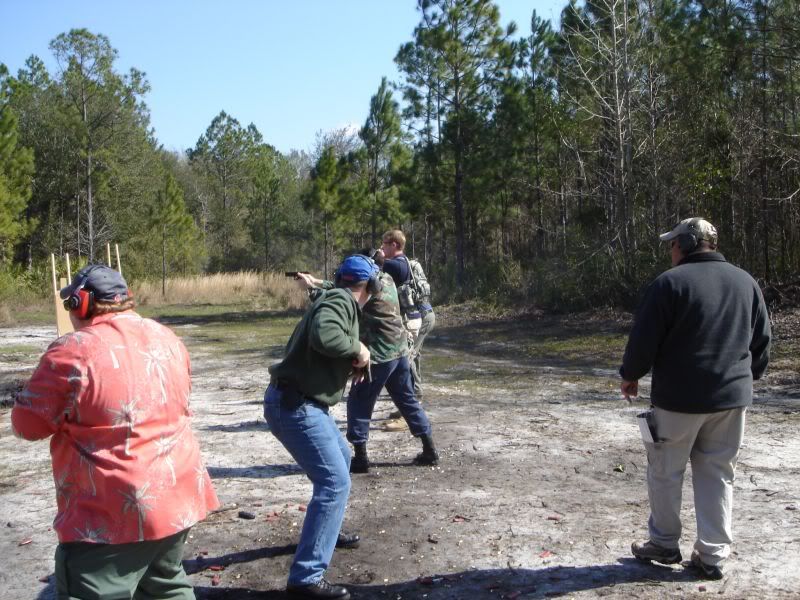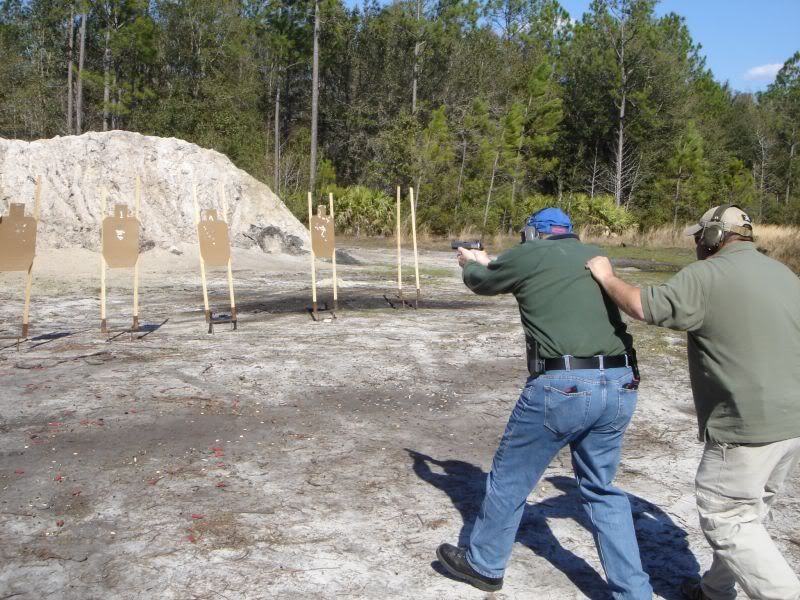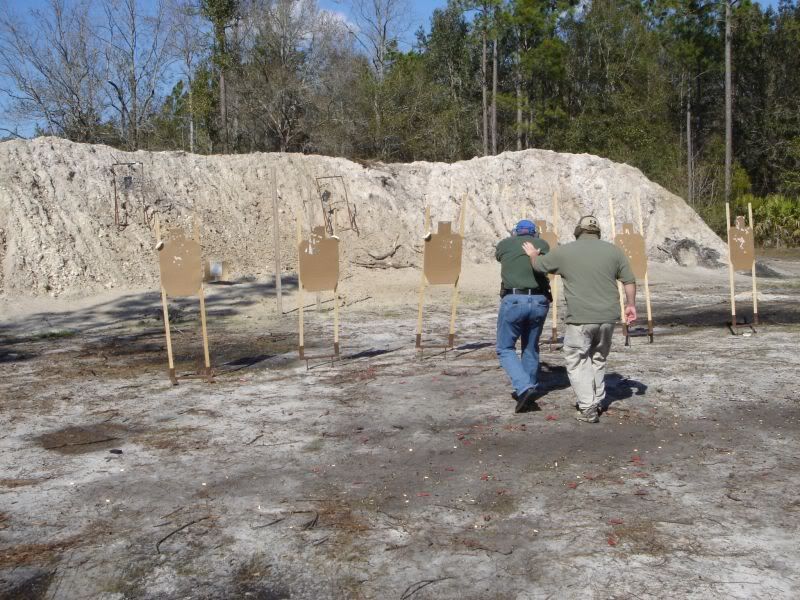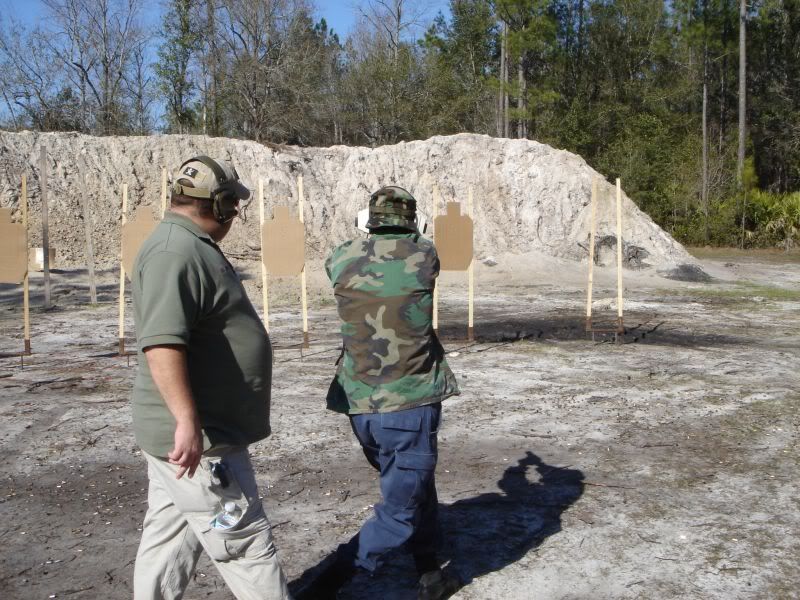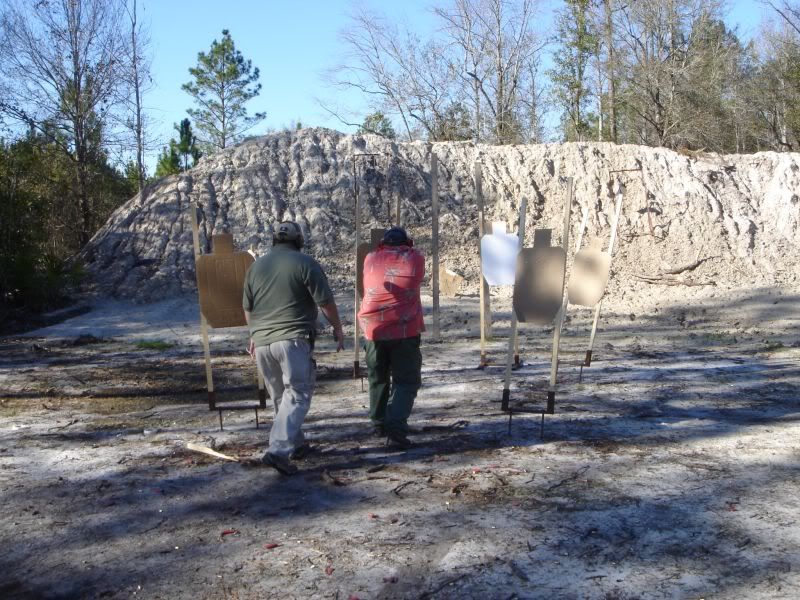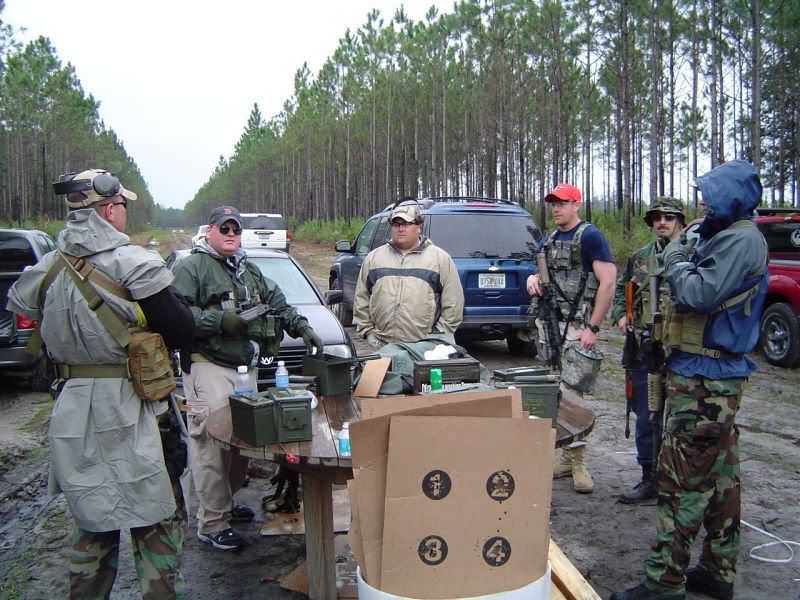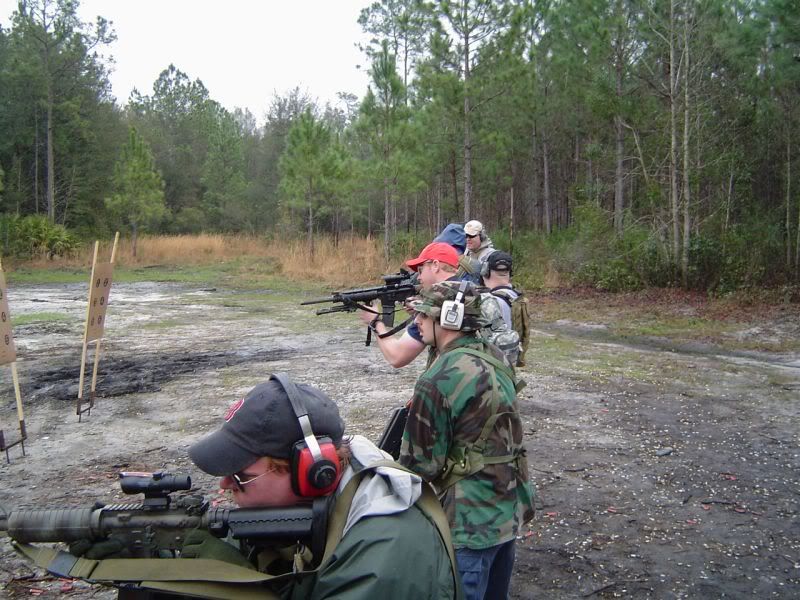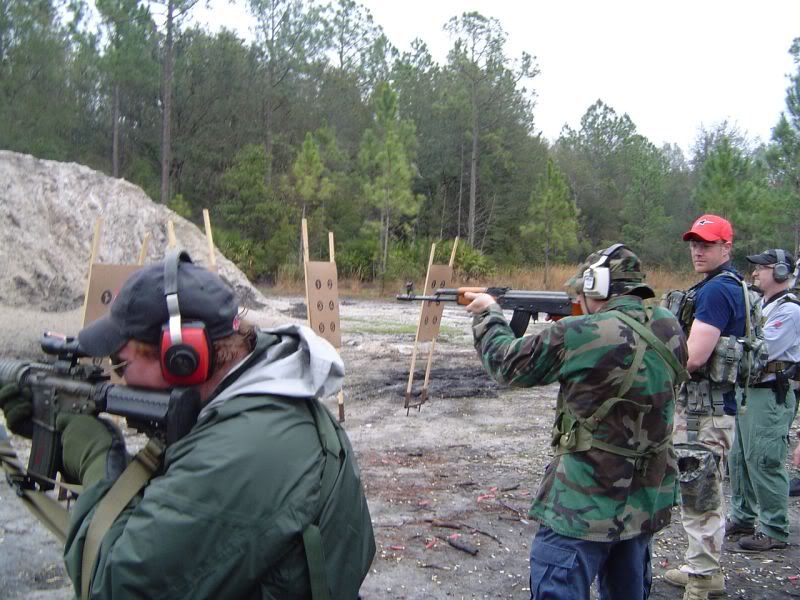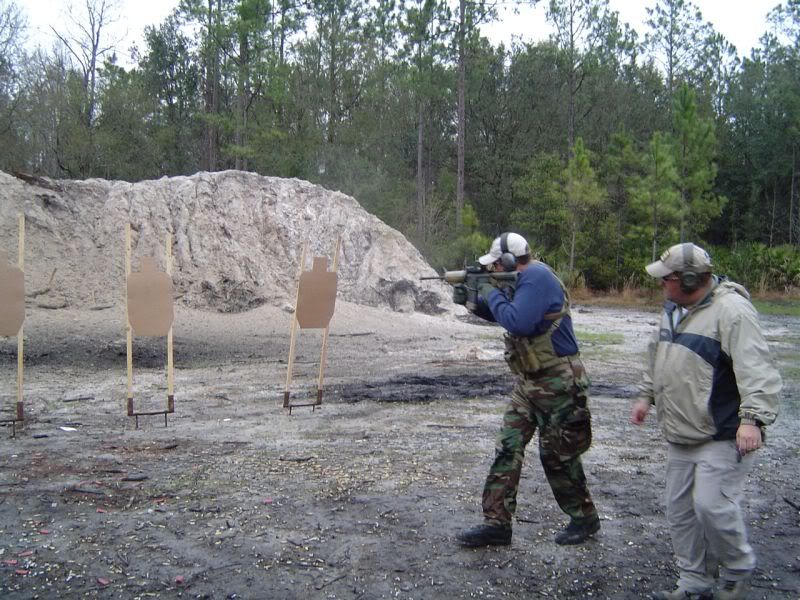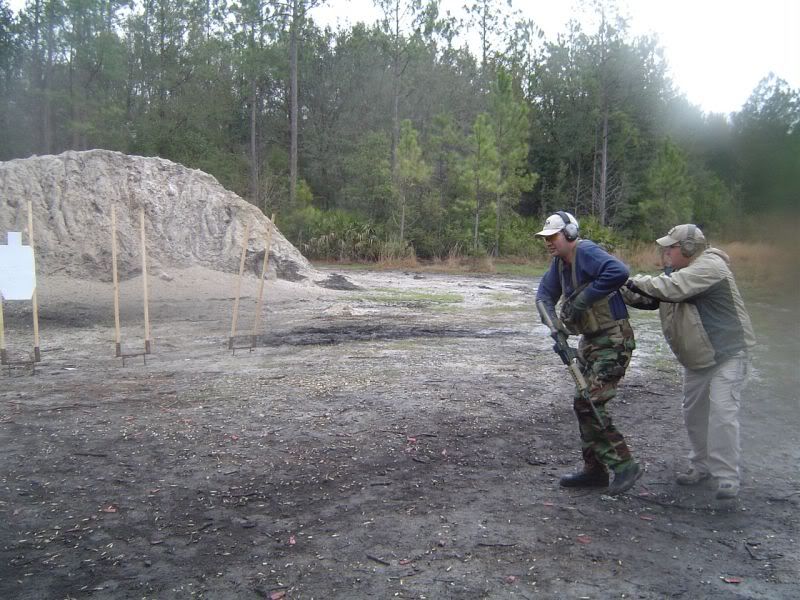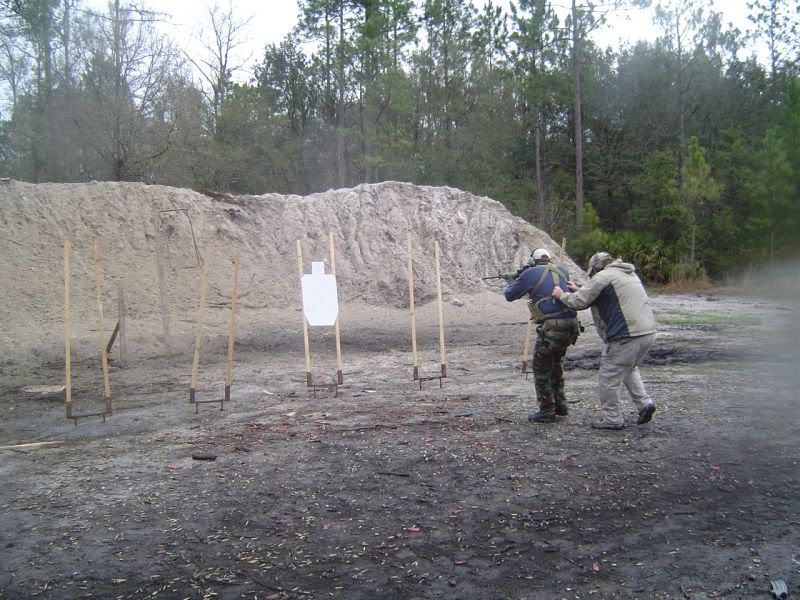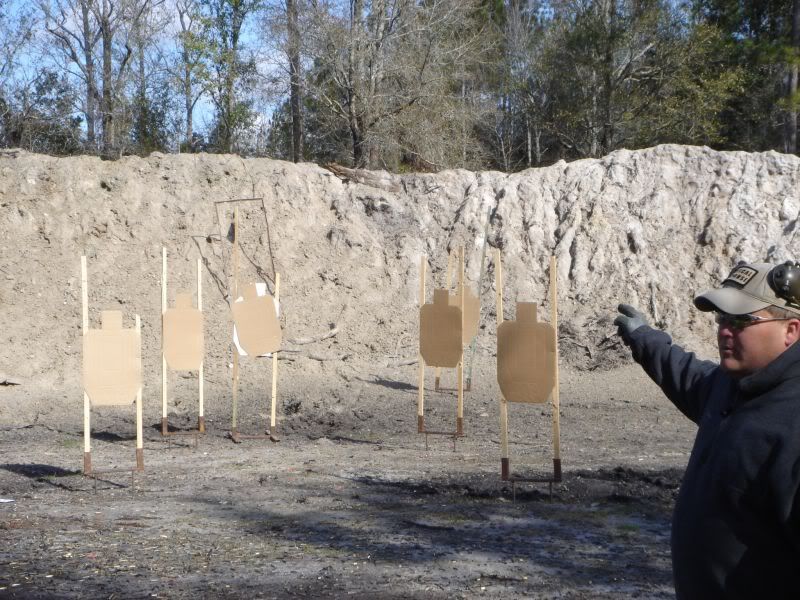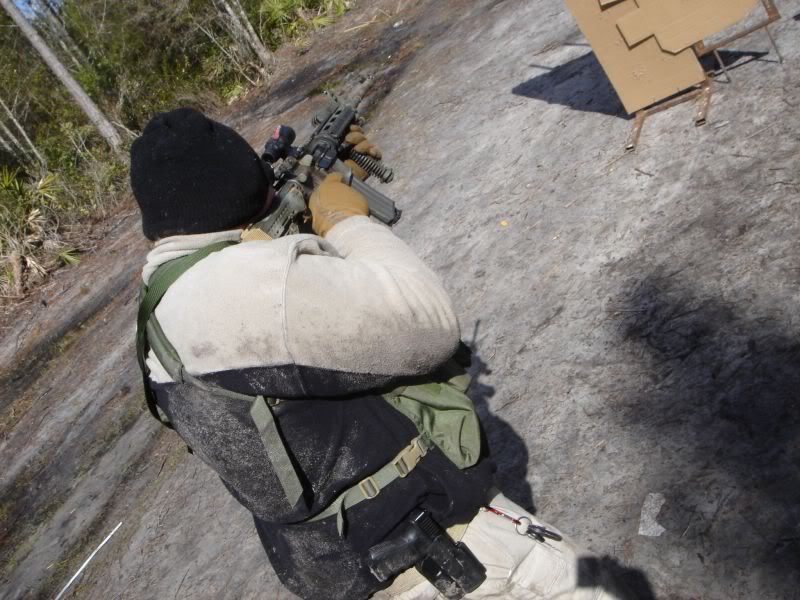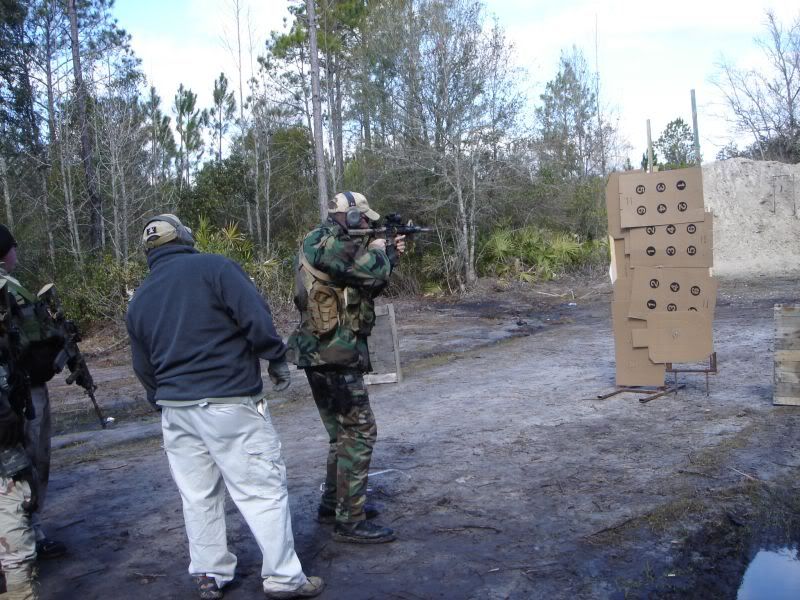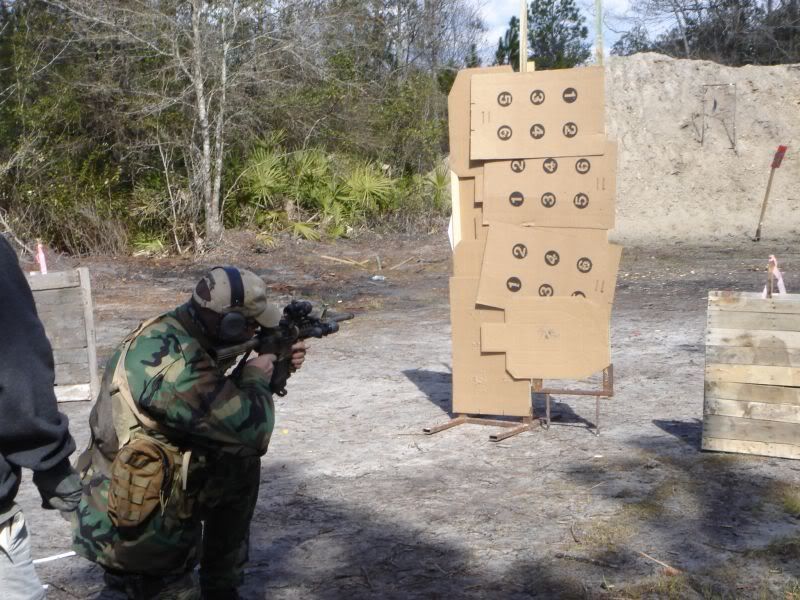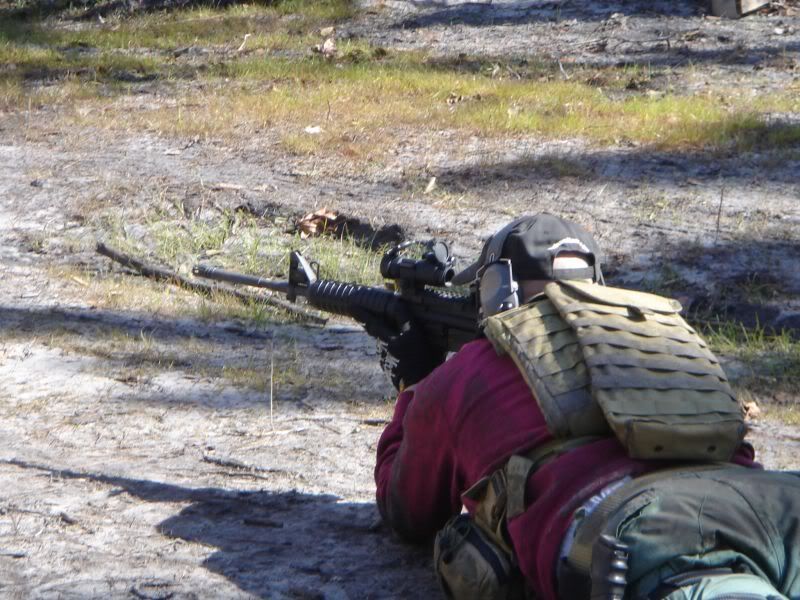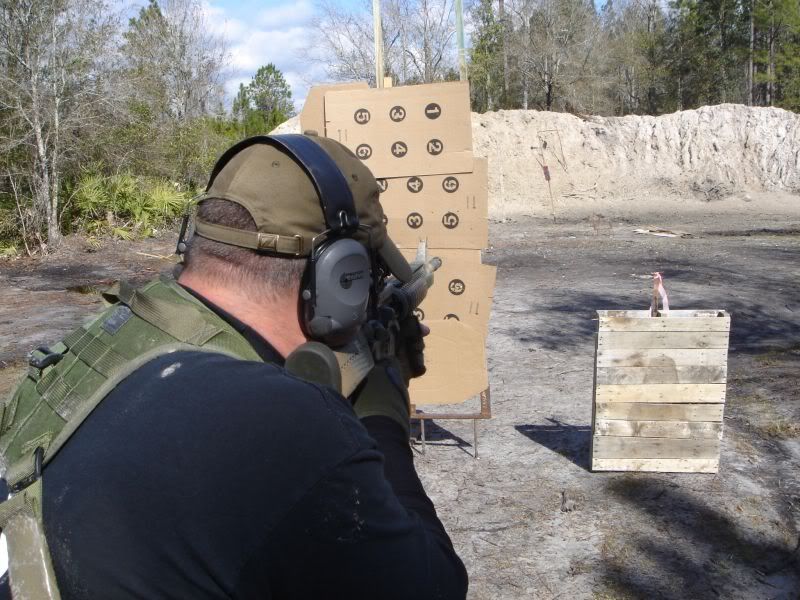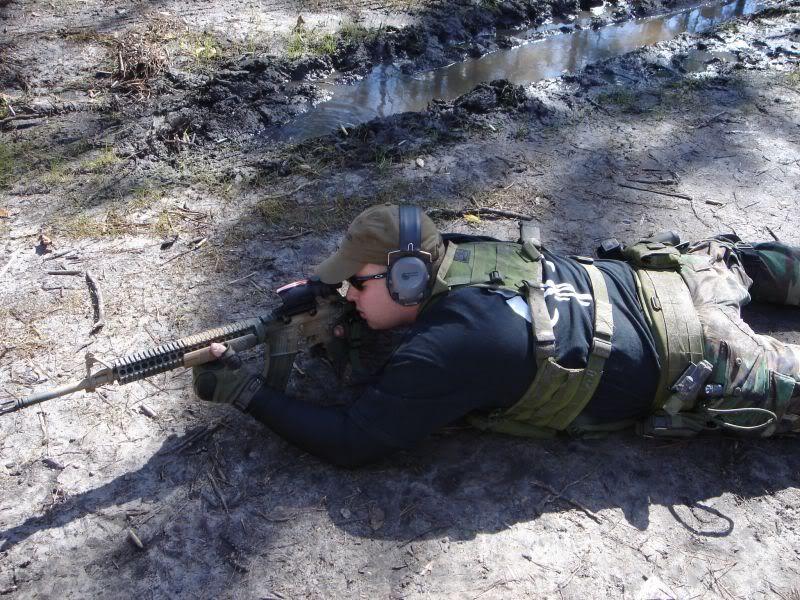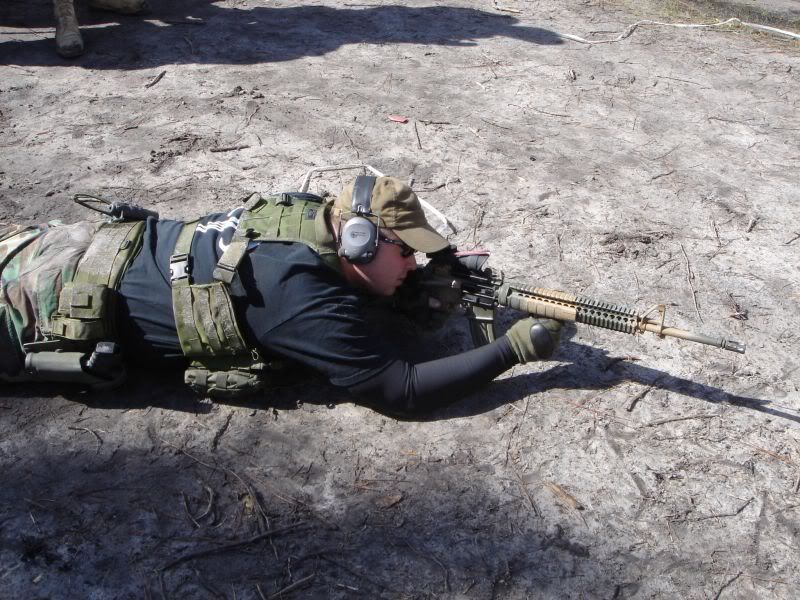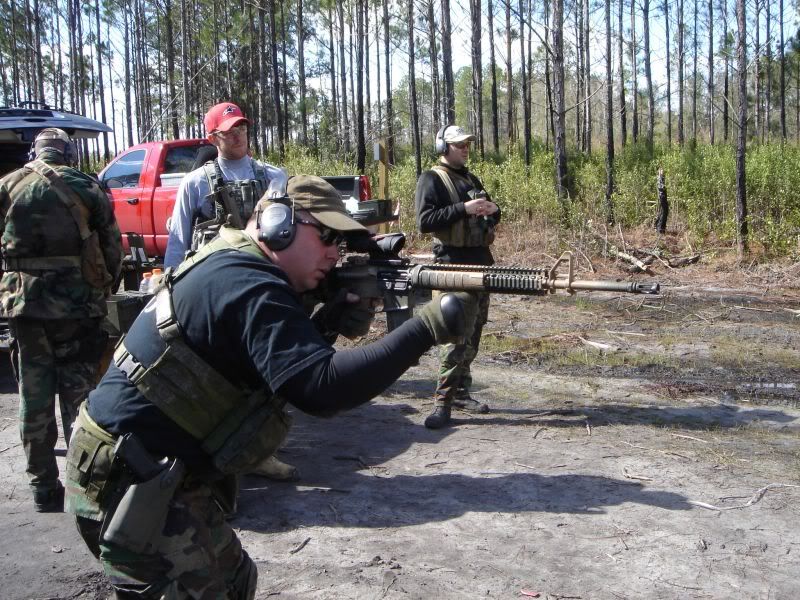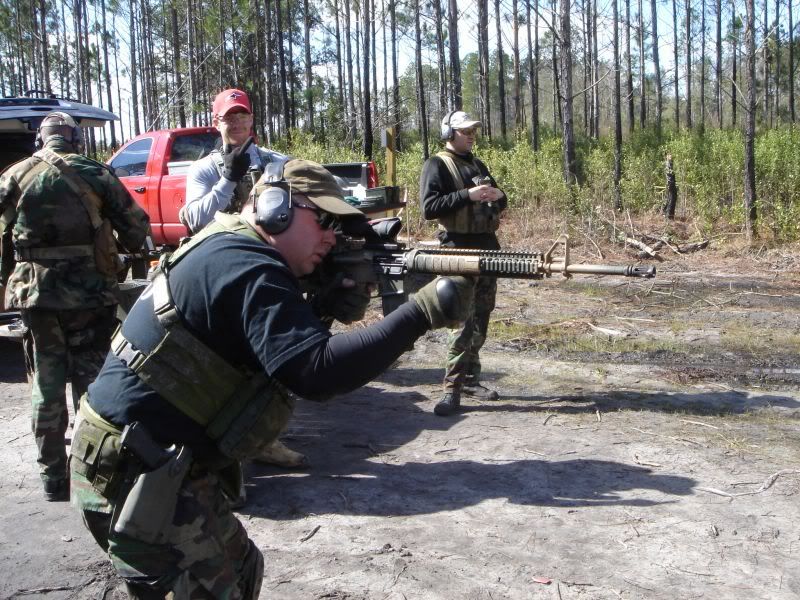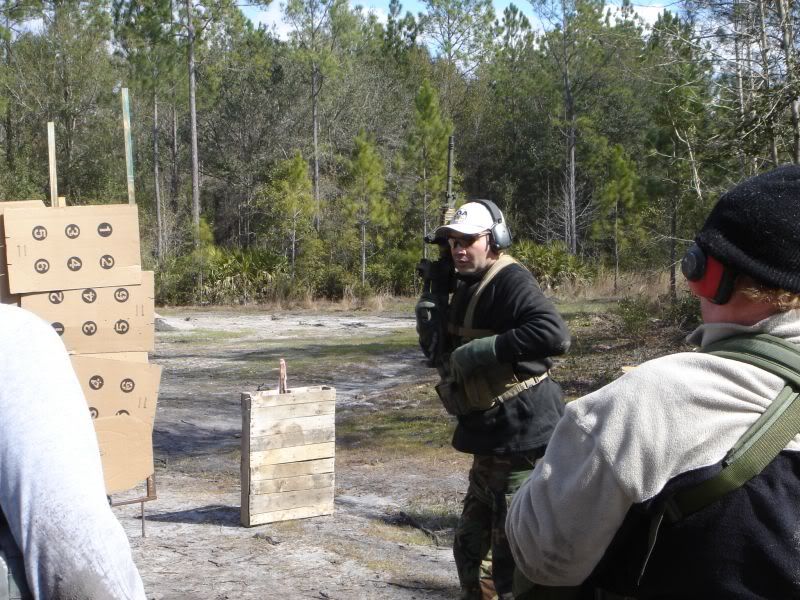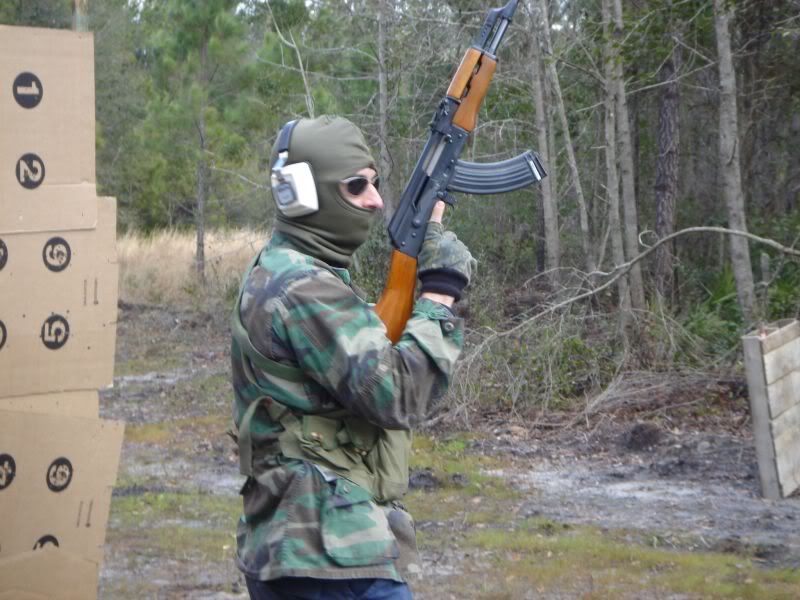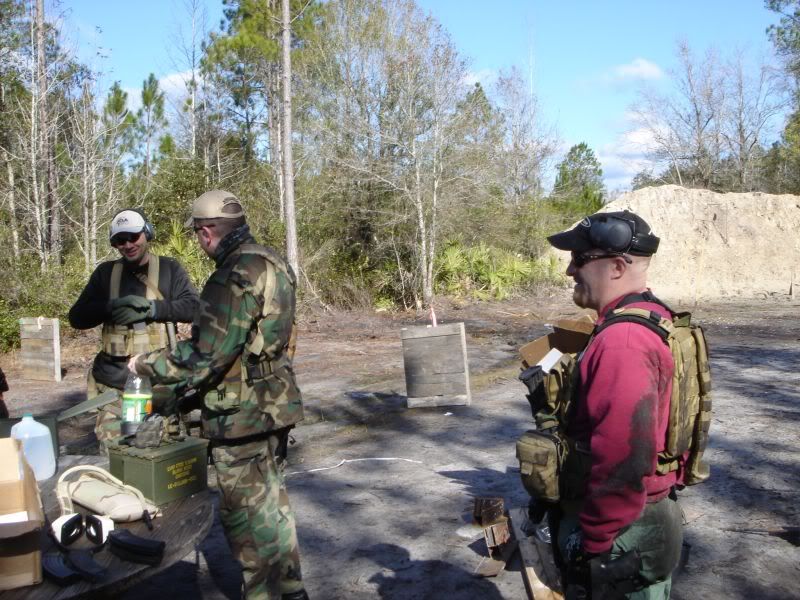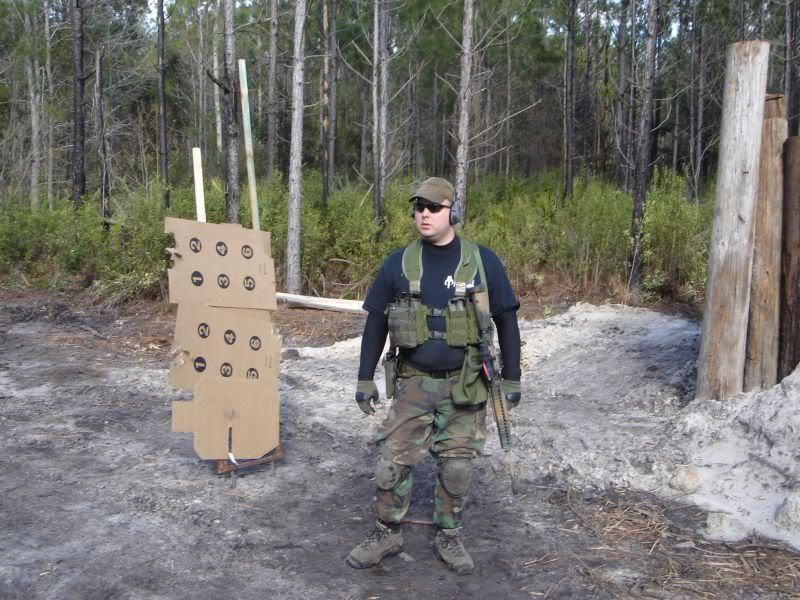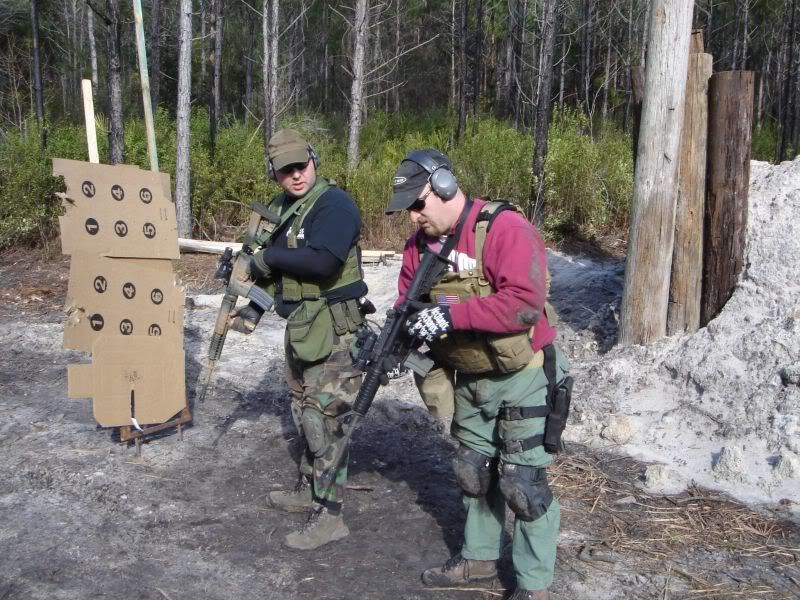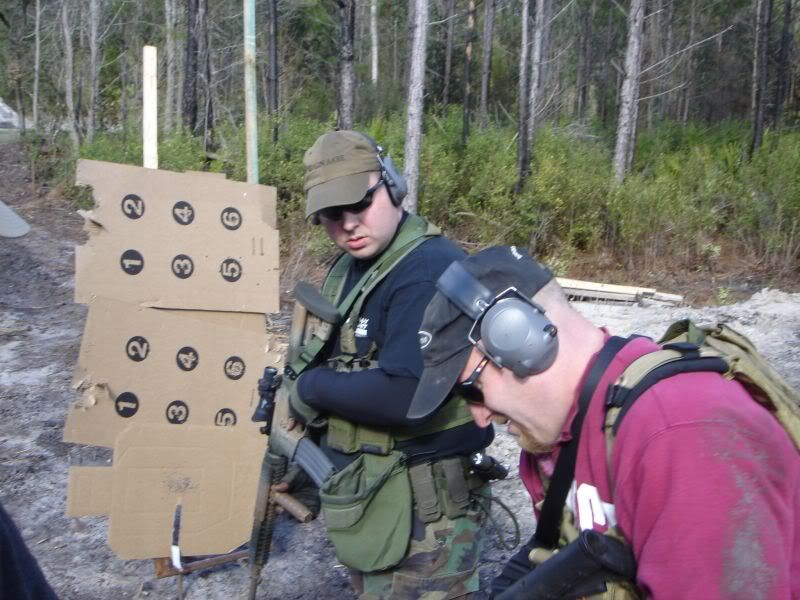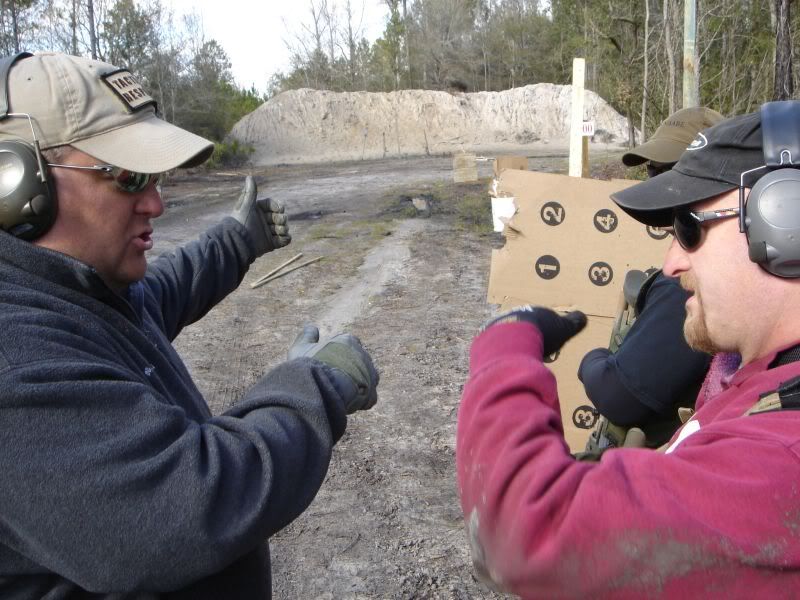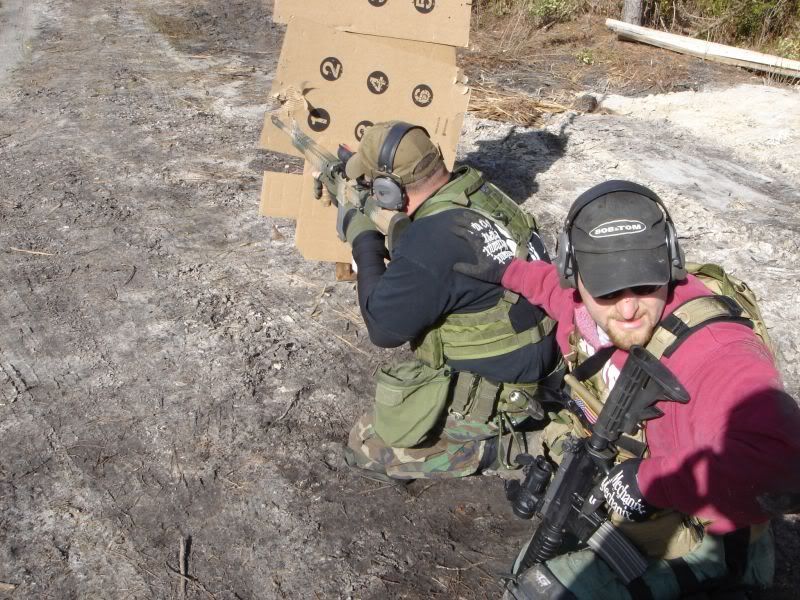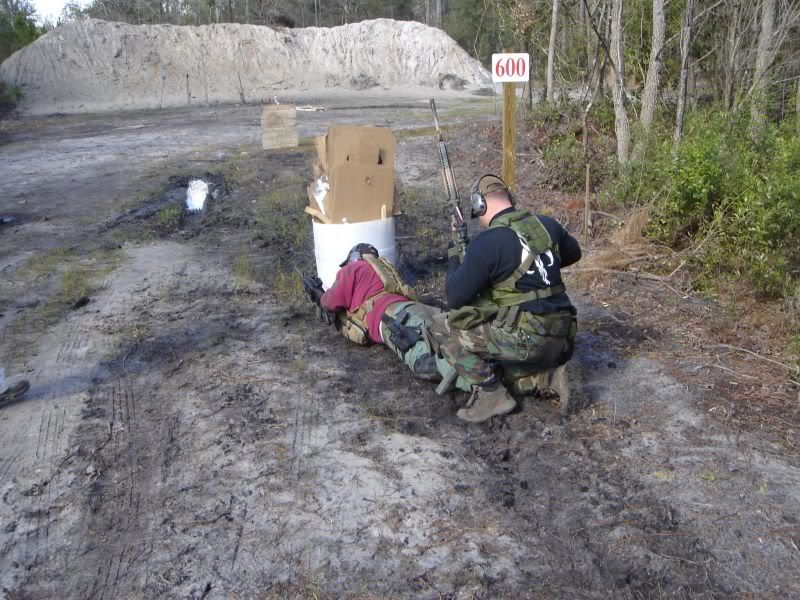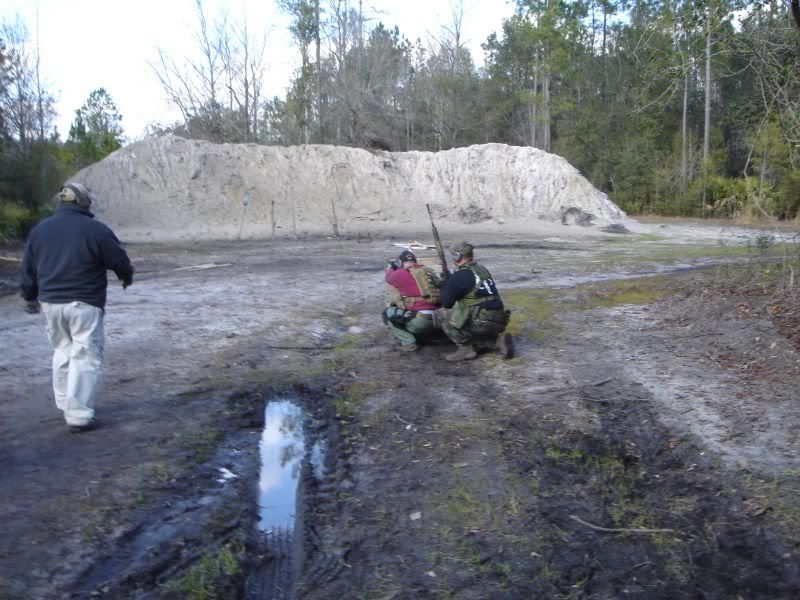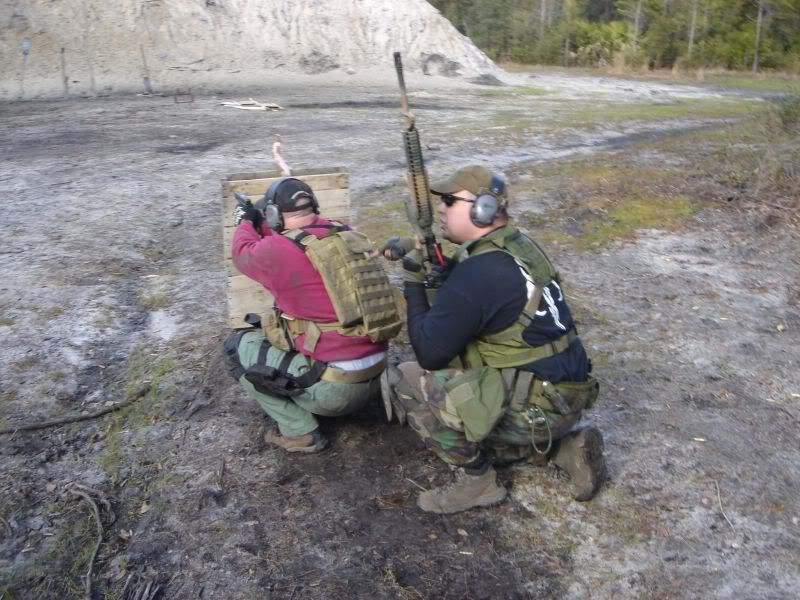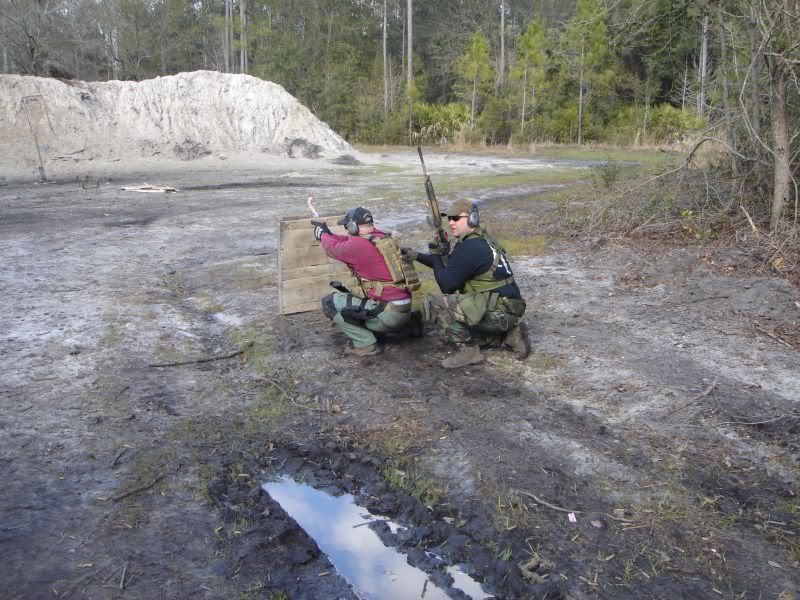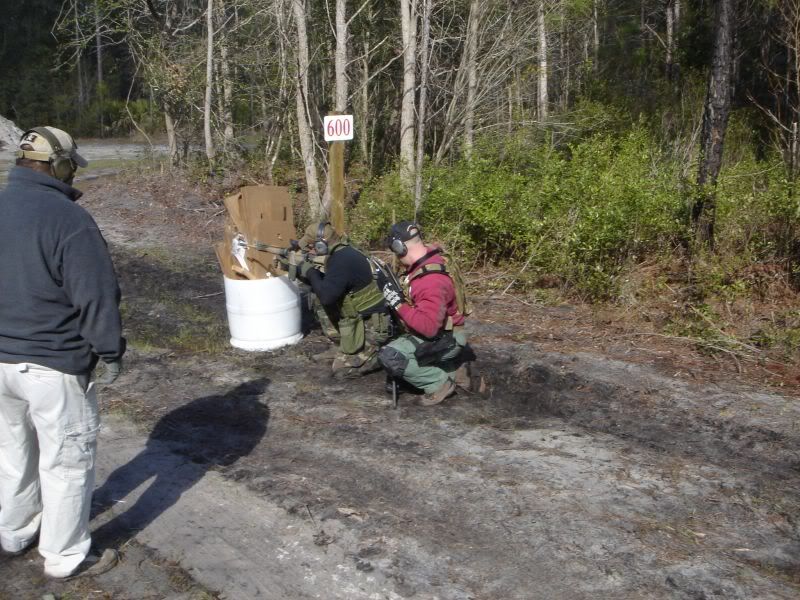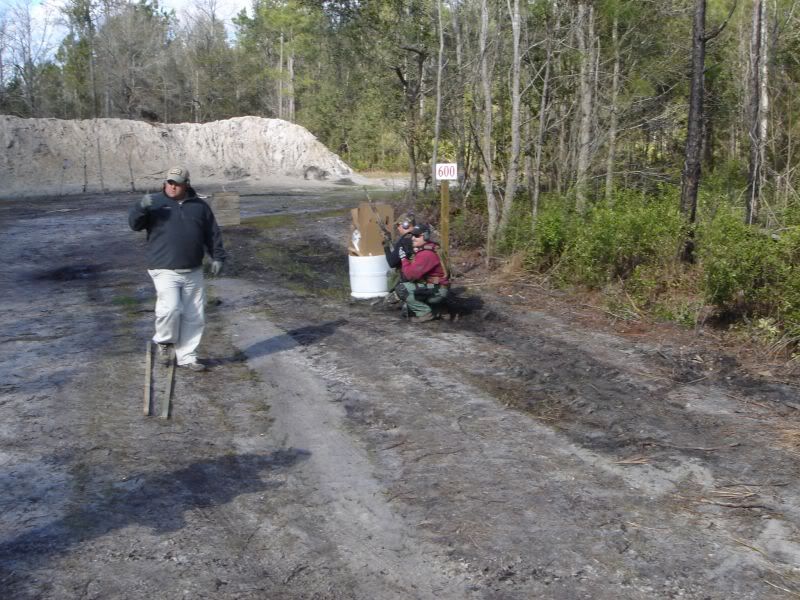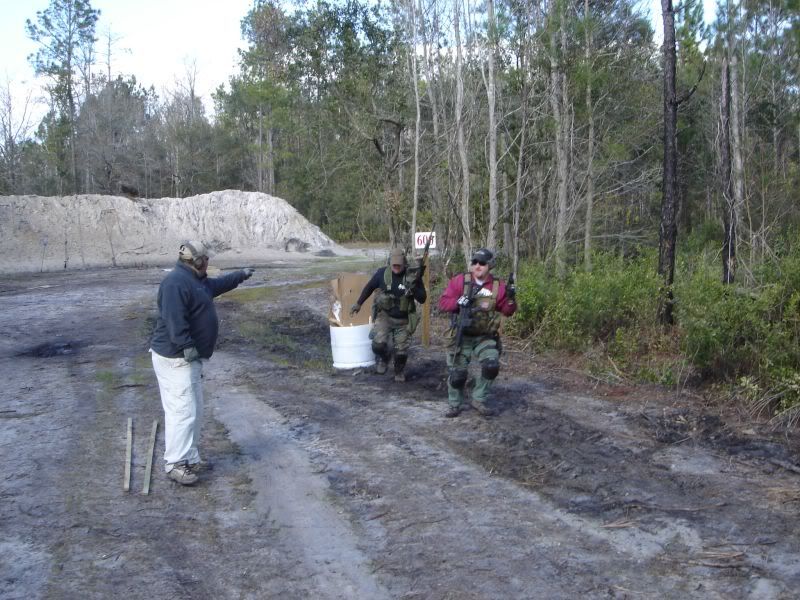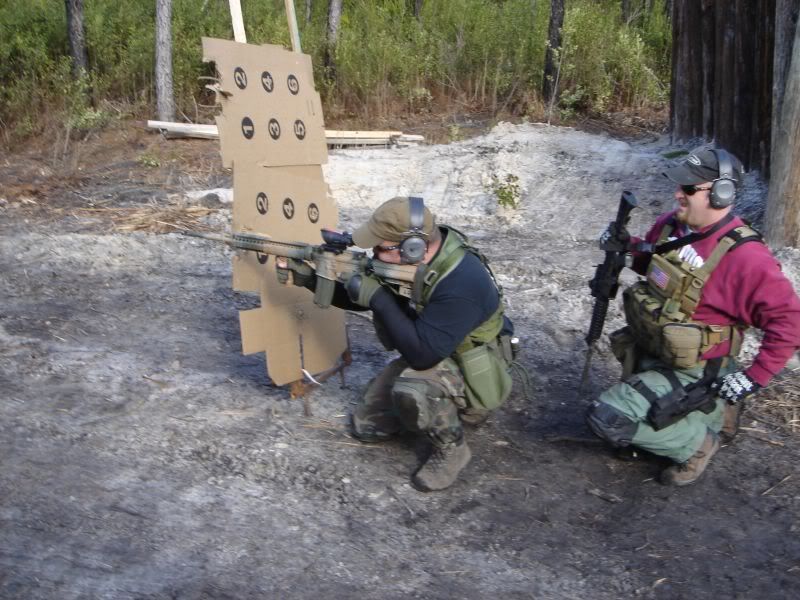 And now, a few random thoughts about...
Fighting Pistol and Fighting Rifle:
I'm not going to break this class down or discuss much of the drills. Take the class and experience it for yourself so you get the full effect.
Conditions were sand and mud with a mix of sun and clouds; third day (first Rifle day) was scattered showers. Temperatures ranged from mid 30's on one morning to mid 60's.
These were GREAT classes. They are by no means beginner classes. Know your gun and
gunhandling basics prior to class. Have your gun zeroed and broke in.
The Mindset lecture was outstanding!!
I was very impressed with the handouts that we received. You receive a lot of info in 4 days and such great handouts help keep it all fresh. The Norte position was new to me (as well as most of the rest of the students) and took a lot to get used to. I was pleased to see all the open minds there that tried it and everything else that we were presented with; which brings me to my classmates.
Six guys were in the pistol class and seven in the rifle class. About half attended both classes. Great bunch of guys to train with. There was no whining, despite weather conditions, and a hot (loaded) range. I've experienced heated tempers in a class before and it is embarrassing and a big downer for all. In this class, everyone was very helpful. Class was made up of a good mix of experience. We had some with former Marine and Army training, a current Army Reservist recently back from a year in Iraq, a couple of LEO types, and many guys with tactical classes already under their belt. We even had a shooter who works in the body armor industry. A lot of people pulled some good stories or tips from their own area of experience, yet we didn't have anyone hotdogging and trying to take over Rob's job. I enjoyed everyone's company, and the jokes were firing off as much as our guns. Everyone used good discipline, and I never felt unsafe around anyone in this group.
There is a high round count in these classes. That's one big thing that sets them apart of other classes I've taken. Definitely a good thing, cuz we all love shooting; and like they say, "if it's worth shooting, it's worth shooting twice."
Equipment used was mostly RACK-style rigs (Eagle Universal Rigs, MAV, Weesatch, etc), with one Chicom AK rig. Holsters were a good mix of leather and kydex made, OWB, IWB, and drop-leg. Rifles were all AR style, with one AK... :rolleyes: there's one in every group. Pistols were a Kimber Warrior, Glock 19's, Glock 22, Glock 20, and a Makarov (see above AK comment).
My Guns and Gear: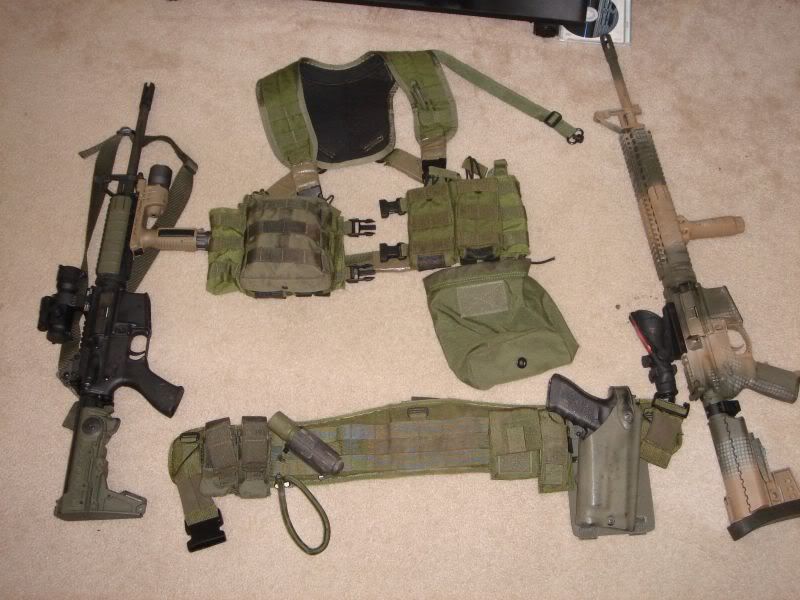 I used most all of the weapons I brought to the class for at least one day. I brought a Colt Ar15A3 Carbine, a Bushmaster/Rock River 20" AR, two Glock 22's (one stayed in reserve) and a Glock 23.
My web gear was a Tactical Tailor Two-piece MAV with four single AR mag pouches (TT), and a Emdom small Utili-shingle for a blowout kit. I wore a Diamondback Tactical Assaulter's Belt (Modular) with a Safariland 6280 on a Safariland molle adapter, a Specter single mag pouch holding a Gerber Multiplier, a Specter handcuff pouch, a Maxpedition Rolly Polly Pouch (Medium, and by day two of the Rifle class, it had migrated onto the front left of my MAV), a Surefire G2 holster (V72?), and two Emdom single mag pouches. I wore my Blade-tech IWB holster and a Blackhawk CQC mag pouch under a t-shirt for one day of the pistol class. I also tried out some Alta knee pads, some Hatch Shorty Operator gloves and a Wilderness 5-stitch belt.
Lessons Learned:
Ok, here's where I talk a little about what I got out of the class and color myself the dumbass for a few things.
1) Don't half-ass your gun cleaning before a class. Based on previous classes, with much lower round counts, I didn't go very far with my gun prepping. The first day of rifle had my Colt failing to feed. The "Tap" portion of tap, rack, bang was all that was needed to get it up and running though.
2) Sometimes I'm stubborn about trying new things. I finally used some Gunscrubber in my cleaning. HOLY CRAP, this stuff rocks!! Yeah yeah, I know...
3) Doing tactical reloads after each incident is something I have been aware of for a long time, however this is the first time I've been forced to do it after every drill in a class. Great addition to my routine.
4) The jury is still out on how I will integrate the instructed way of reloading, as well as the Norte position; however, I will say that they are definitely techniques I will add to my toolbox.
5) Make sure your gun is loaded with one in the chamber at all times. Having to do a failure drill because my dumb ass didn't load the gun made me feel nice and stupid.
6) Rob helped me with my pistol shooting. I received a few pointers that let me see immediate results.
7) I'm very glad that I've practiced my concealed carry rig. I ran it for a whole day and I feel I did pretty well getting it out from under my tshirt. Just goes to show that practicing your dry fire exercises at home really does work.
8) My MAV rig continues to do well. I removed my dump pouch from my belt after day one of the rifle course. It was placed on the front left of my MAV; under my left most AR mag pouch, utilizing the silk clip. Economy of motion was taught during the class, and reaching behind me to drop a mag in the pouch took up valuable time. More than once during the team drills, I got caught with a mag in my hand when I was needed to cover my buddy. It sucks having to drop a partial mag in the mud when it isn't really necessary.
9) I'm happy with my new DBT modular belt. It was very easy to don and very comfortable. No complaints.
10) My relatively new Alta knee pads, and new Shorty Operator gloves functioned just fine.
11) I've been wearing a Wilderness 5-stitch belt on a daily basis for a few weeks. It is a very comfortable belt and continued to function flawlessly during the class. The extensive holster draws from the day I wore my IWB holster showed no sign of discomfort or excessive wear.
12) A hot muzzle in your pants (IWB holster) takes a little getting used to. You may feel a slight sting.
13) Ashlocke is a monster and must be controlled!!! He is also too young to have that much money!
14) My new 20" AR with TA31F Acog worked great. The rifle never missed a beat. The Acog was a little blurry at point blank ranges, but I was able to get the job done.
15) I tried out two new things with my rifles. First, I added a bungee loop to my belt. I run a single point sling and I wanted to try this idea to keep the rifle from swinging so much. It works, but seems like an admin only deal. It's not very quick to remove the rifle (might be better with a SBR), and a hot barrel with melt it. The second thing I tried was running a strap from the back of my TT x Harness as a rig-based single point sling. It worked excellently. It did everything my single point slings could do, but kept the extra strapping from around me. Using this method, I experienced no extra pull to the left side of my MAV.
16) Another dumbass moment I had, was when I realized that I had dropped my rear BUIS in the mud. Loctite EVERYTHING!!! On the same drill, I also dropped a battery compartment cover from my Vltor stock. I thought that was odd that it came out, but luckily, I keep the stock in so close that the batteries were not able to fall out.
17) Syphillis is bad!
18) Running an AK quickly and accurately can definitely be done. Ron3 rocked on his after very little adjustment. It really makes me want to get back on my AK.
18) Don't be a Buddy Fucker (Blue Falcon)!!!
19) Work the fuck out!!! I've been trying to get out of shape, but my fat ass still has a long way to go. This was not the most strenuous class I've taken, but there were two drills in particular that, I'm embarrassed to say, I was unable to do properly due to arm/shoulder fatigue.
20) Amplified hearing protection is a Godsend! With team exercises especially, they greatly aid you in a high intensity classes such as these.
21) Saw a few malfunctions on other folks weapons, but I didn't get all the details, so I'll let those folks chime in and explain them. I do believe they were all mag and dirt/cleaing issues though.
22) I want to buy the Fighting Pistol DVD and a Tactical Response Tshirt!!!
23) Rob Edwards is a pervert! :nuts:
24) And last, but not least, I definitely want to train with Tactical Response again!
Well, there is my .02. I hope this was informative. I apologize for not being better organized with my thoughts.