USGI Teflon "No-Ban" Mags - priced from $11.25 to $15.95 each The Good ol' Days are Back !!!
Teflon Finish AR Magazines
Standard Capacity 30rd Magazines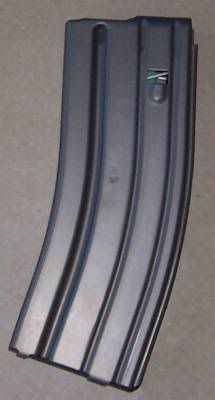 These Teflon (30 round) magazines are considered some of the BEST AR15 magazines made. The quality and reliability of LaBelle mags is always excellent. These mags are manufactured on the original LaBelle tooling, by D&H Industries.
These new mags are in VERY HIGH DEMAND, and can be hard to find. They have the New USGI Green Followers. The new Teflon Mags do not come in a plastic wrap. These are authentic USGI mags, stamped with the date of manufacturer and the contractors government CAGE code. Legal for civilians to own! Current production. A must for any AR owner.
These will not be marked LE Restriced
Made by USGI contractor (D&H) "formerly know as LaBelle", on the original LaBelle tooling.
Just as a note -- D&H makes the mags and the floorplates, etc. The D&H labeled floorplates have the LE Only text on them, which most folks do not want.
If you order enough mags, D&H will make custom floorplates - no different than DPMS, Bushmaster, etc....
Depending on who's Purchase Order they are filling on that day, they will match the specific floorplate.
Same mags, same floorplates, same spring, same follower, same box, same QC, same thing, just different text. Our PO's will be filled with Bravo Co floorplates.
All D&H made mags have their CAGE Code stamped into the mag body (04TQ4),
along with date and month of manufacturer as required per current US Gov specs.
Magazine Pricing Packages
Single Mags priced at $15.95 each
Purchase a quantity of 10 mags for $129.50 -- that's $12.95 each
Purchase a quantity of 100 mags for $1125.00 -- that's $11.25 each . . NEW !
Any order over $350
ships for FREE
UPS Ground, Insured
These can not be shipped to CA, NJ, NY, HI or any other restricted states.
You can order online
At This Link 24 Hours a Day
Thanks!
Paul
BCo.




www.bravocompanyusa.com


Phone: 262 - 367 - 4009
1 - 877 - BRAVO CO
1 - 877 - 272 - 8626