I've been thinking of getting some tan/coyote gear for a while now. I have a bunch of stuff in woodland, but ya got to have the latest ubertacticool. What I will use the vest for is:
1. volunteer search & rescue
2. deployment use (being AF my unit doesn't really care what I use)
3. work (I do some aggressor stuff at work)
4. SHTF
What I need to carry:
1. navigation, comm equipment, & survival gear for up to 48 hrs in the field
2. ammo, nav, & survival gear for 24-48 hrs in the field
3. some nav & survival stuff & a few mags
4. 6-12 mags, & as much other crap as I can get into it
The features I was looking for are: mesh construction, MOLLE, padded shoulders, front closer, ability to carry at least a 70oz bladder, tan/coyote color, all buckles tan/coyote, under $100 (for the vest alone).
I considered the PT-03 MESA, Spec Ops Battle Rig, SDS FLC,TT MAV, and TT Modular Tac-Vest. None of them were exactly what I was looking for. All of these are good vests, but none of them had everything I wanted (plus I'm cheap).
Solution – make my own vest.
Material:
From Tactical Concealment:
tan nylon mesh 36"x56"
tan nylon 36"x60"
tan nylon thread 1 roll
2" tan webbing 2 yards
1" tan webbing 8 yards
(for best prices on TC stuff use their print catalogue)
From Supply Captain:
1" ladder locks 1 pack
1" slide release 1 pack
1" d-rings 1 pack
2" triglides 1 pack
From J Caroline:
1" tan Grossgrain ribbon 6 yards
Hobby Lobby:
¾" tan Velcro 1 yard
Sears:
Closed cell foam
Introducing the Vest, Combat Uniform (VCU).
Here is all the material ready to go.
The completed vest body.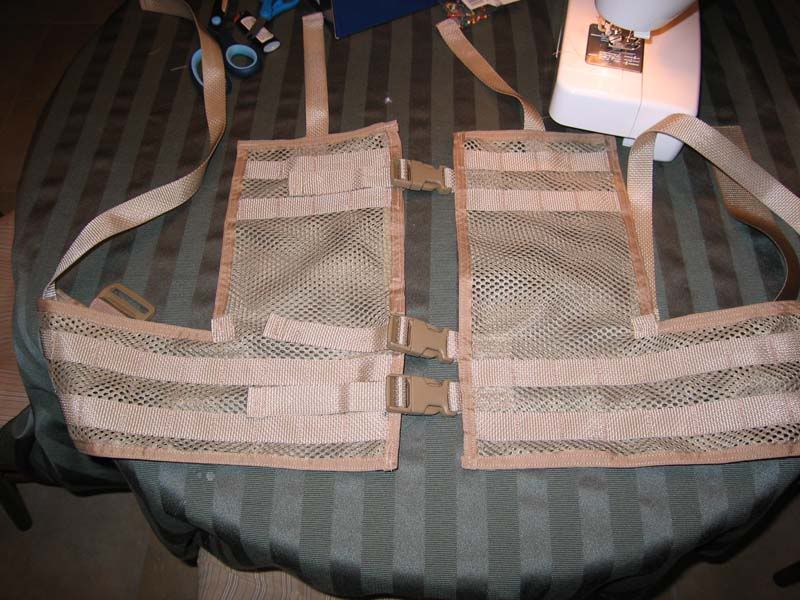 The shoulder assembly.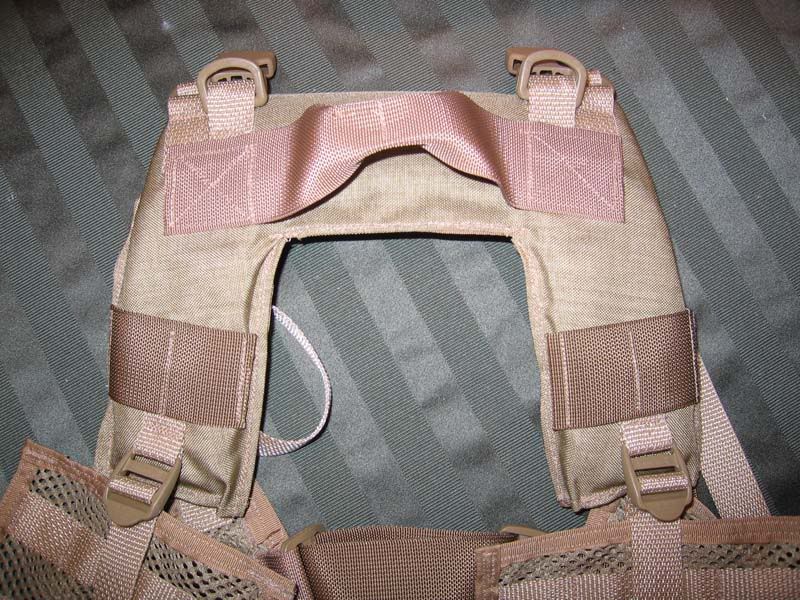 Finished product.
On my dummy.
With some of the pouches. Some of the pouches I ordered are backordered. The tan duty belt visible in the front is not integral to the vest.
I still have to make the hydration pouch. It will connect into the slide releases on the back of the shoulder assembly, and d-rings on the back (still need to add those).
It felt pretty good running around in my back yard with my son in-between taking pictures. I had 12 loaded AR mags, 3 loaded P226 mags, and a strobe in it. I hope to get a chance to test it out at work this week.
Hope ya'll enjoy.