I've headed for the dark side, but the big brown truck has not arrived. While I'm waiting I decided to build up a new gun table.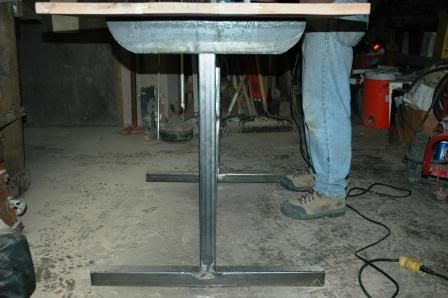 We were originally making 20 tops for a buddy's new restaurant and a one of them got cut 2″ short. I don't have to take credit for the cut error or the five tops that were built 12″ too short. Ron read the plan dimension as 60″ instead of 6′-0″, but that's another story.
We started with a truck load of #3 oak planks from a pallet plant. First the boards were squared up in a jig on the table saw. We then ran them through a planer to remove most of the saw marks. Each board was cut to length on the radial arm saw then set aside. The boards were random width and we needed to make the tables 30″ wide. After the first cuttings were complete, we selected the boards for each table top. After joining with biscuits and glue, they were clamped and stacked to cure.
Intermediate sanding was done with a belt sander and 80 – 150 grit sandpaper. For final sanding I used a palm sander with 200 – 200 grit paper.
Meanwhile, I scouted through the scrap steel pile and came up with some 2″ square tube and heavy angle iron. For steel fabrication I used both MIG and TIG welding (we just got a TIG torch and I had to give it a try).
The plasma cutter made rounding the angle iron easy and should prevent a busted knee when the real work starts.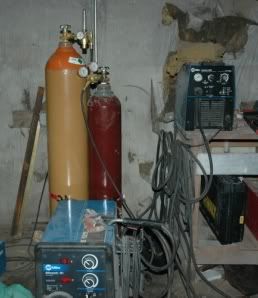 A developer bought the old place and tore it down to make room for a bunch of new patio homes. Right now the legs have been primed and moved to the new shop. When Entegry gets the power on, I can get back to work.
More later as the project progresses.
Frog_Legs standing by…