Alright I finally got my digital camera back, so I made my own little mini-review of the ACB
First off, this bipod is definetly a quality piece of gear, and worth the price tag in my opinion.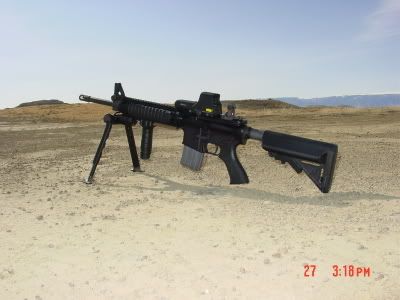 It mounts by 'tilting' onto the rail at the desired location then tightening the two screws down
The screws are captured so that they cant be lost
The legs attach to a extended piece that contains a swivel and spring that allows the rifle to track [about 15-20 degrees] and cant [about 5 degrees to either side]. A very well thought out feature.
Heres some pics that kind of show the tracking ability of the bipod
The only negative thing I can think to say about the ACB is that when the legs are stowed against the handguards it will interfere with lights in an offset mount, and will make a standard grip on the rifles handguards uncomfortable.
I dont mind this so much as I usually use the vert grip or a magwell hold. My AR is a midlength, but on a carbine gas system AR, the legs will fold up and be touching the delta ring.
The legs can be extended to three different positions. Fully closed they are about 7.5" long, fully extended they are about 10". In the fully closed position, a 30 round mag will still clear the ground (I'm using a 20rd'er in all the pics though)
The legs are extended/closed by pressing in on the button, then pulling down/pushing up.