Boy was it nice to have a day off of work.
First time shooting her since I had her re-configured about a year-and-a-half ago. She was in post-ban state then, and I had my local dealer (Terry L. Davis) replace the front sight assembly and thread the barrel.
Anyway, I picked up some remanufactured Ultramax 55-Grain FMJ yesterday (trying to find the closest thing I could to XM193) at a local store....then came home and searched 'Ultramax' here on the forums - only to find out people have had some issues with the stuff. Thought to myself: 'Uh-Oh'...I then proceeded to inspect each and every round for damage...and they were good to go. Put 160 rounds through it. All open sights at 50 yards from bench rest.
I used the 'Improved Battlesight Zero' method described on the Maryland AR15. Shooters Site.
Thought it worked out really well.
My RRA A2 20":

First group of 10 Ultramax 55-Grain FMJ: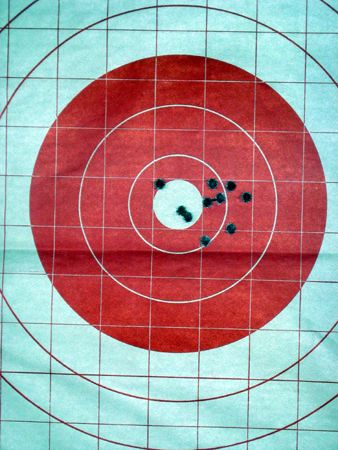 Last group of 10 Ultramax 55-Grain (eight shots fit under a quarter, the big single shot hole to the left was there when I started shooting):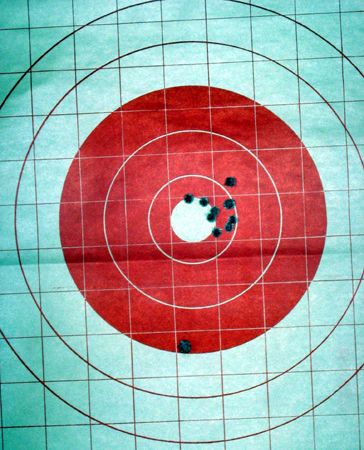 One of a couple of 30-round Rapid Fire sets using Wolf 55-Grain steel cased FMJ: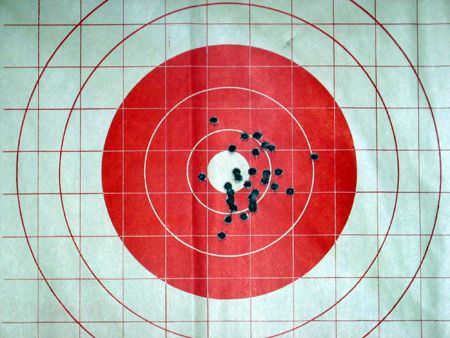 The Wolf seemed to run fine today, when it hasn't in the past.