I bought this M4 kit from M&A parts as my first AR 2 years ago (optic is a newer addition).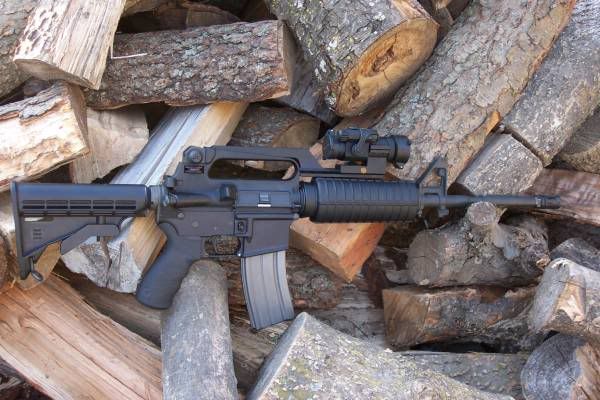 I hadn't found this site yet so it took me about 45min-1hour to assemble the lower. I had about 2 cases of ammo through it when it started to have some extreme FTFeed problems. Turns out that they put an M4-cut upper on a rifle barrel extension and that left one hell of a lip. It got so bad that I couldn't fire more than 1 round without it FTFeeding.
I whipped out the dremel when I got home and matched the barrel extension to the upper and it hasn't been too bad since then. I now have about 4000-4500rds through it and use it as my beat around rifle for around the farm and for coyote hunting.
I was thinking about getting a 20" A2 kit from somewhere (Del-ton or J&T, I'm not going M&A again and I'm not going to even try Model 1) but I've found it to be much more fun to build from the ground up.
And to answer your questions.
1)Yep, First AR.
2)The AR's I have bought afterwards all started as stripped lowers. I don't plan on buying complete.
3)I shoot it about bi-weekly, usually about 100rds per session. About 2 or 3 cases a year between my 4 AR's and this one gets shot the most.
4)Hunting, plinking
5)Cheaper. My kit total was $540 and my lower was $130. I had a complete and functioning AR for $670. The Bushies on the rack were $899. I didn't build from scratch because I didn't know what I was doing and didn't want to have to deal with the barrel at the time.
Hope this helps.
WIZZO