For those that are looking for a vehicle rack for your "Swiss Army guns", you might want to take a look at
Santa Cruz Gunlocks
. Their webiste isn't the greatest. They also have rack for other rifles and shotguns. I just put one in my squad after searching for one for a few years. I read some good reviews about them on the Lightfighter Forum, but I haven't seen them mentioned here, so I thought I'd let everyone know.
They are a lot nicer that the other racks that we have, which include a Tufloc and some other brand our installer got for us. The racks are open, which allows clearance for optics, vfg's, and lights. These racks can be mounted horizontal or vertical on the partition, and they also have a truck mount. In the horizontal mount, the rifle can be mouted parallel or perpendicular with the roof. The lockhead is a handcuff style, and can be mounted to go around the barrel nut, or it should also fit anywhere around the handguard. The brackets are well made and have a very nice finish on them. When I was installing it, I saw that they had made in Tiawan stickers on them, which at first kind of irritated me, but then I remembered that they are an ally. With the brackets, you can adjust how far from the roof you want the rifle, and you can pretty much put it anywhere from side-to-side that you want it to. There is also adjustment in the butt plate bracket which allows you to get it just right. One thing that some installers might not like is that it is not mounted on its own bracket, which might make a little more work for them when moving equipment from car to car, unless they leave them on the cage and move the whole thing. Also, guys who have cantilever mounts or who have the larger rail covers might have a little bit of trouble getting them to fit.
I mounted mine as low as possible to make it easier to remove. Since I'm kind of stubby, I won't have to worry about hitting my head. I also mounted it as far to the passenger side as possible to allow our M16's with collapsible stocks to be mounted in it. There is enough clearance between the mount and roll bar to mount most optics. I have a NSN ACOG on my rifle, and it cleared the back up iron sights. If more clearance is needed, I'm sure that you can add some spacers from most hardware stores. They also have a 10 second delay timer available that will keep the lock open after hitting the release button, so you don't have to keep it held down. Total cost was just under $200 for the rack, lockhead, delay timer, and shipping. It took me close to 3 hours to put it in, but I took my time to make sure I got it right and had to move it around a little bit to get it exactly where I wanted.
I have looked at the ELS-275 from Big Sky Racks, but I didn't like it how you had to have the buttstock extended, and I have read some reports that the rifles will twist down. I'm glad I waited and found these.
Here are some pictures
Driver's Side
Passenger Side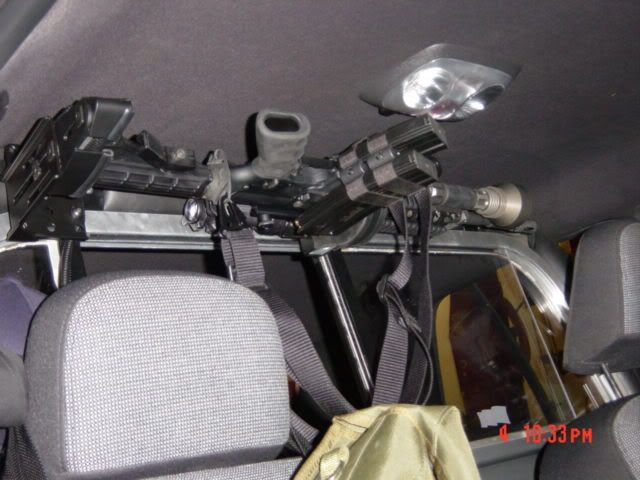 Close up of lockhead around Barrel nut/handguard slip ring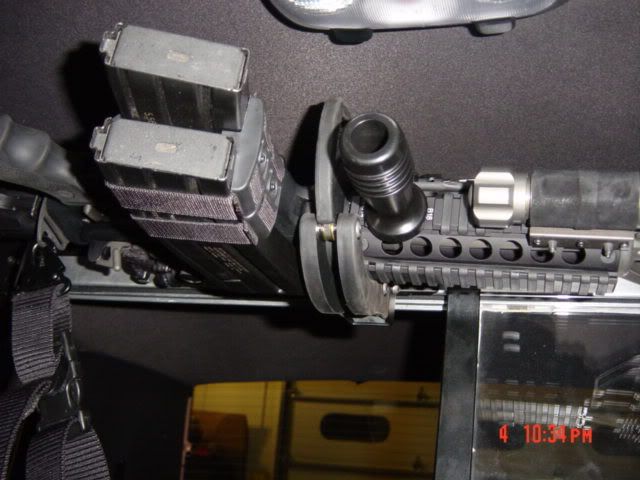 Rack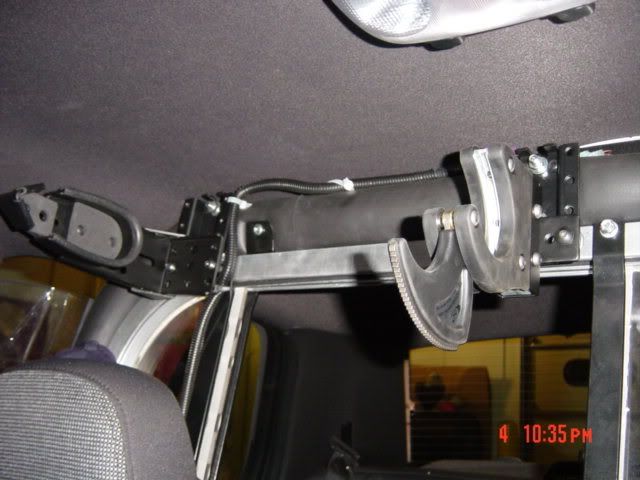 Lockhead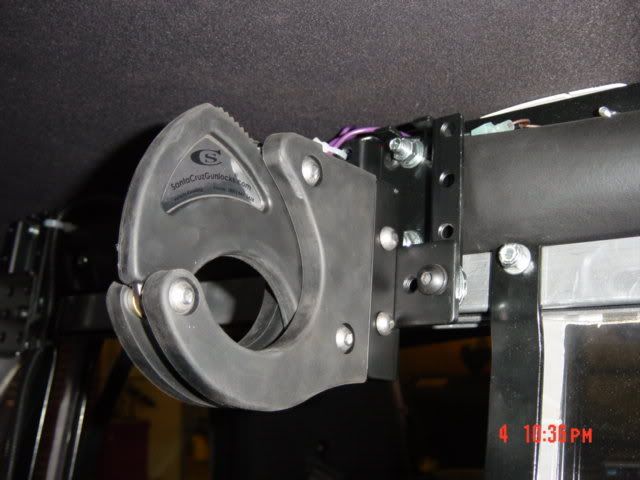 Butt Plate