My family laid to rest my grandfather last week, and I haven't been able to type up a post on it without getting upset. But this great man is worthy of my tribute, and I now take up my task.
Gramps was born in Sopris, Colorado -- which was abandoned and now lies underneath Trinidad Lake.
He grew up in Trinidad, Colorado, where he met and courted my grandmother. He worked at a paint shop, and took some classes after high school in physics and engineering. He did additional engineering education in Kentucky, before WWII. Just about the time he got back to Colorado and was ready to set himself to a career, the war started .
Of course, he volunteered.
He served in both theaters of WWII, and was in the second wave onto Utah Beach as part of the initial Combat Engineer group. He blew up pill boxes and machine gun positions and worked set the stage for the rest of the engineers coming in on the 4th wave to start clearing the beach between the tide lines so that our tanks and other armor could land.
He carried schrapnel in his body from what he describes as skyburst round fired from inland and which blew up near causeway 2 where he was working. The biggest bit of flack that he took was a wooden shard blown off of his M1 Garand's stock that went through his arm. He described huge explosions from the shells and said they were lucky not to lose more people. I bought him a copy of band of brothers and he was moved almost to tears by watching the part where Winters & Co. assaulted the very guns at Brecourt Manor that had been launching these shells.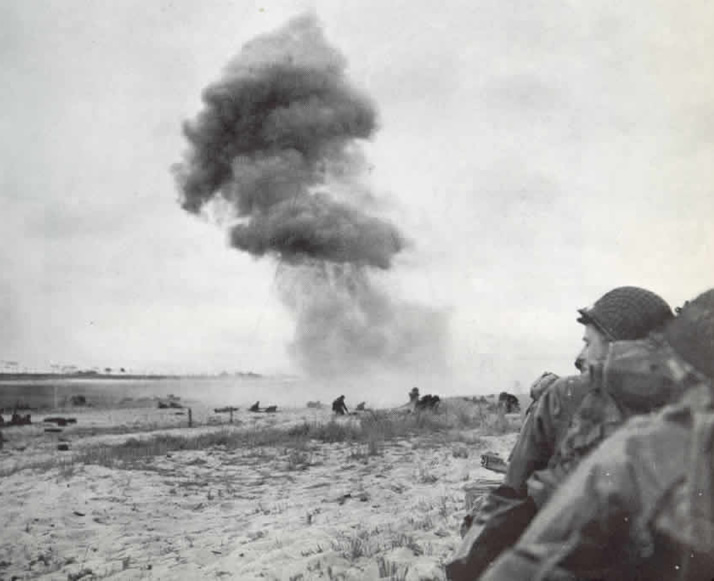 That's a photo from a Utah Beach site showing an 88 hitting the beach.
One of the engineers in Gramps' group carried a camera the whole war. Inland in Europe, they came across a Nazi extermination site -- small by comparison to what you often read about, which consisted of a trench with 30 or 40 dead Jews. They took photos and were so shocked by this, and their later observations of the "big" death camps they saw, that these guys made a pact to keep those photos after the war, in their families, forever. A few years ago, when my grandfather took ill, he pulled me aside. He took three horrid laminated photos from his billfold, which showed him standing next to and pointing into the trench at the emaciated bodies and he charged me with the duty to carry them forward: "DON'T YOU LISTEN," he would say with a great deal of rage, "to these IDIOTS and LIARS who say that the Germans didn't exterminate people."
He was there, he saw it. He carried those photos with him for 60 years. Now, I carry those photos, in my own wallet.
After Germany's surrender and victory in Europe, Gramps was redeployed to the Pacific Theater. He talked very little about his war experiences in general, but even less about the later part of his service. He contracted malaria twice, just to sprinkle in a bit of fun.
When he returned home, he became a financial planner. He didn't want anything to do with the stuff he became an expert at during the war, so his engineering training went unused. He had three children, including my mother. They in turn, have produced a total of 9 grandchildren (including yours truly), and one great grand daughter (my little one).
As a kid, Gramps and I did a lot together. We were all poor, so for the cold Colorado winters, we all had "wood burning" stoves in our houses. I'd swear just about every weekend during the summer involved a trip to collect wood, to cut it, stack it and store it up for the winter. I recall these trips fondly because Gramps' old 8-track player had one tape that was STUCK in it. It was Herb Alpert and the Tijauna Brass, and it played OVER AND OVER while we were cutting and stacking wood. I still wake up with "
Spanish Flea
" reverbrating in my head.
Gramps was a dedicated Catholic. Each year, he put up a gigantic Christmas lights display, with his own hand crafted -- and life sized -- Nativity Scene. He taught us right and wrong, and taught me about making money by saving money.
He was one of 12 kids, and lost all but two of his brothers and sisters before he passed.
My daughter absolutely adored him, and its one of my great satisfactions that she was able to spend some time with him as she's been growing up (and at an age where she'll remember him).
He was a great man, and I'll miss him.
RIP, Gramps. We've all got some HUGE shoes to fill now that you're gone.