Here's one explanation for a
bullet button
. Confused me too. Its a CA thing.
While it apparently satisfies the CA AWB regulations (if used with magazines that are 10 rounds or less), don't know if CT would also accept it. I wouldn't want to be the test case when our AWB clearly state's; "ability to accept a detachable magazine". And all the bullet button conversion does is modify the magazine release so that a "tool" is required to release the magazine.
The other option, short of buying a pre-ban lower, is to do away with the pistol grip on the AR. Someone once posted a link to a rifle stock or gip for an AR that didn't have a pistol grip or didn't have a grip that "protrudes conspicuously beneath the action of the weapon". Looked fuggly, but its a possible workaround for having a threaded barrel.
ETA:
OK fround a link and pictures of fuggly AR stock without pistol grip. Here's the apparently CA legal stock for AR's to get around the pistol grip issue. Its called a "U-15" or something like that. More info including places to possibly order it can be found in this
2007 Calguns.com thread
. Unknown if CT legal though.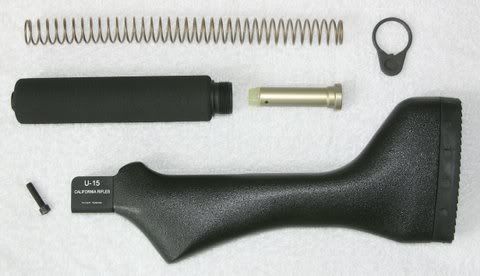 ETA2:
There are also these guys who sell a non pistol grip device to replace the pistol grip that is apparently CA compliant. They are used with an A2 style stock. Don't know if CT would see this as legal.
http://www.monstermangrip.com/
Monstermangrip.com Legal Info