I double up on hearing protection when I'm using my beast - plugs and muffs.
Regarding bear protection - even without the scope, I wouldn't carry my 500 for bear protection. There's no such thing as accurate/fast follow-up shots with a 500. Under stress, with such a heavy gun, my hit ratio would be awful and five shots just aren't enough. I carry a Glock 20 10mm with 16 rounds of 230-grain hardcast bullets as my woods gun.
Ballistic supply made some stupid-hot loads, but so does Doubletap. The hottest Doubletap load is pushing a 350-grain bullet at 1975 fps for over 3000 ft-lbs of energy. That's 30-06 territory. The X-frame is designed for 55-60,000 psi, and was tested with loads that ran at 90,000 psi. To say it's built like a brick shithouse is a gross understatement. Ever wonder why the cylinder is 2 1/4" long, when the standard 500 cartridge is 2 inches long? The designers at S&W wanted to be able to accommodate the 5.56 X 45 rifle cartridge as a potential future model of the X-frame line.
I think the 500 would make an excellent hunting handgun. If I use mine for hunting, I would use a monopod or bipod. The 1975-fps 350-grain bullet would be a very flat shooter, and it'd probably be good out to 200 yards for medium game like deer. The trigger is actually very crisp with a very light pull. It's not so much flinching, as muscling trying to control the recoil. If you hold it with a handshake grip, and accept the fact that the muzzle is going to flip straight up, you can make some very accurate shots.
Here's what it can do at 100 yards with a scope. I fired two shots free and easy, and muscled/flinched on the other three. Guess which ones?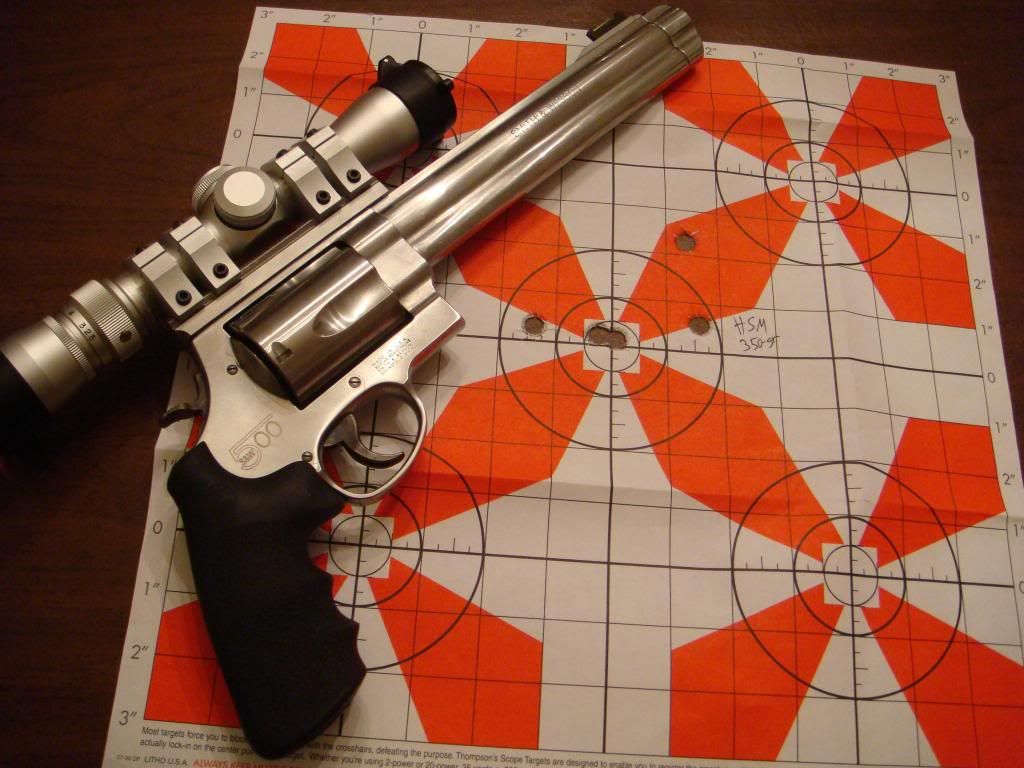 Those are 1-inch squares. Any one of those five shots would be a kill.