Originally Posted By JackAR15Bauer:
what do you think about that? carry the gun you love, and possibly lose it? is your life worth the money you laid out for it? or is it a principle thing: gun gets confiscated and eventually "destroyed" (yeah, right, prolly end up in some cops house) or what?

The proper way to look at it is like this:
If I purchase X firearm I need to have at least two of them. Why? Because if I use the weapon to stop someone who wants to kill me, it is highly likely that the weapon will sit in a police property room for ages. If my shoot was justified I will probably eventually get the gun back...but the legal process is slow and once something becomes evidence it's held hostage by the notoriously slow moving gears of the system. I don't know if you've ever had something stolen before or not...I have. The police found the guy 15 minutes after the theft with the stolen item in his possession. Great news, right? Well then the stolen item was evidence because he was facing serious prison time and the PD had it in evidence for
almost 2 years
.
If you shoot someone with your firearm, it is going away for an undetermined amount of time. If you have other guns, great...but do you have all the required carry gear for those guns? Do you have spare magazines for those guns? Have you trained extensively with those guns to the point where you are as proficient with them as you were with the one the cops now have? The ability to come home and grab an identical weapon out of the gun safe and stick it right into your holster and drive on is a good thing. Most who use the weapon in a legitimate shoot do get the gun back...eventually. When I carry a gun I'm carrying it because it is the weapon I've put thousands of rounds downrange with. I've achieved a certain level of proficiency with it..I've dedicated time and effort into learning to work all the controls as efficiently as possible, precisely zero the sights, etc. It wouldn't be on my hip if I hadn't gone through that sort of process. I don't want to have to switch to another gun that I haven't put all that time into just because some knucklehead had an epic failure in his victim selection process. So when I make a decision to carry a particular handgun I buy at least two that are configured identically. If I do have to use my main carry gun I can replace it in minutes with my backup gun and then go out and buy another backup gun since my primary will be sitting on a shelf for at least a year.
At the moment I'm carrying an H&K P30. Not a "cheap" gun by any stretch, but it is certainly much cheaper and much easier to replace than a $3,000.00 custom 1911...and I can do anything with a P30 that I could hope to do with a 1911. I bought all of this: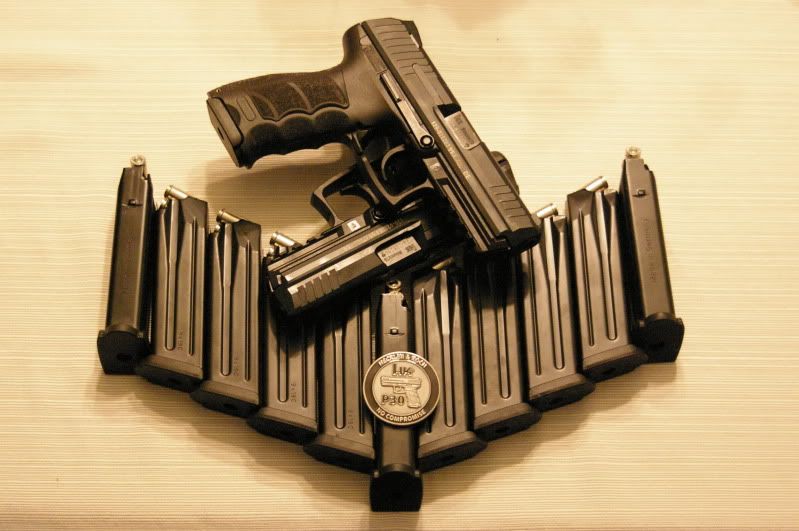 ...for less than what you would spend on
a
really nice 1911 that I could count on to go bang reliably. The same logic would apply if I had decided to go Glock or stick with my M&P's. I'm looking at a total perspective...not just the purchase price of the pistol itself, but the cost of carry gear, magazines, accessories (sights, lasers, etc) and the time and effort I've put into building proficiency with
that
weapon. When you add all of that up it's a hell of a lot more than just the purchase price of the firearm itself.

my initial gut feel is carry the one you want, as the chances are not high you'll be in a shootout, and my life is certainly worth the coin i paid for it

I carry a gun because I fully expect to have to use it. I hope every day that I don't, but I proceed on the basis that sooner or later I'm going to need to pull that pistol and use it to stop someone from killing me. I do my best to avoid situations where I would need to resort to using the firearm...but even with my lifestyle of avoidance in the last
30
34
days I came perilously close to actually having to use the handgun.