Let me repeat my gratitude: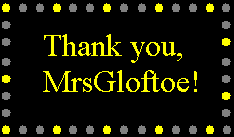 who sponsored my Team Membership and gave me some evidence that I can make an occasionally amusing graphic.
So I now offer the Best Of Brisk322. As always, I reserve only my avatar - the rest are for all to "Share and Enjoy".
(for DK-Prof "I am Danish, hear me roar!")
You should NEVER smoke in a Job Johnny.
Below are some links to "louder" animations (links only, since these are painful to view)...
Did someone say seizure?
+1 IBTL?
To the lurkers, speak up! I can't hear you!
To the
worthless freeloading trolls
non-paying members, please put up the $20 and join. This is a cool site, but it doesn't run for free. (Yes, I won my membership in a contest, but I was in the middle of submitting the check when that happened.)
To the Avilas and their staff, thank you for putting this site together, keeping it running, and always looking for improvement.
To DK-Prof, Yakrat101, and Gogop...I am honored.
To the other Team Members, thank you for not dragging me into The Pit.
To my Brothers (you know who you are)...1 Th 4:16-18.