---
Originally Posted By Dru:
Not bad like the others said................ Plus I even had the pleasure of my dentist (who was a female) rub her 'Bewbees' all over me while she worked.........
---
I had the same pleasures
. But she was an Endodontist, not my regular Dentist, so it was only one visit
. Here's to more root canals in the future
.
I would recommend you see an Endodontist, they specialize in root canals. You won't feel anything past the first injection if you go with an Endodontist. I have had four root canals
and that has been my experience.
ETA: Some show and tell
.
First he/she will put a rubber dam around the tooth to be treated, this is to prevent any infection from spreading: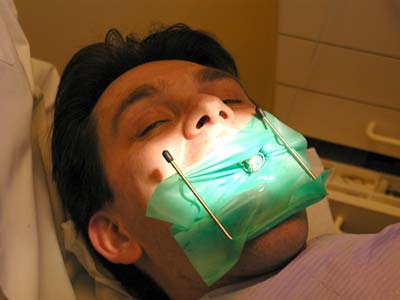 Then he/she will drill down the tooth to reach the root, where he/she will start to file down the root:
The red tip with white ring is the file:
Then the canal are filled in with a rubber-like material called "Guttapercha":
It may or may not require a crown, depending on how much of a tooth is left.