I've had
very
good service for many years out of a Butler Creek side-folder on one of my 870s. I believe they make the same stock for Defenders. Note that some folks don't like the elevation on these, but I've never had a problem with it at HD/SD/CQB distances (I've never tried to shoot clays with it
). It is third from the right in the picture below (I don't have one of it by itself or folded - sorry
):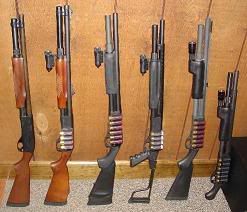 The only other folder I've had (other than the factory one on the SPAS-12) was a Remington factory top-folder on an old police shotgun - I didn't like that one at all.
I've read a lot of good things about the "COP Stock" but haven't tried one.
(
Not sure if they make one for Winnies...)
EDITED - see below.
EDITED to add
LINK.
Mine is the "old-style" blued folder - I haven't tried the one with the shell-carrier, but I remember reading some negative comments about it here a while back...