SPF to azcrew
I have a Tasco Optima 2000 micro red dot sight for sale: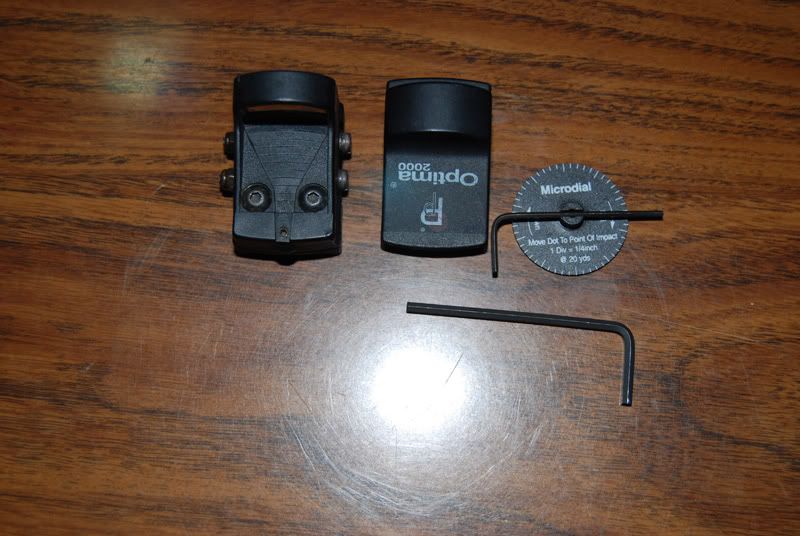 It comes with everything originally included except the original box and manual, but does have the hard to find fine-tuning adjustment tools, wrench, and a factory Picatinny rail mount installed.
This is the VERY desirable 3.5 MOA sight for rifles or carbines, comes with a factory Picatinny mount, will fit on any Picatinny or Weaver rail. The ProPoint Optima 2000 is no longer sold under this name, but is now sold under the name, J-point. Info on the excellent qualities of the sight:

JPoint Red Dot Sight - The original world's smallest red dot, battle proiven in Iraq and Afghanistan

Here's some more info on a write up of the sight:

Badged as Optima 2000, this "miniaturized C-More looking" sight is in fact designed and developed by a British company named Firepoint. The release of this sight changed the story of Modified Class in IPSC, as this sight is compact enough to fit into a Modified Class box with proper installation. Modified class is now including a first optical sight. This sight is revolutionary in that addition to it's small size, it is rugged enough survive & thrive mounted to the slide of a semi-automatic pistol.

Optima 2000 also revolutionized the carry gun market. As this sight can be permanently switched on for 3 to 4 years (estimated battery life), and compact enough to be daily worn, Optima becomes very popular in the carry gun market as well. This breaks the rule that "Racing optics is never a real life sighting equipment" is proved incorrect. Brightness of dot is automatically adjusted to external lighting environment so no manual adjustment is needed.

Ultra light (14g) and compact (L x W x H: 41mm x 25mm x 23mm)
Long Battery life
Auto brightness control

Sight sold brand new for $269 - $275 - I got it on trade, and can't use it on my .22, as I now have a scope on it.
This is a great sight for a tactical shotgun, AR-15, or even mounted on top of your pistol, as the sight only weighs .5 ounces.
I'm asking $120 Shipped, Paypal +3% or USPS Money Order. Compared to other prices I've seen on these without a mount, it's a huge savings. Sight will ship USPS Priority, PM or email kingsiderook@gmail.com with any questions.