Brand new, never shot DSA SA58 "Gray Wolf" 308. This thing is immaculate!
http://www.dsarms.com/SA58-FAL-Graywolf-Rifle-308-Win––Cal––––SA58GWOLF/productinfo/SA58GWOLF/
Straight from the factory. Features include:
- 21" Premium Match Grade Bull Barrel with Target Crown
- Alloy Free Float Tube with Texture Finish
- Duracoat finish in Jet black and Gray wolf
- Extreme Duty Extended Scope Mount
- Lightweight aluminum lower receiver
- Saw pistol grip with internal compartment
- 20 round magazine
- Hard case and manual
Upgraded with the following:
- Match grade set trigger
http://www.dsarms.com/gunsmithing.asp
- SPR Side Folding Buttstock. I have another FAL with one and its awsome. Has spot to attach monopod.
http://www.dsarms.com/SA58-FAL-SPR-Side-Folding-Buttstock––––-P0SPRSTK/productinfo/P0SPRSTK/
- Tactical Para Steel Rear Sight
http://www.dsarms.com/Tactical-Para-Steel-Rear-Sight-US-Made––––DSA110/productinfo/DSA110/
- Tactical Accessories Picatinny Rail on free float tube
http://www.dsarms.com/SA58-FAL-Tactical-Accessories-Picatinny-Rail––––H4355/productinfo/H4355/
- Harris Bipod Adapter
http://www.dsarms.com/Harris-Bipod-Adapter––-FSBP1/productinfo/FSBP1/
FAL's are a proven battle rifle, adopted by over 93 countries and in service for over half a century. Simple, rugged, and super reliable. A hand adjustable gas piston system, left sided non-reciprocating charging handle, 30 round mags, and super fast magazine change capability. All the new rifles coming out try to have the same charictaristics. I think the FAL was ahead of its time. And DSA is the best manufacturer of them.
Here's some links to turn you on:
http://www.youtube.com/watch?v=iS_BScbL2nQ
http://vickerstactical.com/tactical-tips/battle-rifles/
http://www.usmadefal.com/fal-info.htm
http://findarticles.com/p/articles/mi_m0BQY/is_8_48/ai_87564352/?tag=content;col1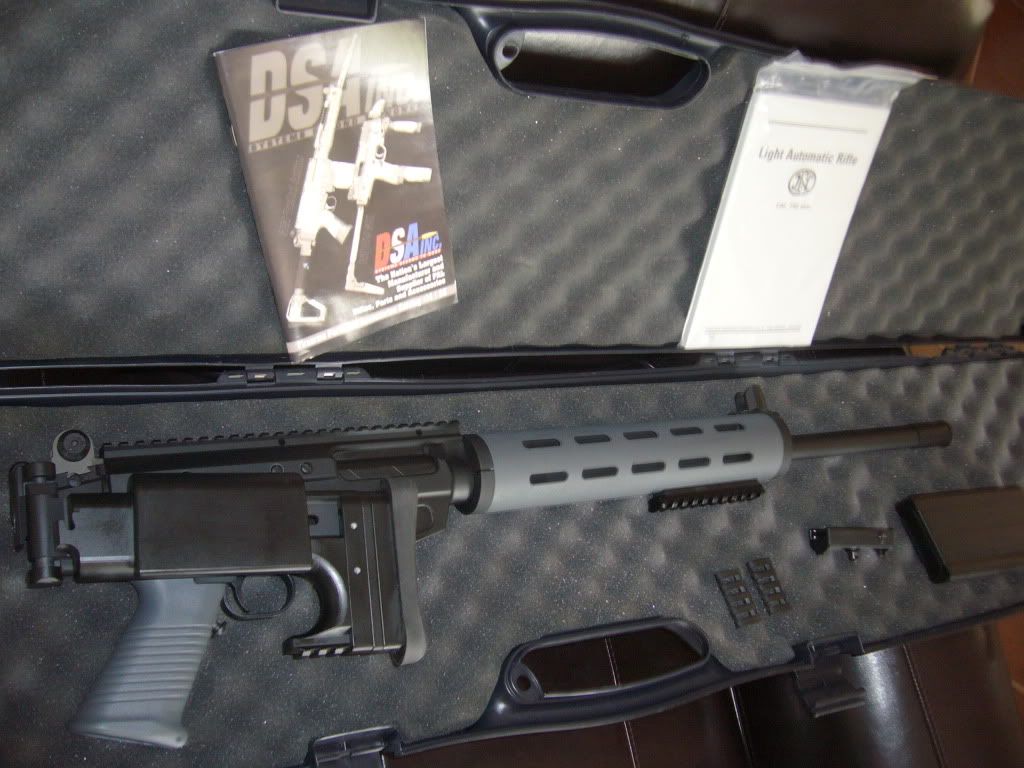 Grey is darker in person. Flash from camera made it look lighter.
$2300
$2200
$2100
$1999. This is friggin cheap! This is over $1000 bucks off not to mention the long wait to get it from DSA. I found another toy I need! I'm in AZ for a FTF. Or buyer pays shipping.
You would have to pay over twice as much to get pretty much the same thing with a fluted barrel and railed handguard:
http://www.dsarms.com/SA58-SPR-Special-Purpose-Rifle-308-Cal––––SA58SPR/productinfo/SA58SPR/
Selling because I have another one with pretty much the exact same setup.