They're clear.
They're Bulgarian.
They're 7.62x39 AK mags.
They're cheap.
$5.95 for 30rd mags and $8.95 for 40rd mags at Area51Tactical.com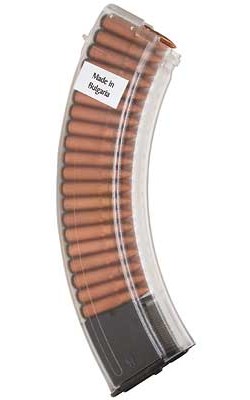 We recommend these for training and range purposes. They do not have the steel reinforcements found in
mil-spec Bulgarian waffle magazines.

Shipping is a flat $9 on any order.

Order online at Area51Tactical.com
or
Order toll free (M-F 9am-6pm CST) 1-888-231-7678
God bless America