I bought this slightly used Kel-Tec Sub2000 in 9mm GLOCK mag configuration from another board member a couple months ago. While, I really just bought it as an affordable "fun gun," I can't say enough good things about it. It uses the same mags and ammo as my daily carry gun, the GLOCK 19. I thought this would be a good quality to have in a cheap plinker, but I keep thinking of more real world uses for it every day.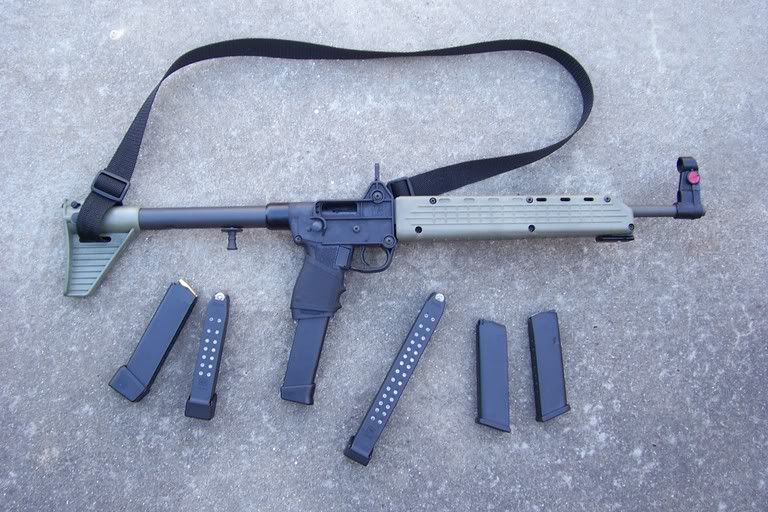 IT'S ACCURATE.
The other 9mm carbines I have compared it to are the Bobcat BW-5, a Vector UZI carbine, a Beretta CX4 Storm, and a Colt CAR. The Kel-tec is more accurate than the Bobcat or Uzi, and at least as accurate as the Beretta and Colt. I can shoot quarter size groups at 50 yards with open sights, and it shoots much smaller groups at 100 yards than my Chinese AK.
IT'S RELIABLE.
I have put 1300 rounds through it in the last few weeks with no cleaning and ZERO malfunctions. The ammo I have used includes Wolf 115 grain, Winchester white box 115 grain, Winchester 147 grain TCFMC, Speer Gold Dot 124 grain +p, Federal Hydroshok 147 grain, and Remington Golde Sabre 124 grain +p.
IT'S LIGHT.
At 4 lbs, the Sub2000 is extremely light for a centerfire autoloading carbine. The Beretta and Ruger carbines are considerabley heavier than the Kel-Tec, at 5.75 and 6.38 lbs respectively. It is also lighter than a 10/22 at 4.25 lbs and even some larger handguns such as the Desert Eagle. Besides being easier to carry for long periods of time, the scant weight also lends itself to easier handling. I can chew the center out of a man size silhouette at 100yards firing one handed from the shoulder.
IT'S CHEAP.
With a MSRP of $381, the Kel-Tec can be had for half the price of many of its competitors. I generally see them new from $289-$315 and used from $220-$250. That is a bargain by any standard.
IT'S VERSATILE.
You can have the Sub2000 in four different flavors in two calibers to match your favorite pistol. 9x19mm and .40S&W in GLOCK, SIG, Beretta, and S&W magazine configurations. For me, the GLOCK 9mm was a no brainer as it matches my carry piece. This version also has the added advanatge of utilizing cheap 33 round G18 mags.
IT FOLDS.
This novel feature is the icing on the cake. When folded in half, the Sub makes a handy 16x7" package than can be stashed in a briefcase, laptop bag, tool box, backpack, under a car seat, or even slung under a coat. This feature provides the ability to carry a semiautomatic centerfire carbine in places where previously only a handgun was possible.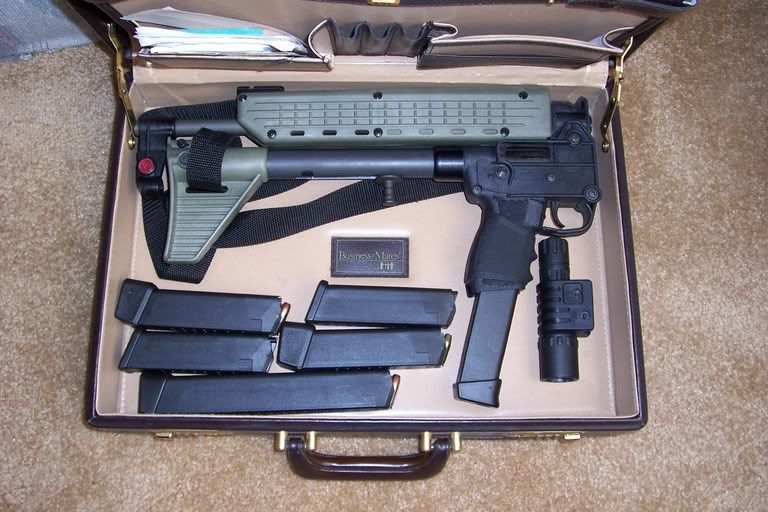 The uses of such as weapon are almost limitless. I have become fond of carrying my Sub2000 in a laptop bag with a few 17 and 33 round mags, 2-way radios, compact binoculars, spare Surefire, spare batteries, energy bars, first aid kit, multi tool, survival knife, and other emergency gear. All of this in a compact package that weighs around 6 lbs and can be carried discreetly almost anywhere. It is right at home riding next to me on the passenger seat of the car.
The Sub2000 would make an excellent hiking or biking gun. A tricked out M4 would draw more than strange looks on most public trails, while the Kel-Tec in a backpack would disappear in plain sight. It could also be useful if you were forced out of your home in SHTF situations. In the aftermath of hurricanes or riots, even a law abiding citizen would probably draw unwanted attention by openly carrying an AK or G3 through the streets. The Kel-Tec could be carried in a bag or under a coat and deployed in less than 2 seconds when needed.
I don't pretend that a pistol caliber carbine is any more than just that. If forced into a fire fight, I would MUCH rather have one of my ARs, AK, or FAL. A pistol round fired from a sholder weapon is still better than the same round fired from a handgun. The old saying that a .22 in the pocket is better than a .44 at home also holds true for long guns. A 9mm carbine in the car is better than a Garand in the safe.