Special Ops Tactical SOT 15
Tim Lujan at Pointman Pistol Range in Wichita Falls, Texas called me up. We used to be partners until other matters took me away from the gun biz. Tim was testing a new rifle from Special Ops. Tim asked me to come out and shoot with him and write a review for you guys on this weapon. The chance to shoot free ammo and not have to clean a gun was a deal I couldn't pass up.
Special Ops Tactical is owned by Garrett Potter. Garrett used to work over at Spikes Tactical, before going out on his own.
When I got to the range Tim laid the SOT on the table and the first thing I noticed was it looked just like every other AR15 on the market. It had MOE handguards, a detachable carrying handle and a typical telescopic butt stock. And, guess what color it was? That's right black.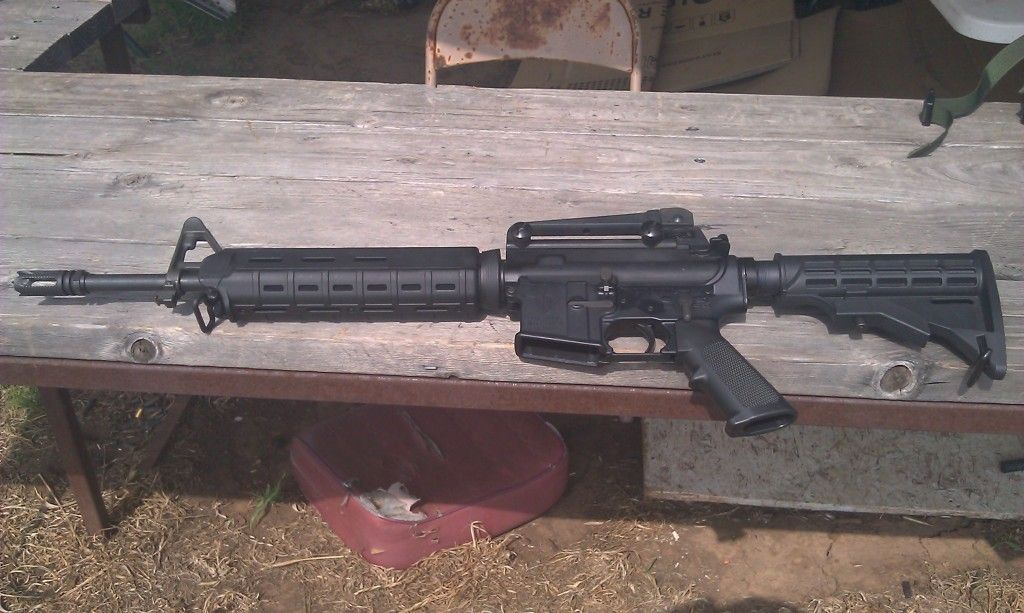 So, the first thing I did was lay my 10.5" next to it. I know, I know, it is all about comparisons. I realized the barrel seemed a little short on the SOT. After checking it out I realized the SOT had a 14.5" inch barrel with a Phantom Flash Hider permanently attached. Hey, now I'm getting interested. Then as I was actually handling the rifle I noticed it had the auto markings. I thought I was really in for a treat, but was I ever disappointed. Tim said this particular SOT was tested by the Jacksonville, Florida SWAT team and they had requested auto controls. We were only blessed with semi-auto.
" />
Tim had done some preliminary shooting over several weeks and he informed me the round count on the rifle when he received it was approximately two-thousand rounds, which included semiautomatic and automatic fire. At this point in the game Tim had put about 3,100 rounds through it. Tim said of those rounds 1500 were steel casings. Tim said he never had a misfire until about round 3,100, while shooting the steel cased ammo. Other than getting dirty from shooting steel ammo through it Tim assured me there had been no other problems or malfunctions.
On this day we were still shooting steel cased ammo; wolf to be exact. By the end of the day we shot about 300 rounds through the SOT 15. So, by the time the rifle was sent back to Garrett it had approximately 3,400 rounds through it of both steel and brass cased ammo.
We chunked the carrying handle and Tim had a cheap UTG red dot with him so we threw it on. Tim said the accuracy with the peep sights had been spot on and was easy to zero. I just wanted to handle this gun and hit some steel targets.
" />
The first thing I noticed is that with the MOE handguards and no other attachments the gun was light. With the barrel cropped to a true 16" it felt nimble and very well balanced.
I ran some single shots and, of course, the felt recoil was like any other AR; practically none. I then sped up my shots to see if it would stay on target and I was pleased. Ding after ding could be heard from .223 hitting the steel targets.
We shot this puppy from 10 yards to 100 yards and she hit steel each time. I had forgotten what it was like to have nothing on your rifle and how much less weight there was, made me think about trimming some weight off my AR.
" />
" />
The SOT ran flawless and was actually pretty dirty when I got to shoot it. Tim is about torture testing everything he gets his hands on. I'm not usually impressed with AR's as I have what I want and I am satisfied. But, I have to say the SOT ran good and felt solid so I was impressed. I looked up the specifics on the web-site and have included them below. I will say $1,049.00 is kind of steep for my wallet, but I'm sure some of you guys wouldn't think twice at that price point. I thought at that price maybe Garrett could have put a MOE butt stock on it. I don't really like telescopic butt stocks (I run a Sully stock on my department gun), but the Magpul has seemed okay on my 10.5.
I emailed Garrett a couple of questions about his company and rifle. I asked what kind of waiting list he had and Garret said, "Our standard is Not taking money for something Not in stock. Usually normal delivery times are about 1 to 2 weeks or less if all parts are in stock." When asked about his goal in making rifles Garrett said, "To produce High Quality products at an affordable price. All of our gear is top quality and built to last many lifetimes. We manufacture great products that I trust my life with as well as many others." Garrett also said, "We offer several different types of rifles from basic to fully customized to appeal to every kind of shooter depending on the specific needs and mission of our customers that may range from advanced Law Enforcement entry or long distance sniping or just the recreational weekend shooter."
This gun took a beating between the Jacksonville SWAT and the guys at Pointman Pistol Range. I would say it is worth the money. Thanks Garrett for the use of the rifle and Thanks Tim for the ammo and the chance to shoot.
Tim made a short video review so check it out at:
Video Review
Special Ops Tactical can be found at:
Special Ops
A direct line to the SOT 15 is:
SOT 15
Oh, yeah, I said I put the specs for the SOT 15 below so here they are:
MIRAGE 14.5" pinned to 16" overall MID-LENGTH LIGHT WEIGHT Rifle with Melonite Barrel, Nickel Boron M4 Barrel Extension, MOE HANDGUARDS, & Permantently Attached Phantom Flash Hider.
. Super High Quality Mil-Spec Rated Barrel 4150 CMV MIL-STD B-11595E
. 16" Melonite Coated Barrel
. Nickle Boron Extended Feed Ramps
. Nickel Boron M4 Barrel Extension
. Mil-Spec Bolt Carrier Group
. Melonite Gas Tube
. Phantom Flash Hider Permanently attached
. 1/7 Twist
. F Marked Front Sight Base .625
. MOE Handguards
. Anodized Forged Charging Handle
. Receivers Machined from Aluminum Forgings 7075-T6
. Receivers Hardcoat Anodize MIL-A-8625F, Type III, Class 2
. Mil-spec 7075-T6 Receiver Extension
. Buffer Tube Receiver End Plate Staked Castle Nut
. Low Shelf for RDIAS installation
. Fire Controls marked in Universal Language of Bullet Pictogram
. The Special Ops Logo Milled into Lower Receiver