The point so far is to show the painted AR, not the cool gadgets on it. I wasn't sure if I should just post it in the AR pictures sticky thread, but I thought since the paintjob was so good and it's being improved upon now, I'll just make a thread so I can throw updates on later. I was supposed to wait till' I had pictures of the updates, but I can't. I'm pretty bored and my AR is looking pretty cool.
These two pictures are early shots, when my AR was first paintd (not by me) and I just had to.. HAD TO go shooting, even though it was so new there wasn't a BUIS or vertical grip on it. Let me mention, I did pretty good for no BUIS within 50-60 yards. The paint is DuraCoat, and the color is slightly off the MultiCam pattern we tried to recreate, because we were misinformed by the company on what colors would best match MultiCam. The colors may be off, but it's one hell of a paintjob. It'll be improved and posted later.
Pre-Paintjob
Post-First Version Paintjob (MID-RELOAD):
Still First go at the Paintjob (A friend of mine):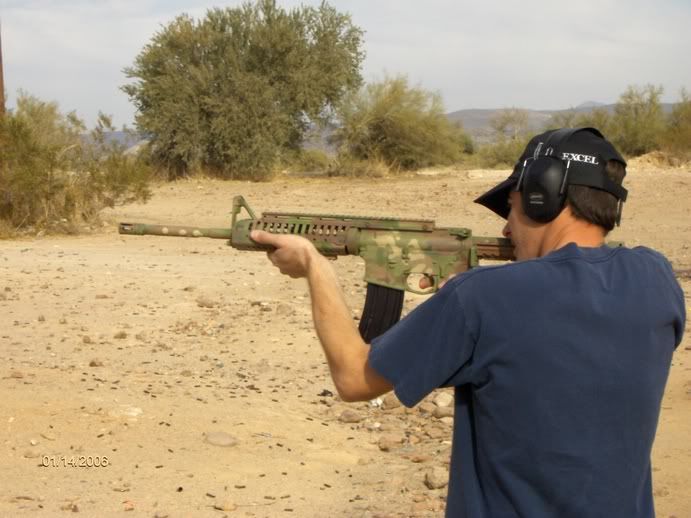 In the pictures, it's Ameetec lower and upper with the simple cromoly barrel, Ergo grip (I like it!), Magpul M93b stock w/ Strike plate and Casv-El from MSTN on here. On it now is all that and Troy Industries BUIS and Tango Down foregrip. I'll consider it complete as I want it for a while when I get the BH Gladius flashlight for it so we can all have a rave at the range.
I intend to get an Aimpoint and Larue mount for it later, but when I first started, I started using optics. I'll take a stab at just irons for a while, then get some glass later.
Updates to come!