A former Soviet bloc refugee, the PK-AS was made in Byelorussia and made its way into the US via a number of importers.

I've had this sight for about 6 months and have been using it for practical rifle matches, where targets are engaged at various ranges, from 2 yards to 300 yards, under a variety of conditions, moving, stationary, from the back of a pickup truck…
The good:
1) Dead easy to use.
2) Fast engagement of targets.
3) Rugged.
4) No batteries needed for daylight shooting.
The bad:
1) Heavy.
2) High sight line.
3) Optic quality.
I'll go over in detail why I came to these conclusions about the PK-AS.
1) Dead easy to use.
There only 2 controls that you can change while shooting. The elevation dial, graduated in MOA at the rear support of the scope, and the illumination dial, on the top right side. That's it. There are no adjustments on the scope body for windage or elevation as that's all done on the mount. The mount accepts Weaver or Picatinny rail type mounts.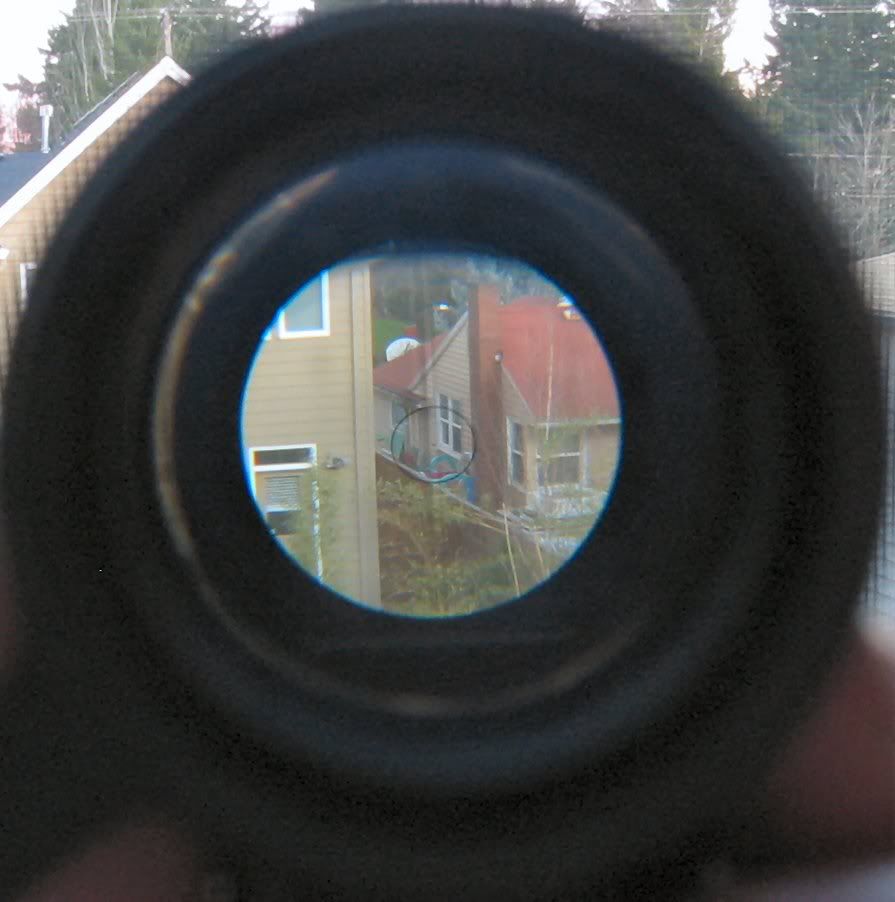 In low light, or if you need more contrast, turn the dial to turn the LED on.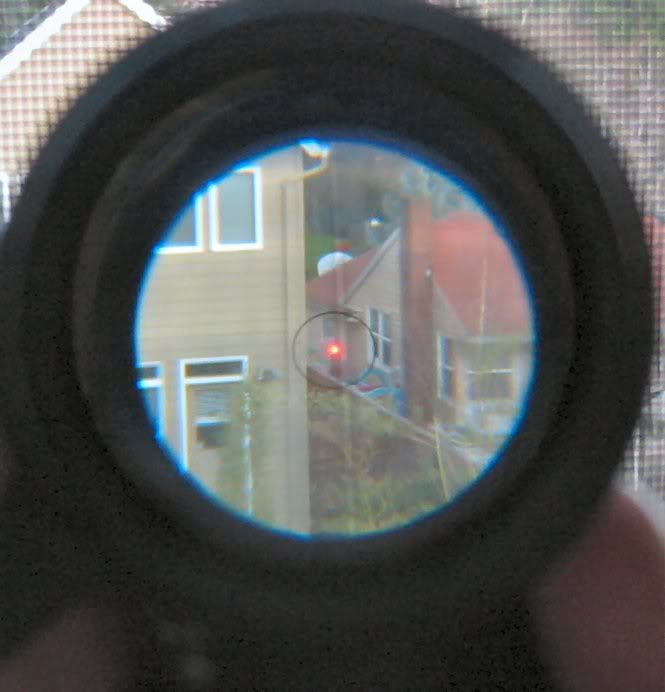 The LED in this picture is at maximum brightness.
To use, put the center dot on the target and pull the trigger. The oval serves as a CQB indicator or as a ranging device. If a man stands head to toe in the oval, he's 100 meters away. If he only stands ½ oval, he's 200 meters away.
2) Fast engagement of targets.
This sight is a 1x (unity) power scope. This allows for a huge FOV and the ability to mount it from about 2" from your eye to about 14" away. The large circle and fine center dot allow fast target engagement at close range. The center dot is 1 MOA in diameter, so it doesn't block targets at long range.
3) Rugged.
This scope is built like a brick shithouse. Both the scope and the mount are tough. There just isn't anything flimsy about them.
4) No batteries needed for daylight shooting.
Since the circle dot reticule is always present, the battery is only used at night. I don't know the battery life as I'm still running the original batteries (2x 357 watch batteries) that came with the scope.
1) Heavy
This goes with rugged. This scope has lots of steel, and that comes at a price, weight. The scope and mount weighs 14oz.
2) High sight line.
The PK-AS sets high over the bore. Really high. You aren't going to co-witness anything with this scope. You aren't going to get a cheek weld either. Chin weld is what you get with this puppy.
3) Optic quality.
They're Russian quality optics. Not the best. Distinct bluish tint to sight picture and noticeable loss of light thru the sight. Some distortion, with the worst being that on very bright days the connection to the dot can be made out as a fuzzy vertical line. It's almost like your blind spot, you can't really look at it, but it's there.
Quirks: Neither good or bad, just there.
You have to have a 3.5mm wrench to adjust windage and elevation for zeroing. One is included in the package, don't loose it.
Sight must be removed from the weapon to zero elevation. I had very good luck with the sight retaining zero when removed and remounted, so this wasn't a real problem for me.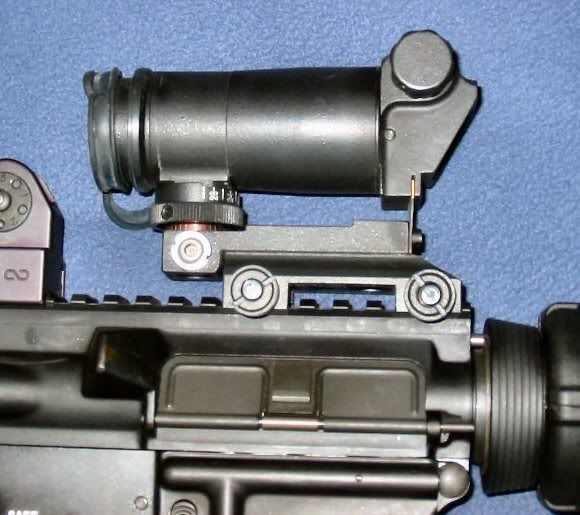 All in all, I would probably buy this scope again, but for a pistol caliber carbine or shotgun. I really like the idea of having a range adjustable (in MOA) sight for a weapon with a rainbow-like trajectory. With 5.56 Nato, by the time you need to add elevation, you would probably want magnification too. BSW