It looks strangely similar to some that Wes at MSTN built and posted here recently... I suspect we talked to the same folks about the set-up.
The specs:
- RRA Lower
- RRA Lower Parts Kit
- Chip McCormick single stage drop in trigger group
- VLTOR Clubfoot buttstock, buffer tube and buffer
- David Tubb Chrome Silicon recoil spring
- Tango Down Battlegrip
- CMT Upper
- Noveske 18" SPR barrel; midlength gas; 1:7 Polygonal twist; KG Koted OD
- Gemtech Bilock flash hider
- LaRue Low Profile Gas Block
- LaRue 12.0 rail
- LaRue bipod mount with Harris BRM-S and PodLock
- LaRue M4/SPR mount
- Leupold 60010 Mark 4 LR/T 3.5-10x40mm M1 Illum TMR
- LaRue JPoint Mount
- JP Enterprises JPoint 4moa red dot
- GG&G sling mount
- SKT Industries hybrid 3-point sniper sling
- Tangodown Vertical Foregrip
- Gemtech M4-96D
The pics: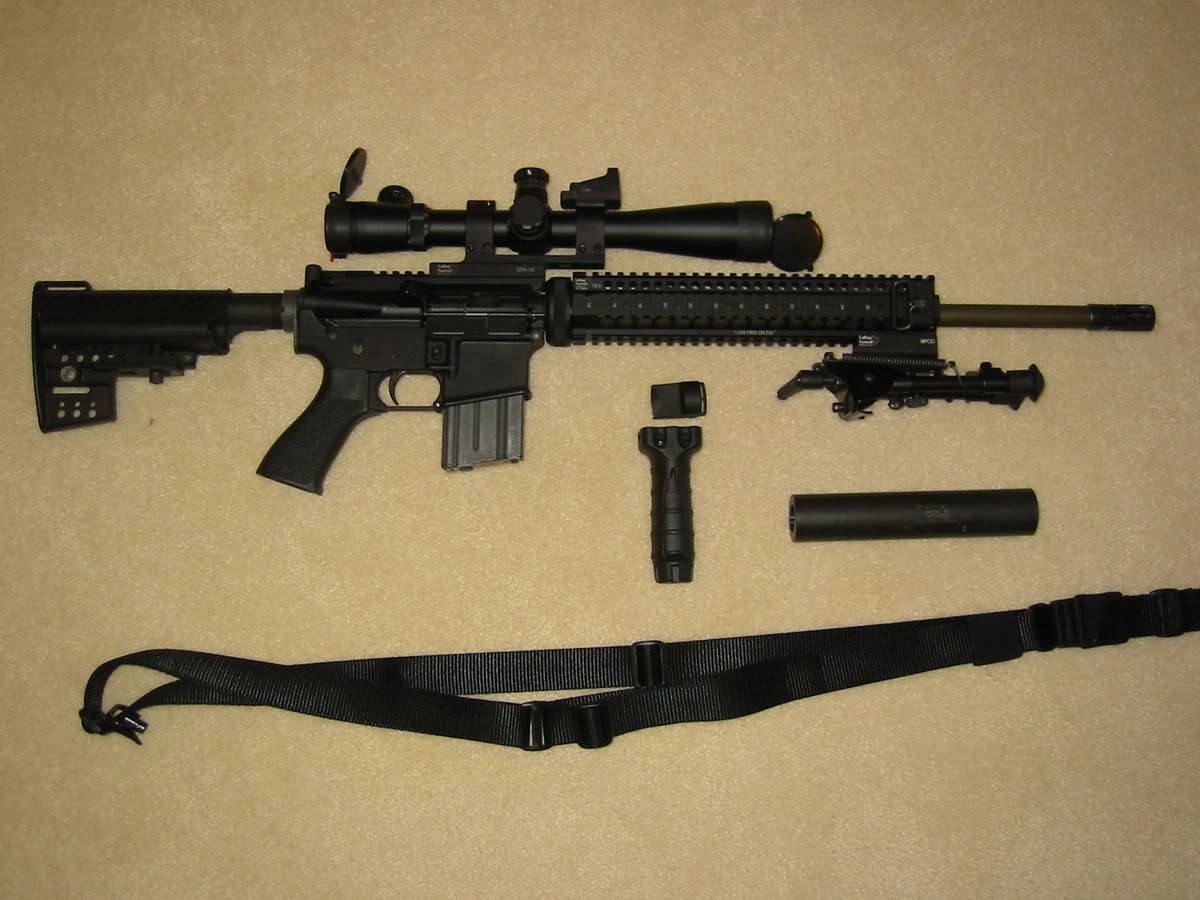 Quiet Mode:
*sling removed for clarity.
Some background: I'd been planning to build an SPR for some time and finally got around to it. Originally I had planned to build a standard Mk 12 Mod 0 or Mod 1 upper with fixed stock. I had the chance to shoot a rifle similar to my final build at the BORTAC Force Mod conference in March 05 and really liked how all of the LaRue pieces fit together as a system. The rifle felt really nicely balanced and shot very well even in my novice hands with the Noveske barrel. So I set out to build my own copy of that rifle I had used. Noveske builds some very nice barrels and I have plans to build a 10.5" CQB and 16" Recce Carbine using his barrels as well as his superb Krinkov Flash Hider for the AR platform.
-DH