In this guide I aim to provide basic, easy to use information for new buyers thinking of purchasing their first AK rifle. It will be a work in progress and I will update as I can. If anyone has any suggestions, please make them below. I would like to keep this thread current and accurate. Hopefully we can get this tacked for new buyers. If any new buyer has questions, ask them here. Let's consolidate all "What AK should I get?" threads into this one.
So you want to buy an AK. Let's start with a few questions:
What are you using this rifle for?
Price range?
Caliber?
What are your plans for the rifle? Do you want a safe queen? Or do you want a beater, truck/trunk gun? Do you want a range toy? Or do you want a rifle that you can depend on if/when SHTF? There are numerous questions that go into considering a firearm purchase, and you, the buyer, are the only one that can answer them. My advice is this: Before you start looking for rifles, have a clear idea of what role it will play for you. Do a little research and find out what you will be using the rifle for and what your demands of the weapon will be. Once you know what you will be using your AK for and what demands you will place on it, then you can move on to the next question.
What is your price range? How much are you willing to spend? When looking at AKs, prices start at about $500 and go up from there. When shopping, have a clear amount that you are willing to spend. Do not exceed the amount you have budgeted. When setting aside money for a new firearm purchase, consider adding $100 to $150 to your expected budget to have wiggle room. If you are looking to spend $600 on a rifle, set aside $750. That way you have a buffer zone for shipping, transfer fees, and the like.
Caliber. Common AK calibers are 7.62x39, 5.45x39, 5.56x45, .308, and 7.62x54R. What caliber you choose depends on several things. If you are an AR shooter, you may consider an AK in 5.56x45 for ammo commonality. If you want a long range shooter, consider .308 or 7.62x54R. If you want cheap, either 7.62x39 or 5.45x39 may be for you. 5.45 is currently at $225-250 per thousand, while 7.62 can be found for about the same. This is a personal decision that you must make for yourself. When choosing caliber, also look at the price of the magazines as well. They range from $10-15 steel surplus mags to $50 new production polymer mags.
Here are some videos of Jim Fuller from Rifle Dynamics breaking down the basics and touching on what to look for when buying in person:
Let's start with the generally least expensive and work our way up to the most expensive.
Saiga Sporters

The Saiga series of rifles are made in Izhevsk, Russia, and imported into the US in sporting configuration. They are available in 7.62x39, 5.45x39, and 5.56x45. There are also .308 and shotgun variations for a few hundred dollars more. The main points that these rifles offer are Russian hammer forged, chrome lined barrels and Russian receivers which are truly mil-spec as they are made in the same plant as the military AKs.
The downside is that they come in sporting configuration and do not accept regular AK mags without the installation of a bullet guide (except for the 5.45 version). These rifles go for around $600. Many folks like to buy these sporters and convert them into original configuration, which can be done for a couple hundred dollars and a Saturday afternoon. Fit and finish are to Izhmash factory standards.
You can also buy these partially converted, either front end or back end. Regardless of conversion, they are all Saiga Sporters. These rifles have since been banned from import due to the Ukrainian Crisis. Whether or not that ban will be lifted is up to debate, but expect prices to inflate as time goes on.
Zastava NPAP
These rifles are based off the Yugoslavian M70 rifle, and are made in Serbia's Zastava factory. They are built for the US market, and as such are originally built with single stack magwells which are opened up once in the US, much like the Romanian WASR series which have been imported for some time. The barrels are non chrome lined which is a deal breaker for some, but are still hammer forged. Main selling point for these rifles are the factory original Serb barrels and receivers.
Be aware that Serb/Yugo pattern AKs are built differently than normal Soviet pattern guns. The handguards are a little longer and the stocks attach via a bolt from the rear of the stock instead of screws into a tang off the rear trunnion. This means the aftermarket for parts and accessories will be smaller than for the Soviet pattern AKs.
The NPAP and the underfolder version, the NPAP DF, can be found in the $600-700 range from various online retailers.
CAI Yugo O PAP M70
These rifles are based off the Zastava PAP. Imported with straight backed receivers and single stack magwells, which are opened up to accept most surplus magazines and drums. Double stack bolt eliminates feeding problems from earlier generations. Features Yugo 1.5mm receiver, Yugo barrel (hammer forged non chromed), and threaded barrel. Surplus wood stocks. These go for approximately $750-800, mostly because production is rumored to be ceased.
WASR10/WASR2/WASR3
The WASR series of rifles are imported from Romania by Century Arms International. They come into country with single stack magwells, which are then opened to accept double stack mags by Century. Century also adds US made parts for 922r compliance. Main features are cold hammer forged chrome lined Romanian barrels and factory Romanian receivers. Standard Soviet pattern gun AK that will take most aftermarket accessories. These rifles are available in three calibers, 7.62x39, 5.45x39, and 5.56x45 in the WASR10, WASR2, and WASR3 respectively. There is also an underfolder version of the WASR10 out there, but they have become hard to find recently and now fetch a premium over the fixed stock version.
They are generally rough in finish, both metal and wood, although 2013 and newer models are made from brand new parts with improved finishes. You may want to sand and/or refinish the wood and perhaps refinish the metal parts, although the rifle will work just fine without. Things to watch out for are canted (off center) front sight bases, gas blocks, and rear sight blocks. Also check the magazine wells for burrs and tightness. Some are opened too far and will have excessive mag slop from side to side. These are best purchases in person so you can check the rifle over before buying. If you must buy online, Henderson Defense and Atlantic Firearms offer a certified service to make sure your rifle is free of the usual WASR bugs.
These rifles can be found for around $600.
IO AKM
Depending on the model, these rifles are either built from a mix of US and foreign parts or entirely from US parts. Standard AKM features. Barrels and receivers are made in the US.
IO has a poor reputation as a company and their rifles are held in even lower regard. Soft rivets, cast parts, etc have been reported from many users who have put these rifles through the paces. Not advised for purchase.
IO AKs can be found in the $550-600 range.
Century Tantal
The Tantal is a rifle built by Century Arms using Polish Tantal parts kits, and a new US receiver, barrel, and trigger group. Chambered for the 5.45x39 cartidge, the Tantal will accept all AK74 magazines. It features a unique muzzle brake and wire sidefolding stock. The CAI Tantal is a good entry level AK74 rifle or truck gun.
One very important issue to watch out for is that some of the early Tantals were made with out of spec barrels which produced keyholing. From my reading, the YO prefix serial numbered guns are good to go. Also, Century has changed their warranty so you have one year from purchase to send it back should you get an out of spec barrel. Since Century changed their warranty I would have no qualms buying a new Tantal from them knowing that they will take care of it should it keyhole. However, do your research and tread carefully if buying used.
These generally run for $550-650.
Century AK74
Like the Tantal, Century builds these guns from Bulgarian parts kits with US barrel, receiver, and furniture. Standard AK74 with 24mm threads on the FSB, accepts most Soviet pattern accessories. 5.45 caliber, accepts all AK74 magazines.
Unfortunately like the Tantal, there have also been reports of out of spec barrels used on these builds. Tread carefully when buying used and ensure the gun runs before purchasing.
Originaly these were a steal, selling for around $400, however since Century's supply of kits dried up and these were discontinued, expect prices to slowly inflate. Usually found around $500 in the secondary market.
TGI AMD-65
These rifles are made with Hungarian parts built on single stack receivers opened up to take double stack mags, much like the WASRs. The AMD-65 is Hungarian in origin, designed for tankers and armor crews. It features a side folding wire stock, vertical foregrip, and pinned/welded muzzle brake. The brake is welded to bring the overall barrel length to more than 16 inches so the weapon is not NFA. Keep that in mind if a threaded muzzle or flash suppressor/sound suppresor is important to you. Chambered in 7.62x39, mags and ammo are easy to find and cheap.
Fit and finish of these rifles are generally good, some people have had problems with excessive magwell slop as with the WASRs, others have had excess wiggle or unfinished cuts in their stock assemblies. Some of the earlier muzzle brake welds were weak and the brakes tended to fall off. Like most firearms, it is better to buy in person, although problems with these rifles are few and far between. Not nearly as widespread as the WASR difficulties.
Can be found for $650-750.
Century Polish AKMS
These rifles are made by Century using Polish PMKMS parts kits, and new US barrels, receivers, and trigger groups. They accept all standard mags and drums, and feature an underfolding stock, threaded muzzle, and bayonet lug. They have been reviewed well, and I have not seen anyone who has been displeased with theirs.
One thing to note when buying your first AK: Try out underfolders before you buy. Some people love them, some people hate them, and some are indifferent. Go to a gunshow and try to buy in person as you will be able to check out the stock in person before you commit.
These can be found for $700ish. They've been a little harder to find as of fall 2014, they are no longer all over the gunshows, probably because CAI is running out of kits to build.
Bulgarian SSR-85
These rifles are imported from Bulgaria in single stack format, much like the WASRs and AMDs. Depending on where you buy, some have been opened to accept double stack mags, and some have not. The one pictured has not. There are several different SSR-85 models to choose from. They are available in 5.45x39 or 7.62x39. The 7.62 variant is more common. Fit and finish on these rifles are generally better than both the WASRs and AMDs, hence they go for closer to $800. The importation of these rifles has ceased. It is doubtful they will be imported again.
M&M Romanian AK
These rifles are produced for and imported by M&M Arms, located in Colorado. They feature Romanian receivers opened up to accept all standard AK mags and chrome lined, hammer forged Romanian barrels. They also feature a unique gas block/front sight combo, front rail system, and Hogue grip. They are available chambered in 5.45x39 or 7.62x39. There are two configurations, one with a fixed stock (pictured), and one with a side folding Romanian wire stock. The wire stocked ones are a tad more expensive. The fit and finish on these is very good, and they are solid step up from the Century WASR imports. They can be found in the $650-$850 range depending on caliber and configuration.
Interarms Rifles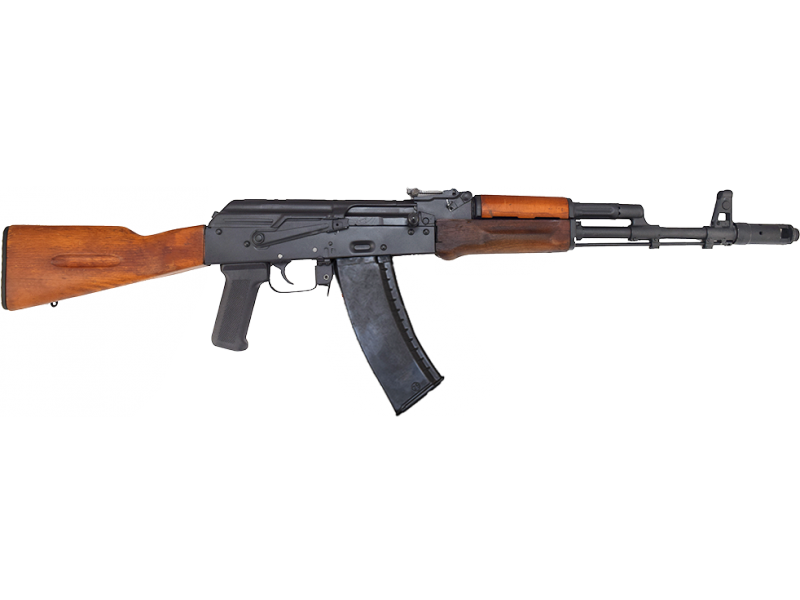 These rifles are built by the US company Interarms. They feature new US receivers, barrels, and trigger groups. They are available in 7.62x39 and 5.45x39. Some models currently available are the Polish PMKMS, Bulgarian AK-74, AKM, and Polish Tantal. They have all the features that the original weapons have, such as threaded muzzles and bayonet lugs. The receivers are made as double stack; they are not converted. They have been reviewed positively by many folks on the board, but like any company they do put out lemons. A recommendation I have is if you buy an Interarms rifle, buy from Atlantic Firearms as they will take care of you should your rifle be defective in some way. Some people do not like these rifles due to their large use of US parts such as the barrel, but for the budget minded shopper they are a good deal on a well built rifle by a good company.
Chinese MAK-90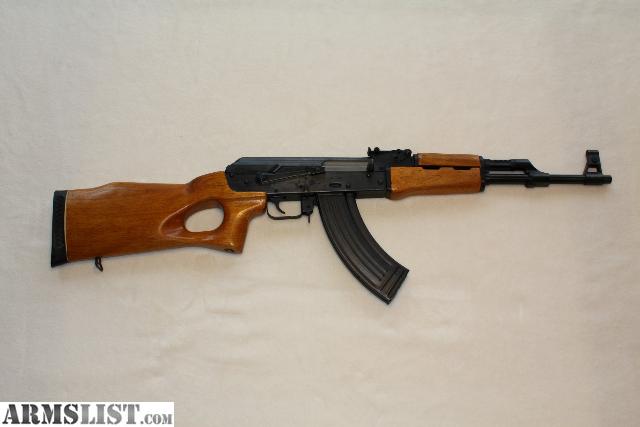 The MAK-90 is a Chinese import. They are no longer imported due to trade restrictions with China. MAK-90s feature Chinese factory chrome lined barrels, Chinese factory double stack receivers, Chinese triggers, and the unique Chinese hooded front sight. They will accept all standard AK mags and drums.
Some features they do lack are the threaded muzzle and bayonet lug/cleaning rod. They feature thumbhole stocks in original configuration, although they will accept traditional stocks and pistol grips. There are three kinds of MAK-90 receiver: milled, stamped straight cut, and stamped slant cut. Milled receiver and stamped slant cut receiver guns will need special custom stocks should you choose to swap out the thumbhole, as the receiver is cut differently at the rear than regular stamped models. Stamped "straight cut" guns will take normal stocks with no modification.
These are very popular guns that can be found regularly on the secondhand market. They can be found in 7.62x39 and 5.56x45 (stamped only). Keep in mind that 5.56x45 Chinese magazines are hard to find and expensive. MAK90s usually run in the $700-800 range, although some go for closer to $1000 and a well used example or bargain can be found in the $600 range.
Romanian SAR1/SAR2/SAR3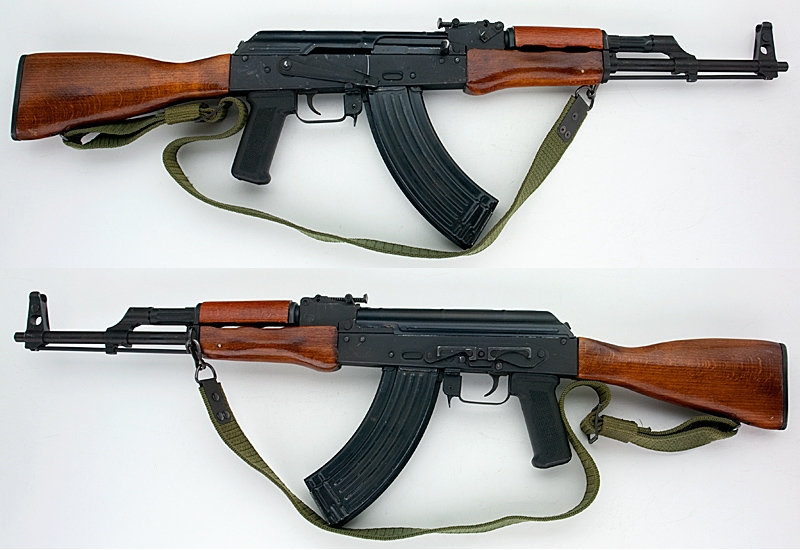 The Romanian SAR series of rifles was imported in the late 1990s and early 2000s. Much like the MAK-90 they can take double stack mags from the factory, but do not have the threaded muzzle or bayonet lug. Imported by Century, SARs had a US pistol grip, US piston, and US trigger group installed to make them 922r compliant. They come in three calibers, 7.62x39, 5.45x39, and 5.56x45 in the SAR1, SAR2, and SAR3 respectively. These rifles are generally well thought of, and are often good shooters.
Fit and finish are often less than perfect as is common with Romanian guns, but that is only cosmetic. One thing to note is that the Century trigger groups are known for trigger slap. If you find this to be an issue, install a Tapco G2 trigger group in and that should alleviate the problem.
Can be had on the secondary market for around $600-750.
Waffen Werks - Now DDI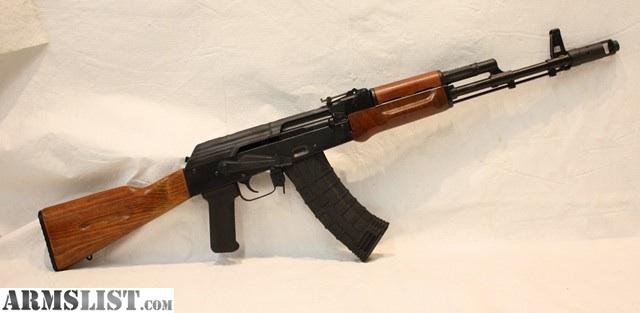 Waffen Werks is a reputable company that does all sorts of AK builds. One of their current offerings is a Bulgarian AK74, but they also make several stamped Soviet pattern AKs and a handful of milled receiver options. They are made from Bulgarian parts kits, US receivers, US barrels, and US trigger groups. They are then finished with GunCote. They are offered in Wood, Plum, or Black furniture. Sporting all the standard AK features, they are a very good middle ground AK that can be had for around $800. Fit and finish has been reported as very good and all the reviews I have seen have been positive.
Waffen Werks did have a bad run of AK74s before they closed their doors. DDI is warrantying all WW builds and their customer service for both those rifles and their current builds shows them to be a good company. Buy with confidence.
Century M70 B1, AB2, and AB2T
These rifles are also sold by Century, although it has been thought that they were also contracted out to another firm for building much like the milled Polish 1960s. They can only be found on the secondary market now since the supply of parts to build them has dried up. Based on the Yugoslavian M70 series, these rifles are built with Yugoslavian parts kits and new US receivers, barrels, and trigger groups. These rifles (except for the AB2T) are made with RPK receivers which are thicker and heavier than regular 1mm AK receivers. They also feature flip up grenade sights on the gas block. The B1 has the fixed stock, the AB2 has the underfolding stock, and the AB2T is the underfolder made with a 1mm receiver.
One thing to note about the Yugo pattern rifles is that they do not accept regular AK stocks and handguards. Keep this in mind if you want an AK that you can customize to your liking with rails, stocks, etc. These have had excellent reviews and sold well when they were marketed. They go for anywhere from $600 to $700 depending on where you live and who you are buying from.
Hungarian SA-85M
The Hungarian SA-85M are considered to be one of the best AKM imports around. Made by FEG in Hungary, they feature Hungarian receivers and chrome lined hammer forged barrels. They accept regular mags without modification. They come standard with a thumbhole stock, and blond beech(?) handguards. Beautiful blued finish throughout. Although they lack threaded muzzles and bayonet lugs, they can be reconfigured into original format with surplus parts. These are easily one of the best AKs around, and they go for around $750-800.
One thing to note is that some of them use a shorter gas system, and will need proprietary gas tubes if you need spares.
Egyptian MAADI
MAADIs are an Egyptian made AK built on Russian tooling. They are supposed to be as close to a Soviet AKM as you can get without getting the real thing. They were imported in several forms into the 1990s. The most common you will find are Century or PARS imports. These come in thumbhole stocks and will need appropriate US parts if you wish to put them back into original configuration. The fit and function of these rifles is usually excellent, although the finish leaves much to be desired as it wears and chips easily. One thing to note is that most of the barrels had the threads turned off for import. Some of these muzzles do not have enough metal to be threaded 1x14 LH and will need to be threaded to a smaller pitch if you want to use a muzzle device. They can often be found for under $700.
One warning is to thoroughly inspect the MAADI you buy, as some were non-factory new guns - aka they were built with either used military parts kits or Chinese MAK-90 kits on Egyptian receivers. These "cobbled together" guns are not of the same quality as factory MAADIs.
Century AES-10B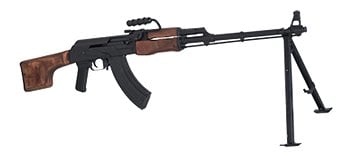 These are similar to WASRs, except that they are based off the RPK instead of the AKM. Made in Romania, they are imported by Century Arms in sporter configuration and outfitted with RPK furniture and US parts once in the US. There are two models, one with a club stock (pictured) and one with a wire folder. The wire folder version is generally more expensive. They are solid weapons, and feature Romanian receivers and barrels. The fit and function is usually good, although the finish is typical crappy Romanian parkerizing. One thing to check for is straight sights and barrel parts (as with WASRs) and tight magwells, as they are opened up from single stack receivers. These are fun guns that you don't often see around. They go for around $600.
Century Yugo M72 RPK
These rifles are the big brother to the Yugo M70. They are built by Century Arms International using Yugoslavian parts kits, combined with US barrels, receivers, and trigger groups. They feature longer RPK barrels, thicker 1.6mm RPK receivers, and a bipod. They have a parkerized finish; the wood is generally left untouched. Some weapons will have partial Ironwood Designs stocks for 922R compliance. These rifles are well built and beefy, although they lack a chrome lined bore like their Romanian cousins above. Overall a good rifle that fills a niche for collectors and shooters alike. Can be found for around $750-800.
Century Polish 1960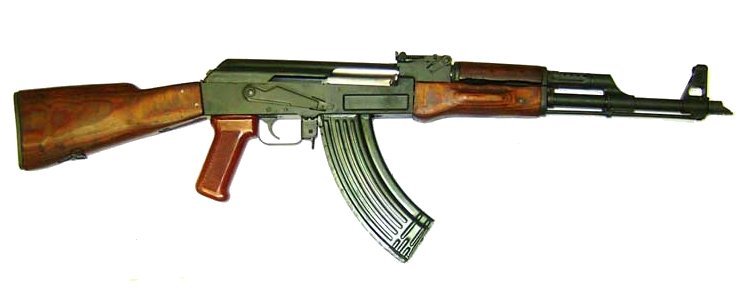 These rifles were supposedly contracted out to another firm by CAI, and subsequently they have had positive reviews. The Polish 1960 is built from Polish milled AK parts kits, a new US milled receiver, barrel, and trigger group. They are then reparkerized. Wood can be hardwood, laminate, or a mix of both. Some features are a milled receiver at relatively low cost, accepts all standard mags, and has the usual features such as threaded muzzle and bayo lug. One downside (for some) is that the barrels are not chrome lined. The newer versions are supposed to have chrome lined barrels, but I have not seen proof of this yet. Overall, these rifles are a good quality build for the price, especially with the milled receivers. Can be had for around $700.
Russian VEPR Rifles
The VEPR line of rifles is imported from Russia, just like the Saigas. They are made in the Molot factory. Unique to these rifles is that they are built on thicker, RPK receivers and have heavier barrels than regular AKs. They are imported in sporter configuration, and can only take VEPR mags, although they can be converted to take standard AK mags. According to Atlantic Firearms, plans are in the works for regular AK stock sets for these rifles as well. VEPRs are very robust rifles, and come in multiple calibers and variations. They are chambered for 7.62x39, 5.45x39, 5.56x45, .308, or 7.62x54r. There is the regular version, which is pictured, the super version, which has a different stock and barrel configuration, and the pioneer version, which features a Monte Carlo type stock. There are older imports imported by Robinson Armament, which had plastic stocks and accepted regular mags. These are only available on the secondary market anymore. VEPRs run from $700 to $1100 depending on caliber and variation, although they were recently blown out at Centerfire Systems for $500-$700 depending on model.
Romanian PSL
The Romanian PSL is a marksman's rifle fielded by the Armed Forces of Romania. It can also be found in conflict zones around the world, and was used widely by insurgents in Iraq. The PSLs on the US market are one of two variations: one is imported directly from Romania by Century Arms, the other is built by Century Arms in the US on a US receiver. These rifles are essentially a beefed up AK, although they resemble an SVD they are not similar except aesthetically. They feature a thumbhole stock, heavy 1.6mm receiver, scope rail and Romanian LPS Scope, and 24 inch long chrome lined, hammer forged barrel. The flash suppressor is pinned on, and most models do not have a bayonet lug. Chambered in 7.62x54r, they are accurate out to several hundred meters. Imports have slowed with rumor to have ceased, so your best bet is to find one on the secondary market. They go for $1000 and up usually.
Arsenal SA-93 and SLR-95
These are considered to be some of the best milled AK rifles ever. Made in Bulgaria, these rifles were imported in sporting configuration. The SA-93 is a copy of the original Type III AK, with a 45 degree gas block. The SLR-95 has a 90 degree gas block, and some sport a muzzle break that is pinned in place. The SA-93 rifles are dressed in a wood stockset, while the SLR-95 wears polymer. These rifles have original chrome lined hammer forged barrels and Bugarian milled receivers, some of the best. Chambered in 7.62x39 and will accept all AK mags. They can be found for $900 to $1000 depending on condition. A must have if you are into milled receivers or are looking for a base for an AK47 build.
Arsenal SGL Series

The Arsenal SGL series are rifles based off the Saiga sporter carbines. Arsenal takes Saigas and converts them into original format with normal stocks, pistol grips, handguards, bayonet lugs, and muzzle brakes. This is the shortcut to doing it yourself. At twice the price of a Saiga, there is debate to whether or not it is worth it. I believe it is, because not everyone has the time/skill to convert a Saiga, and the SGLs are already converted and refinished for you. They run for about $1200 if you can find them. Some have had canted front sights, so keep an eye out for that if you are buying in person. Also the finish is known to be sub-par and can run off if you use certain solvents. These are available in 7.62x39 (SGL21) and 5.45x39 (SGL31).
Arsenal SLR Series
These rifles are imported by Arsenal Las Vegas from Bulgaria. They are then converted into the proper configuration with US parts. There are several model designations. The two main models are the SLR-106 (pictured), which is chambered in 5.56x45, and the SLR-107, which is chambered in 7.62x39. There is also the SLR-105 which is a Bulgarian AK74 copy in 5.45x39. They all feature chrome lined hammer forged barrels and Bulgarian receivers. The 106 and 107 models come with sidefolding metal or polymer stocks. They are available in three different front end configurations based off the AK-101/103, AK-102/104, and AKS-74UN. All have 16 inch barrels to stay non-NFA, but can be easily cut down if you decide to go the SBR route. The SLR-105 is fixed stock only. The SLR line of rifles can be found from $900 to $1500 depending on where you live and what model it is. They are excellent weapons that can take a wide variety of accessories for personal use. Fit and finish is excellent. One thing to note is that the 5.56x45 magazines are somewhat expensive and can be hard to find at times.
Arsenal SAM7/SAM5/SLR100 Series
The Arsenal SAM series are some of the highest quality AKs money can buy. Featuring a Bulgarian hammer forged chrome lined barrel, Bulgarian (finished in the US) milled receiver, and polymer stock set, these rifles are built to outlast the cockroach. The SAM 7 is chambered in 7.62x39 and will take all double stack mags and drums. The lesser known SAM 5 is chambered in 5.56x45. The SAM 5 has been discontinued, although they can be occasionally found in the secondary market. They take the same mags as the SLR106 rifles. SAM 7 rifles sell for $1100 and up depending on how they are configured. The most expensive version is the SAM 7 Classic, which is modeled after the Type 3 Bulgarian AK for those looking for an exact clone The SLR100 is the cousin to the SAM 7, with all the same features except that the receiver is finished in Bulgaria. These sell for as low as $1000, which is a great entry level milled AK price. These rifles are of outstanding quality and should run without fail right out of the box. They also retain their value quite well for those concerned with that aspect of firearms.
Polish Beryl 5.56
The Polish Beryl has finally come to market. Chambered in 5.56x45, this rifle is the civilian model of the Polish standard military rifle. Features a Polish hammer forged chrome lined barrel and Polish receiver. All reports indicate buyers have been happy with their rifles, achieving great accuracy considering it is a stamped AK. Most rifles come with an accessory kit including a Polish folding stock, spare magazines, and sling. New to the market but a good competitor to the Bulgarian 5.56x45 rifles with a price point around $1000.
Chinese Type 56S
The Chinese built rifles are well made, and have quite a following among gun owners and enthusiasts. Importation of these rifles stopped in 1989, hence they are very sought after by collectors. They are also solid shooters and are built very well. Chambered for the 7.62x39 cartridge, the 56S will take all AK magazines. They feature a heavier, chrome lined barrel and thicker 1.6mm receivers. They also have a unique hooded front sight. They are available in several configurations, the most common being the fixed stock. Underfolders are also available, as are variants of each that have permanently fixed, underfolding bayonet, commonly known as "spikers". These four basic variants go for $1000 to $1200 depending on condition and location. A few rarer variants with sidefolding stocks or bakelite stocks will fetch a premium over the base models. Be advised the Chinese stocks are shorter than Russian stocks, if you have ape arms like me they may not be the most comfortable to shoot.
Chinese Type 84S
Similar to the Type 56S, the Type 84S is a Chinese rifle imported before 1989, although it is chambered in 5.56x45. It also features a heavy, chrome lined barrel and 1.6mm receiver. The hooded front sight is also found on this model, and most other Chinese AKs. It is available most commonly in the fixed and underfolding stock versions, although there are sidefolder and bakelite versions out there. Like the 56S, the sidefolder and bakelite stocked versions go for more than the standard variations. Keep in mind there are two manufacturers of this weapon, Polytech and Norinco, and they do accept eachothers magazines. If you buy a Norinco rifle, you need Norinco mag. If you buy a Polytech, you need a Polytech mag. Magazines for both are hard to find and go for $50 to $60 each when found. These rifles can be found anywhere from $1000 to $1200 or more based on condition and configuration.
Yugo M76
These rifles are kit built in the US from Yugoslavian sniper rifle parts kits. They feature a milled receiver, ZRAK scope and mount, and are chambered in 8mm Mauser. There are two companies that build these: Century Arms and Assault Weapons of Ohio. Century builds go for around $1000 and come parkerized with some accessories. AWO builds sell for around $1300 but are finished nicer, often have matching numbers, and include several mags. Both should function about the same. One thing to note about these is that some mags encounter problems with the followers nosediving when there are 2 or 3 rounds remaining. The bolt rides over the cartridge and causes a failure to feed. There are threads about this on several discussion boards as well as ways to fix it. It only happens with certain mags.
Good online companies to buy AKs from:
http://www.atlanticfirearms.com/default.aspx
http://www.hendersondefense.com/store/pc/home.asp
http://www.rrcfirearms.com/
http://jgsales.com/
http://centerfiresystems.com/
http://www.budsgunshop.com/catalog/index.php
http://www.aimsurplus.com/default.aspx
Will continue updating, just posting in pieces as I finish sections. Feedback appreciated guys!