That excellent rifle was built by Troy at
In Range:
Troy and Christy Sellars
1048 Eagle View Drive
Kodak, TN 37764
Phone/Fax: (865) 932-6509
E-mail: email@inrangec2.com
It is featured on his web site as well as mine.
here is how it is described on his site.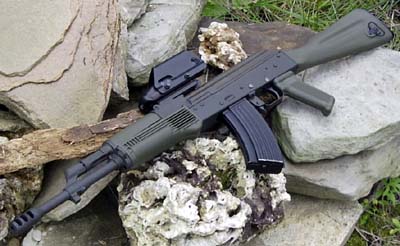 This is a custom rifle from Troy Sellars of InRangeC2. Note the seamless look to the brake. The rifle is totally refinished in KG Finish O.D. Green. Electronic optics were added to the scope rail that InRangeC2 welded on, and lastly, OD Green US made furniture was added to complete the package. This rifle was built for 3-Gun competitive shooting, and is fast handling, accurate, and easy to shoot with the RSA adjustable trigger and excellent muzzle brake. ~ "Red Star Arms" ~
I have pictures of this gun being built if I can find them I will put them up tonite.
And Troy if you are out there jump in here and talk about this fine little rifle.
Okay found a before picture. The rifle has a Bushnell Holo sight which is fast and bad ass in the field for run and gun use. The break is a Troy Sellars custom and is simply awsome and allways gets comments where ever I shoot it.