---
Originally Posted By chawkpilot:
Does anyone have any experience with the B&T rail system for the M16A2?
---
Yes. I've got the full length and the carbine length B&T quad rails. They are very nice units. Any specific questions?
Here's a photo of the carbine length quad rail on my M4gery.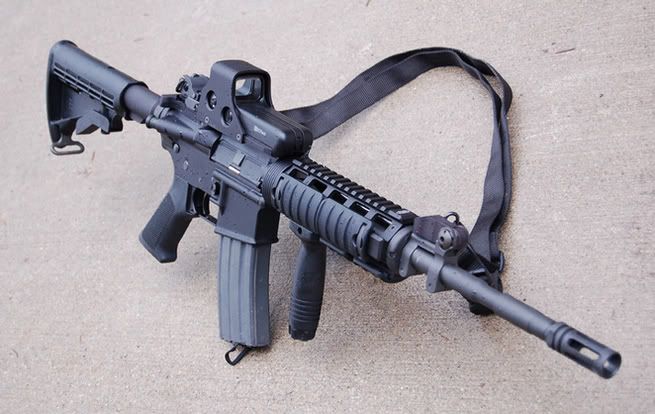 These are machined and finished nicer than Knights RAS (which I also own).
They also offer the option of attaching the lower (6 o'clock) rail to a steel ring that slips around the barrel chamber to give extra stability to the lower rail. You can use it without the ring if you want to be able to quickly detach it from the rifle to mount an M203. The rifle length also has the same feature. The rings will not fit over an HBAR barrel without some modification, but they work on govt profile barrels perfectly.
The only thing I don't like about the B&T is the lack of notches cut in the end slot on each rail to lock up on the metal clips of the Knights panels. The design of these rails makes it difficult to use some aftermarket rail panels, such as Knights or Tango Down. They just don't fit properly. Other types of rail panels work fine and the fit and finish on the B&T quad rails is exceptional - what you would expect from a Swiss manufacturer.