Originally Posted By Neeglik:
As a follow up to that question, I have another. The email states that it is a problem where the shoulder straps attach, but it's asking for the front panel only. The shoulder straps attach to the rear panel. Is this a misprint?
No, not a misprint. The stitch in question is where the 1" webbing strap attaches to the front carrier panel.
You can check your carrier by removing all the pouches/components/armor/etc., detaching the front panel, and turning it inside out from the SOFT ARMOR/FOAM BACKER COMPARTMENT, and not the main plate compartment.
The following pics were provided this morning by a customer who is a professional end-user (thanks PC!):
NO BARTACK (NEEDS REPAIR)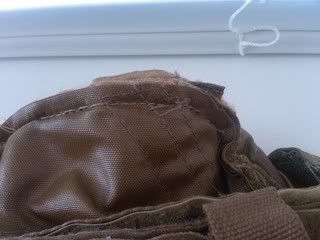 BARTACK (GOOD TO GO)
*The Bartack can be identified by the zig-zag stitching pattern along the entire length of the 1" stitch. An easy reference is that it is the same stitch used in securing the Molle webbing on the outside of the PIG PC.
If you did not receive an email from us, your PC is good to go.