---
Originally Posted By bbkiote:
Troy, Thanks for the input. I'm not sure what FAP is. Could you explain it. Also P2P, VPN and VOIP.
Would i be able to view and send pics to and from AR15.com? Thanks Troy.
---
FAP = Fair Access Policy.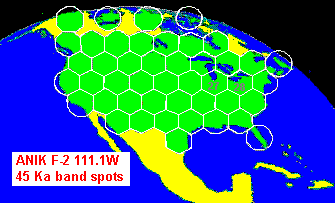 WildBlue has 34 broadcast "nodes", or zones, for the US, allowing the available (Ka-band) frequencies to be reused in each of the 34 nodes. This can be done because the satellite creates spot-beams, which creates a LOT more bandwidth than older technologies like DirecWay. Still, the total bandwidth is still limited, and there will be many more subscribers than there is available bandwidth.
Just like the phone companies only have so many trunk lines, knowing that most of the time, only a small fraction of their subscribers will be calling long-distance, the sat providers have (out of necessity) designed the system with the understanding that most users use only a fraction of their available bandwidth WHEN USAGE IS AVERAGED OVER TIME. Meaning: you might need to download a Windows ServicePack, which is a big file, and when you do, you'll get your full bandwidth, but once the file has been downloaded, your usage will fall way off, and someone else will be able to use that available bandwidth with little impact on you.
Certain applications, though, use 100% of the available bandwidth 100% of the time. In a bandwidth-limited situation, you could have a couple dozen people running P2P apps and using up all available bandwidth in a node, screwing thousands of other users out of their connections. That's why the FAP is necessary.
Virtually ALL ISPs have a FAP, but most WIRED ISPs have, or can get, enough bandwidth to handle the traffic, and therefore set their limits very high, and only enforce FAP when there are complaints or obvious abuses. Wireless and Sat providers, by neccessity, have to be more restrictive.
P2P = Peer To Peer or "FileSharing" applications such as eMule, the old Napster, BitTorrent, LimeWire, BearShare, and so on. People run a program and share files on their computer, allowing others to download those files over the Internet, and vice versa. Normally, this uses near 100% of the computer's available bandwidth the entire time it is running.
VPN = Virtual Private Networking - Creating an encrypted connection to allow secure communications over an unsecure network. Normally used to allow a remote user log into a corporate network over the Internet, as if that person were in the office connected to the local LAN. The login and encryption requires low latency in the communication (i.e., fast turn-around time for the data packets).
VOIP = Voice-Over-Internet Protocol - Using the Internet (or other IP-based network) to carry standard phone calls. Vonage allows you to use your home High-Speed Internet connection to provide you with a phone line, allowing flat-rate long distance and a lot of phone features (Caller ID, Voicemail, etc.) for free. There are other providers for commercial service, and many large companies are using VOIP for internal phone service.
---
Originally Posted By bbkiote:

---
Inappropriate Content and Transmissions
WildBlue reserves the right, but not the obligation, to refuse to transmit or post and to remove or block any information or materials, in whole or in part, that it, in its sole discretion, deems to be offensive, indecent, or otherwise inappropriate, regardless of whether this material or its dissemination is unlawful.
---


Does diectwav do that?
---
All major ISPs have (or should have) such language in their User Agreement, though such things are rarely enforced on anyone.
-Troy