A few years ago I bought a 14.5" LMT from a law enforcement friend of mine and just wanted to share a short review of my experiences with it so far.
First off let me say that I only bought this rifle because I got a killer deal on it. I had several ARs already and it was nothing special to me. The previous owner had shot ~3500-4000 rounds through it, 2500 of which he shot suppressed with a M4-1000. So I knew the gun was warmed up before I bought it. I decided to set it up identical to my issued rifle so that I could have something to train with in my off time that would become second nature operating when I was at my unit in the military. I wanted to see how far the rifle would go without cleaning it and figured since I got it so cheap I didn't care anyway so I painted it and went shooting.
(Specs: 14.5" LMT complete upper w/LMT BUIS, KAC rail, Surefire Scout M600, LaRue FUG, TROY Pro Grade Sling mount, and Magpul MOE.)
The rifle was the same as any AR that I have fired and I put close to 1100 rounds through it the first weekend. No cleaning, no problems...
I tried to put between 500-1000 rounds through it each month but sometimes couldn't do that because I was out of state or country. Long story short as of now, there is close to 9,500 rounds through this gun without cleaning and after taking it out again today and putting another 500 rounds through it, I have decided that my test is done. (Keep in mind the rifle was shot almost 4000 rounds and 2500 suppressed before I got to it)
I live in the desert of Nevada and have a good environment with dusty, sandy, dry conditions similar to what you would see over seas in the middle east or anywhere dry and hotter than hell.
When I train I like to get down and dirty, so it was fun knowing that I would get to see first hand how the rifle would truly stand up to abusive conditions and not just something I had read from some guy in a gun magazine who shot 50 rounds of Federal through an AR and says it's the greatest thing in the world.
Me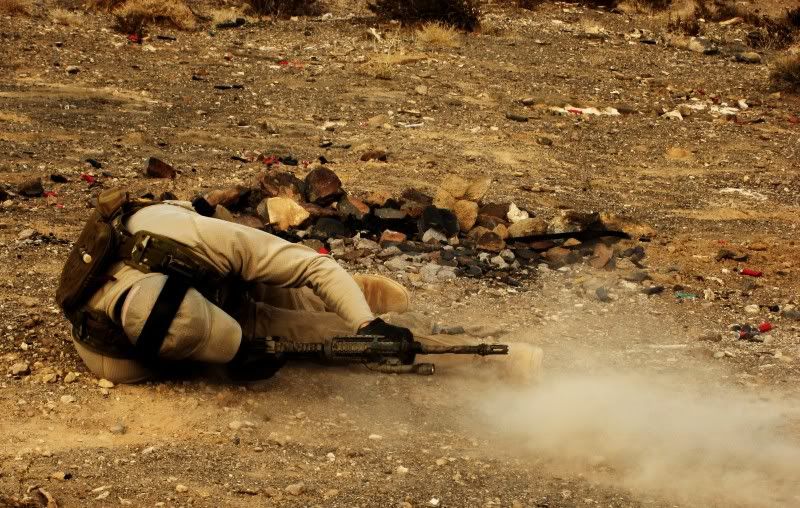 I did not clean this gun one time since I bought it and when I received it, the gun was dirty and had not been cleaned in some time. This morning before shooting I popped open the upper to lube up the BCG (as I do every time I shoot) and didn't realize how bad it was. I shoot most of my ARs for several thousand rounds before cleaning them and as I lubed up the BCG my buddy looked over and said, "Good god man, that thing is f***ing dirty"... His AR had not been clean in several thousand rounds as well so I knew it was going to be good. I really stopped and looked at it and we decided it was worth taking pictures. Here is one of the upper... It was much worse in real life than it looks in the pictures.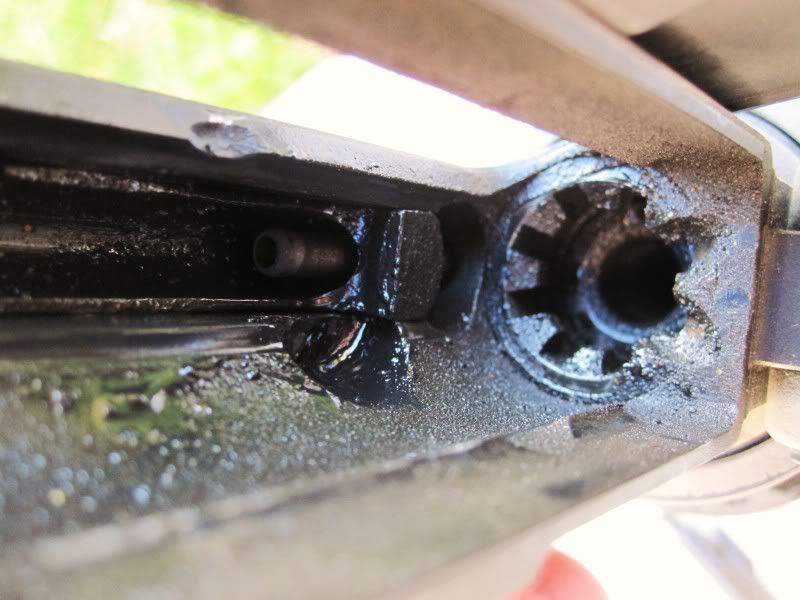 The following are some of the close ups I took of the parts that matter. I would like to stress that I never ever had a single weapon related malfunction with this rifle. It has more than exceeded my expectations and is fully functional of anything that I would ever need it for. I know how hard I ran this rifle and I made it a point to have it in the dirt as much as possible whenever I would go out shooting. I have shot this rifle in the rain, snow, mud, and desert sand with every type of ammo you could imagine (steel cased and brass) and I would trust my life to this gun without hesitation. Enjoy the pics. :)
Anyway, that's pretty much it. 10,000 rounds without cleaning is nothing special from a quality milspec gun, but I am really happy with the gun and I'm sure that it could take another 10k rounds without cleaning. I do T&E for manufacturers and companies from time to time when I'm not busy, but it was nice to just do something for myself and have fun with it. The pictures do not do a justice to the absolute filthiness on the inside of the rifle. I have no affiliation with LMT but I now respect their product even more than I previously did. If you are looking for a reliable AR platform, I would recommend an LMT to anyone without hesitation and with total confidence. Take care and stay safe guys.