UPDATED 12/11/2007
PLEASE POST ANY LEGITIMATE AIMPOINT CLONE QUESTIONS IN THIS THREAD. ALSO POST ANY SUGGESTIONS FOR QUESTIONS TO BE ADDED TO THE FAQ. PLEASE, PLEASE, KEEP ANY DUMB ASS COMMENTS TO YOUR SELF.
This thread needs an Update as the Tacpoint is pretty much gone. Hakko has gone tits up and there is a new player on the market.
The new player on the market is the SightmarkTactical Red Dot. Most of the FAQ is still relivent as the Sightmark looks like it is the new version of the Tacpoint but without the stupid blue ring.
What is a
Tacpoint
Sightmark?
The Sightmark Tactical Red Dot sight is a new verion of the old Tacpoint (Aimpoint clone) imported by LandMark Outdoors. They also import Yukon night vision.
Current photos:
The Tacpoint was a reflex red dot optic by Hakko-Japan.
Here is a photo. BE AWARE! Hakko is pretty much gone from the states. The all black models are older models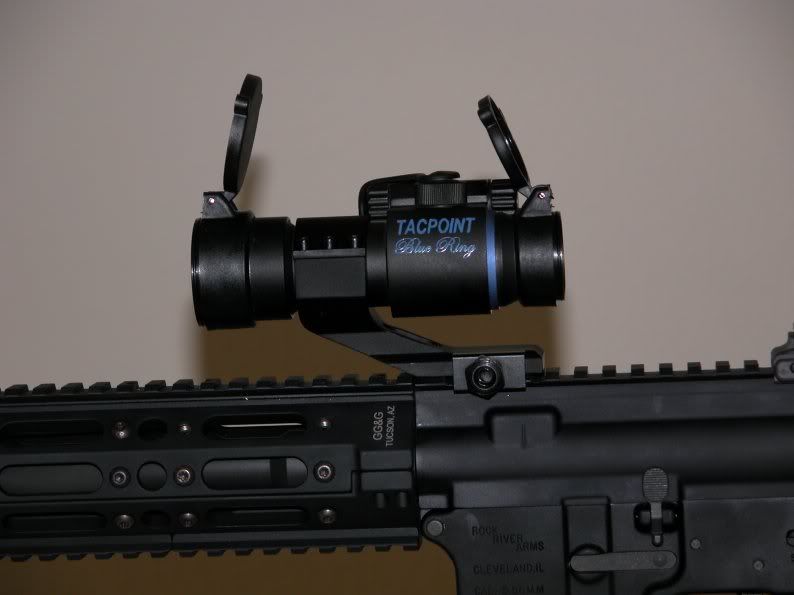 Why does it look like an Aimpoint?
The Aimpoint is the most popular mil-spec red dot optic in use today. It's a great design. It was only a matter of time untill someone made a copy.
So, What is up with the Sightmark name or Tacpoint blue ring?
This is the manufacturers indication of a Lifetime Warranty. It also differentiates the Sightmark and Tacpoint from an Aimpoint.
Can I remove the name or blue ring? I want it to look more like the Aimpoint.
Yes, paint thinner will take it right off. But here is a question for you. Why would you want to remove it? Would you take the label off any other optic? Leave it alone or you will look like a poser.
Can I fit a kill flash to the Tacpoint? (I don't know on the sightmark as I have not tried it yet. I will update this soon)
Not with out some "modifications". The simple answer is no. Besides, a kill-flash is only neccissary on a combat optic. See the question above.
ETA: this was posted by Wolfhound56
<center><table width=85% border=0><tr><td width=100% class=textQuote><hr height=1px color=black noshade>
Sure you can. You want a flipopen scopecover Butler creek size 10 OBJ (1.500 inches/38.1 mm) and Killflash Sunguard ARD from Tenebraex Corp size #1 and you're in business. No modifications necessary.
<hr height=1px color=black noshade>
So, is this thing as good as an Aimpoint?
NO! Although it looks simillar to the Comp ML2, there are some very important differences.
#1 The Aimpoint is a mil-spec, combat proven optic. The Sightmark / Tacpoint is a copy.
#2 The Aimpoint has much longer battery life
#3 The Aimpoint is Submersible to 25 meters (70ft)
But doesn't it do the same thing?
Basicly yes. They are both reflex red dot sights. Both use a 4 moa dot for target acquisition. (5 MOA on the Sightmark)
So, why buy a Sightmark / Tacpoint over an Aimpoint?
First off, if you can afford the Aimpoint and a mount, by all means BUY IT! The Sightmark is a less expensive alternitive for someone who
A: wants a red dot sight, but can not afford an Aimpoint.
B: will never use their red dot optic for anything other than target shooting or hunting.
C: owns an Aimpoint but would rather beat up a cheap copy on the range.
Why would I NOT want to buy a Tacpoint?
If you ever plan to use an optic for Law Enforcment, Millitary, or home defense purposes
YOU MUST BUY OPTICS THAT WERE DESIGNED, BUILT AND TESTED FOR THAT USE!
Aimpoint, EOTech, and Trijicon all make excelent combat optics. Any of these three would be a better choice.
Are they made in China or Japan?
The Sightmark and new Blue Ring Tacpoint models are all made in China. The original all black Tacpoint models were made in Japan.
Ok, So it is not as durable as an Aimpoint. How durable is it?
That seems to be the $64,000 question. These optics are very new to the market. The initial reports are mostly positive on this issue. I have not heard of an optic that has broken during use yet.
UPDATED 12/11/2007
My Tacpoint died about a year into use. I did not seriously abuse it or even use it a lot. I was able to get it working again by stretching the battery spring and putting a new single Aimpoint battery in. The lens cover on the eye piece fell off.
My new Sightmark was acquired just a short time ago and I have not had time to beat on it yet. It seems heavier than the Tacpoint and has a better finish. The lens covers are also a little higher quality. All in all, it looks like an improvment.
What kind of problems have been reported?
There were some initial reports that the optic would leak when submerged in water. Hakko has stated that these optics are waterproof, but who knows? It should be fine in a little rain, but I would not take one swimming. Also, some have stated that the red dot is not as sharp and crisp as they would like. Others have no problem with the dot at all. There have also been reports that the numbers on the elevation and windage knobs will rub off. (This happened to one of mine.) There have also been reports of the threads being soft on the adjustment cap covers and the scope body. Users are advised to check that the cap is threading on straight and you should not force it.
Some users think the flip up caps are a little flimsy.
UPDATED 12/11/2007
As stated in the post above, the new Sighmark has better lens covers and seems to be a little bit heavier. Sightmark does NOT claim this sight is waterproof.
What kind of positve things have been reported?
So far, everyone has said it holds zero with no problems. Most users find the dot to be clear and well defined. If you purchase an Aimpoint mount, it will co-witness with your iron sights. Most users also report that the sight is well built for the price range and you can bang it around quite a bit with out breaking it or loosing zero.
UPDATED 12/11/2007
My Tacpoint lost zero when it died. It needed to be re-zeroed when I fixed it. The Sightmark has been fine to date.
Is it true that they have a blue tint to the optics?
Yes, There is a slight blue tint to the optic. This will be more noticable when looking at a bright , white object with with both eyes open. It does not effect the operation and it is a bi-product of the lens coating they use.
UPDATED 12/11/2007
This is not as noticeable with the Sightmark. But hey, even an Aimpoint has some tint to it.
Is the Tacpoint 2 a 2x scope?
No, it is a longer model with two mounts. I can see no reason it would be a better choice than the Tac 1.
I heard that it is an airsoft optic. Is that true?
No. It is a rifle optic. IT IS NOT A COMBAT OPTIC, but was made for use on centerfire rifles.
Now, with that said, some people may mount them on airsoft toys. But, then again, they could mount an ACOG on a toy as well. That won't make the ACOG an airsoft optic.
I am new to AR15.com/to the optics forum/ or live under a rock and I want to know more about the Sightmark / tacpoint. What should I do?
#1 BEFORE YOU START A NEW THREAD, USE THE SEARCH FUNCTION!
#2 ADD YOUR QUESTION TO AN EXISTING THREAD LIKE THIS ONE!
#3 Start a new thread as a LAST RESORT!
Some newbie just posted a stupid Aimpoint clone question. Can I flame him with a bunch of smart ass comments?
No. As much as we love the terms "airsoft", "window licker", "poser", "wanna be", and so forth; please refrain from posting anything other than a link to this thread and a simple reminder to use the search function.
With your help, we can all make the optics forum a safe place to surf again!
Remember, only you can prevent flame wars. That, and everytime you post in a tacpoint thread, you just bump it to the top!
UPDATED 12/11/2007
I don't hear the term "window licker" very often anymore, so feel free to bring it back.
So, is a Sightmark / Tacpoint worth the money or not?
There is no real answer for this question here. Only you can decide what it would be worth to you. Some users have found that they would prefer a less expensive or a more expensive alternitive to their purchase. Some are very happy with the Sightmark / Tacpoint for the money. The bottom line is always buy the best optic you can for the job at hand.
I am not military, LEO and never plan to have to fight off zombie hoards. Should I buy the Sightmark / Tacpoint now, or save for an Aimpoint?
All though the odds of having to use your rifle for home defense may be the same as winning the lottery, there is always a chance that something bad may happen. It is a widely accepted practice to have at least one battle proven optic for each rifle you own, for a real SHTF situation. If you are going to run a clone as your only optic, at least have a good set of BUIS.
Click here to see different BUIS systems.
You don't have to be a survivalist living in a bunker to prepare for the worst, and still hope for the best.
What about a mount?
The Sightmark / Tacpoint comes with a mount that will work on any picatinny flat top rail. It will NOT co-witness with iron sights though. The Sightmark / Tacpoint is a 30mm tube that will work with any Aimpoint mount. A good quality mount that will allow for a co-witness with BUIS will cost as much or more than the Sightmark / Tacpoint. Of course, you can always use the mount with an Aimpoint later. It is possable to get a knock off mount that looks like a mil-spec mount. These will be sold as airsoft parts. Mounts are like optics, and you get what you pay for.
UPDATED 12/11/2007
I have started using the ProMag cantilever mount with pretty good results. $49.99 at
www.talonarms.com
Where are the best deals on Sightmark / tacpoints or other optics?
The Equipment Exchage
You will find ARFCOM dealers who sell the Sightmark / Tacpoint as well as Aimpoints, EOTechs, ACOGS and other optic systems as well. You can also find deals on USED Aimpoints for not much more than a new Tacpoint would cost. It's your money. Spend it wisely.
UPDATE 12/11/2007
The Tacpoint is pretty much gone, so you will be looking at the Sightmark these days and you are better off for it.
Hey Strick, Why the FAQ?
Hopefully to stop the flame war and get some good info out. Feel free to post comments. Unless they are smart ass coments. Put those in an existing tacpoint thread full of BS already
New Questions for the FAQ
Hey, my Sightmark / tacpoint did not come with instructions. Is that right?
Yes, the box did not include instructions. But batteries WERE included! And a warranty card for the Sightmark.
Ok, but how do I sight it in?
First, the Sightmark / Tacpoint can be mounted with the adj knobs on the top and the left side, or the top and the right side. Whichever method you use, the top will be for elevation and the side will be for windage. Most users will mount the Tpoint with the knobs on the top and the right side. I have found that the adj clicks are about 1/4" at 50 yards. YMMV
UPDATED QUESTIONS FOR 2008
I see a bunch of posts for even cheaper clones on Ebay. What about those?
Everything I have seen has been total crap. I know some people are posting that they are great, but I have to wonder how much experiance they have with the real deal. Also, these dealers are not US based (they are in China) and if you have a warranty issue you have to ship it back to China! Some them only have 7 day warranties!
You can buy a Sightmark for around $100 and a co-witness mount for $50 and at least get something from a US based ARFCOM dealer and the product warranty issues are handled here in the US (Texas to be exact). Also, the Sightmark has a Limited Lifetime Warranty and you will handle that through people who speak english. If that is not worth the price difference, I don't know anything that can convince you. Go ahead, buy a no name clone from Ebay and see what kind of service you get if you have a problem. Besides, If you buy anything from the gun bigots at Ebay you deserve a kick in the ass.
So does anybody have a deal on the Sightmark and a mount?
Call on
TalonArms.com
They have package deals under MAP.
Not only is that Rob guy over there incredibly cool, he knows a lot about hooking you up with the best tools for the job.