Class: Tactical First Aid and "System Collapse" Medicine
Instructor: Greg Ellifritz (Active Response Training)
Location: Grove City Karate
Date: 15 Jan 2012
I found out about this class a few weeks and made contact with Greg to get signed up. My medical experience is pretty limited and other than the normal Red Cross type stuff was solely centered around multiple Combat Lifesaver courses through the military and a couple of other TCCC based classes. Tactical medicine is always something that has interested me so I jumped at the chance to attend.
The class description was as follows:
"This hands-on class will develop proficiency in basic battlefield medical techniques utilizing the military's latest "Tactical Combat Casualty Care III" protocols.

Students will learn to stop traumatic bleeding from gunshot and knife wounds using the latest pressure bandages, tourniquets, and hemostatic agents. Self care and care under fire will also be addressed.

Students will also learn simple patient assessment techniques, how to treat a sucking chest would and tension pneumothorax as well as field fracture immobilization and expedient c-spine immobilization. Options for assuring clear airways (including improvised surgical airways) will be practiced.

In addition, students will learn how to treat themselves and families in the event of a long-term breakdown in our current medical system. Wound cleaning and disinfection under field conditions, injection of local anesthesia and would closure (including minor suturing) will be practiced in our "trauma lab". If time permits, students will integrate all of these skills in several practical scenarios.

Information about what types of drugs to stockpile for natural disasters or a collapse in the health care system will be discussed, along with methods for legally acquiring those pharmaceuticals. The instructor will also discuss what items should be included in a comprehensive medical kit and how to improvise those items in an austere environment."
I will be honest here and say that I was a little hesitant in believing it would be possible to fit all of this info into a single day without simply brushing over them or skipping any practical exercises or hands on time. I would later be proven wrong on that assumption.
A little bit of info on Greg Ellifritz. He has been a police officer for 16 years working several special assignments and is currently the training officer for his 57 officer agency. He holds over 75 instructor and armorer certifications and has attended training with most of the leading firearms and edged weapons instructors in the industry. He is an instructor at TDI and the Ohio Peace Officer's Training Academy. That is a long winded way of saying he not only knows a couple of things but he is also capable of teaching them to others.
Add to that he has over 100 adventure trips to 30 countries, most of which have questionable medical care. This helps bring about a side of medical care that is not solely centered on battlefield injuries or situations here stateside where you can simply package someone up and deliver them to a hospital down the road. His depth of medical knowledge was simply amazing.
The class started out at 0900 with some brief introductions to get a feel for everyone's background and experience level. Students ranged from outdoorsmen, paramedics, military veterans with overseas deployments, police officers, martial arts instructors and regular Joes.
The class then started with care for the top three preventable battlefield deaths. We started out with controlling bleeding from various wounds.
This started with a couple of different direct pressure methods using our hands that I had not previously seen. While discussing the merits of the various bandages in current usage, Greg also made sure to bring up other alternatives to help stock your kit. He also showed various methods for improvising when you either don't have a kit on hand or simply run out during a large scale event.
While covering Israeli bandages and their use he showed a technique different than I had previously been exposed to. Instead of running the bandage through the bar on the first wrap he ran it over the bar and then back around under. He then ran it through the bar and back around the other way. This method ensures proper application under stressful situations or on large and irregularly shaped wounds.
We then moved on to purpose made and improvised tourniquets. While we have all seen the "Boy Scout" method of using a piece of fabric and an improvised windlass, Greg brought up a little tip that was eloquently simply. After a student used a flashlight to tighten the tourniquet someone mentioned it was hard to tie it off to secure it. Greg took a carbineer from a student's keys and showed how to use it to lock the windlass in place.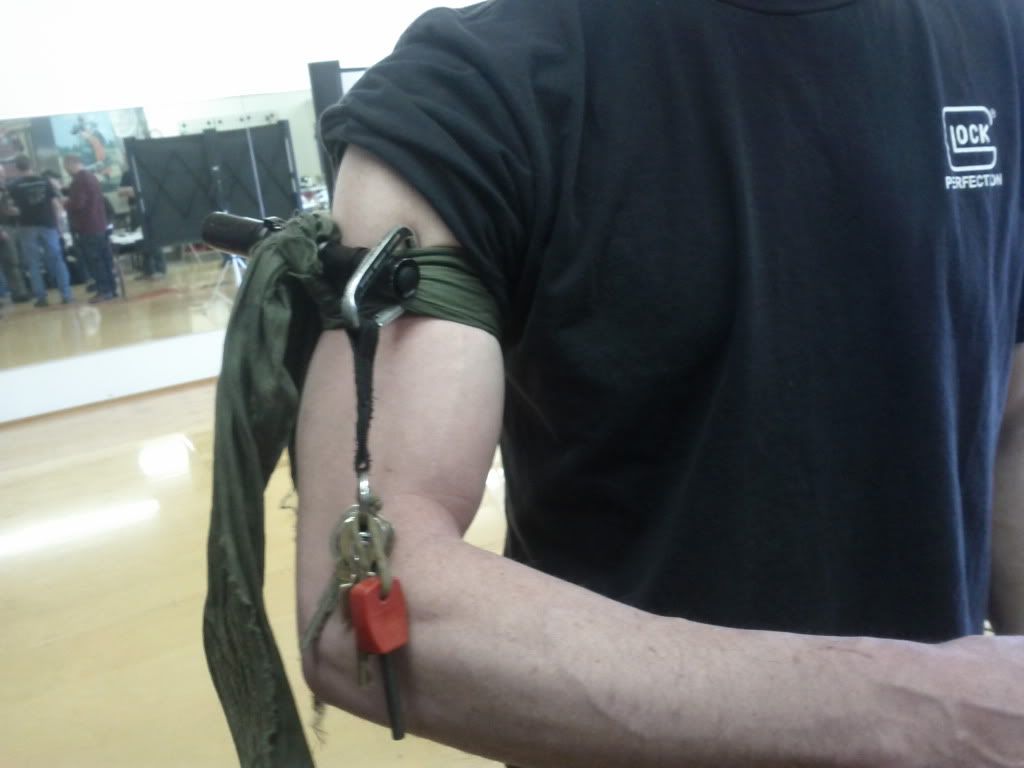 Another aspect of care I have never been taught was how to transition to a different bandage if you are not able to get to a higher level of care to have the tourniquet removed within 6 hours.
After everyone had a chance to apply various bandages and tourniquets to themselves and their partner we moved onto care for a sucking chest wound and tension pneumothorax. After covering various purpose built occlusive dressing Greg then touched on other improvised solutions. We then moved on to needle chest decompression.
Next up was a block on airway management. This included various way to position the patient, nasopharyngeal and oral airways and finally a crash course on various emergency cricothyrotomy methods that included using everything from true medical equipment to pocket knives and even things you can carry onto an airplane.
At this point we moved away from the battlefield medicine segment and moved onto wound cleaning. He discussed various improvised methods to clean out a wound if a facet or syringes are not available. This was when his experience with wilderness survival medicine really started to show through.
After various methods of cleaning and the pros of cons of various things such as peroxide, iodine and alcohol were discussed we move onto to wound closure. We talked about what types of wounds should not be closed and instead just cleaned and covered.
Wound closure started out with Greg's preferred method which is Steri Strips. He went into detail of other products that can be used to aid in this use and ways to waterproof them. He related numerous stories in which he used these techniques while in saltwater environments.
From there we went into various methods and products for gluing wounds. These ranged from Krazy Glue to purpose made tissue glue to other alternatives.
Next up was suturing. Greg started out the class by saying he would show us other methods that would make us wonder why we learned to suture in the first place.
After going over various improvised ways to numb the area as well as the pros and cons of different types of Lidocaine we got to practice our sewing skills on something to replicate skin before moving onto a piece of chicken so we could get a feel of skin over muscle. He also touched on warning signs for infection afterward.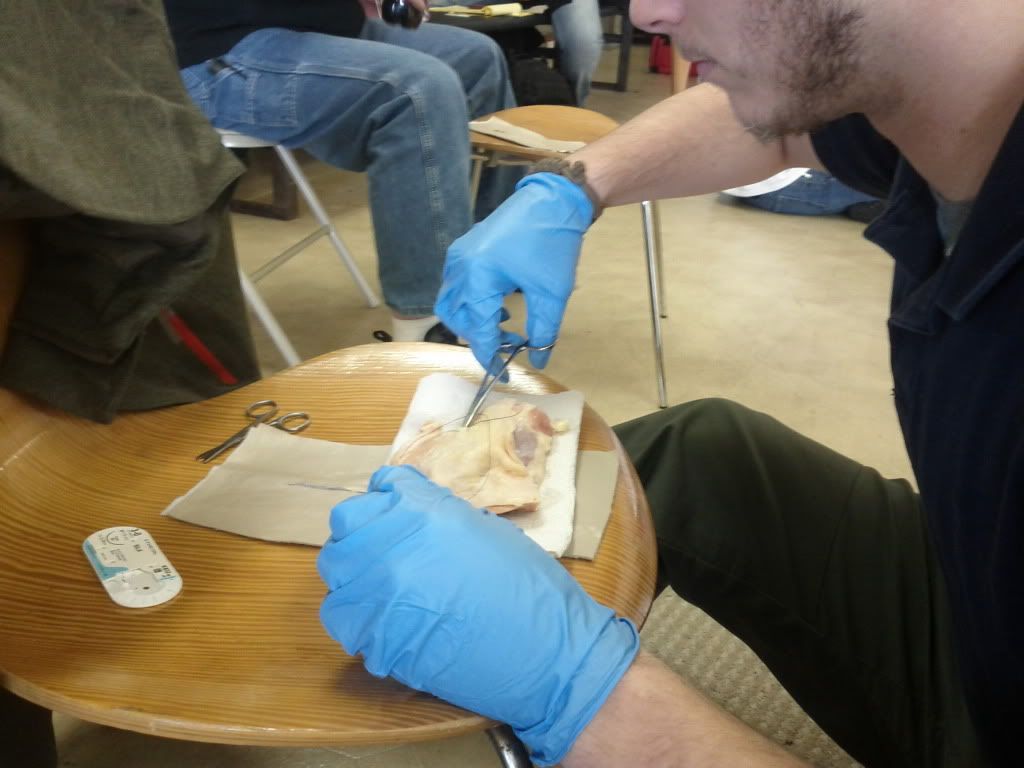 After we were all comfortable with being able to suture a wound he then showed us a surgical skin stapler that was so easy to use that we all in fact did wonder why we wanted to learn how to suture in the first place. I am placing my order for a stapler and remover to put in my kit as soon as I am done typing this.
We wrapped up the class with a block on various medications that are useful to keep on hand not only in the home but also for traveling abroad or if you are worried about a grid collapse scenario. This also covered various ways to acquire the medications and how they interact with one another.
The class ended with us receiving several parting gifts that included things like triangular bandages, syringes and needles. The biggie though was a disc that Greg put together for us. It contains literally hundreds of medical resources and was worth the price of admission alone.
I had a great time and took several things away from this class ranging from different methods to apply an Izzy to some plants that have medicinal qualities and long term medical care. It was amazing how much information Greg was able to pack into a single day. That said I would love to see Greg do a two or even three day course. I would also like to do a class based around wilderness survival as he is obviously a wealth of knowledge on the subject.
I would highly recommend this class to anyone ranging from trigger pullers to outdoorsmen to folks just wanting to know how to deal with various wounds and illnesses.