With all the crap going on the last few days, I still found a tractor with a front loader that I liked.
It's an International 656 - 60+ HP diesel with a 6 ft bucketed front loader. Looks to be in fairly good shape, new paint, no blow by, no leaks on the hydraulics, 3pt works good, a live pto, power steering, 6 ft brush hog, and weighs 7000 lbs.Unknown number of hours but the motor sounded good and started fairly easily. Ain't nobody gonna steal that big sucker without a BIG RIG!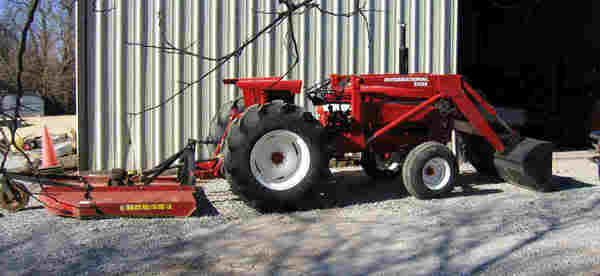 It's $6200, about $11,000 cheaper than a 3200 lb 40 hp 4WD New Holland with front loader I looked at today. It also had a 6 ft brush hog, 6 ft box blade, not trailer, and only 500 hours. Hell, a brand new 30 hp 4WD New Holland with box blade, front loader, brush hog, (all 5 ft implements) with a trailer would have run $16, 500 to $17000.
Now I have to find a 8 to 12 ft disc, 150 to 300 gal spray rig, and a seed drill. I'll get my pasture looking good yet. I wonder how many deer 10 to 15 acres of vetch and rye will bring in next fall!
I might plant a couple of acres of hay grazer too. Maybe clover down the fence lines.
I think the vetch and rye is probably the best way to go.
I took momma out to see her new tractor.
Of course she was thrilled.