I have a stainless Encore package for sale. It has hardwoods camo forends and buttsock. I will also include a set of black synthetic grip pistol grip stocks. The rifle has a 25/06 26" stainless heavy barrel and a stainless 209x50 muzzleloader barrel. Both are in great condition, having been shot very little. Both have barrell/frame rub marks (Standard TC rubbing) and a few handling marks. Both barrels have silver Leupold rings and bases. The 25/06 has a silver VX1 3x9 scope, while the muzzleloader has both the factory rifle sights and a silver Leupold VX1 2x7 heavy duplex scope. I will seperate the scopes from the package if you wish. The price is for the entire package shipped to your FFL... $1050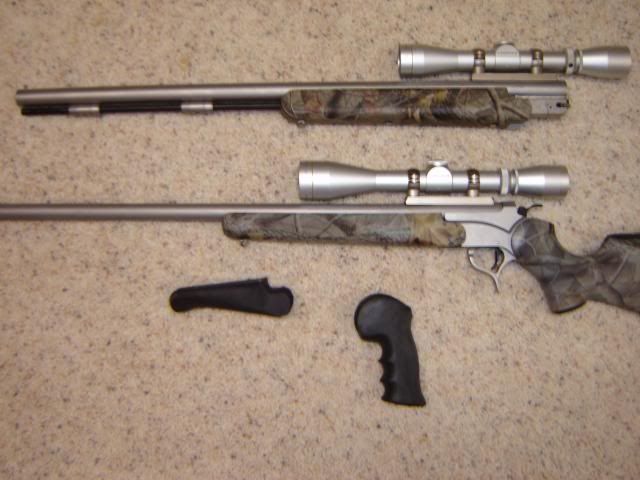 The frame and pistol grip/forend are sold the rest still is still available... Here is the price list:
Scopes $200 each (3x9 is sold)
Bases and rings $40 one sold still have one set left
25-06 barrel $200 Sold...
209x50 barrel w/ a black synthetic forend $210
Frame (great trigger) $225 Sold
Camo stock set (3 pieces) $125