THE MAGLITE 2 "C" SIZE
BLACK BEAR PRESENTS
THE BEAR CUB
181 LUMENS FOR ONE HOUR AND A HALF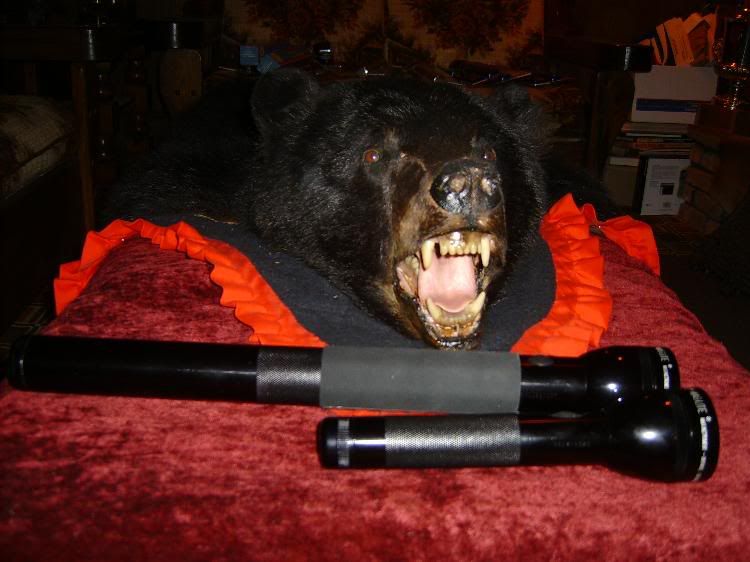 Not long ago Mag come out with his XENON MAGNUM STAR for the 5 cells flashlight.
That lamp gives the regular Maglite 5 D cells from the Krypton bulb 119 lumens a WOOPING jump to 181 lumens!!!
NOW, I HAVE ADAPTED THIS BULB (That is available anywhere) to work in the smaller of the light that Maglite made,
I can get the same voltage than the 5 D cells provide this bulb, just by going to the lightweight LITHIUM IONS batteries that I use in this new light.
Both lights perform the same in throw and intensity, but the BEAR CUB produces a much flatter rate of discharge and the light is constant bright thru the run time.
If you need more than the one hour and a half of runtime in the field, you can carry two of the LITHIUM ION RECHARGEABLE BATTERIES.
No battery carriers to deal with, you just drop two batteries down the tube like recharging a regular flashlight.
AND IT IS RECHARGEABLE, SO FREE TO RUN AS LONG AS YOU WANT.
$120.00 SHIPPED.
The throw of the new BEAR CUB is much longer than the Surefire C-3 (200 lumens, with the P-91 lamp, 20 minutes run time and $6.00 in batteries every 20 minutes)
THIS LIGHT IS PROVIDED WITH HIS OWN LITHIUM ION CHARGER, AND IS COMPLETLY TURN KEY READY TO USE
IF YOU NEED MORE INFORMATION ABOUT MY NEW BEAR CUB, OR ANY OF MY OTHERS LIGHTS PLEASE P.M. ME HERE OR E-MAIL ME AT:
jcharles11784(at)yahoo(dot)com
Bes­t regards
black bear