BLACK BEAR 678 LUMENS
I HAVE A FEW UNITS READY TO SHIP OF THE BLACK BEAR 678 LUMENS 10 INCHES LONG FLASHLIGHT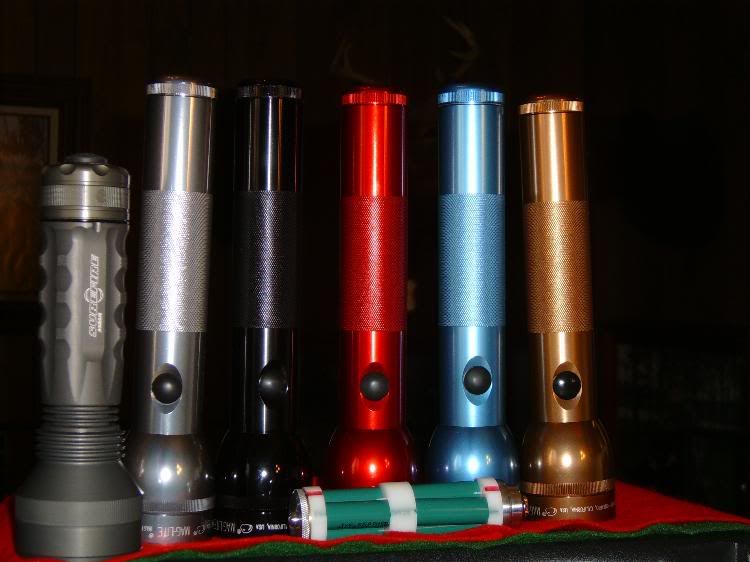 MANY OF MY CUSTOMERS HAVE FOUND THE 10 INCHES LENGHT IDEAL TO KEEP IN THE GLOVE COMPARTMENT
THEY COME STANDARD WITH THE ROLLS ROYCE BATTERY CARRIER AND THE MODIFIED SWITCH BI-PIN CERAMIC HOLDER.
The Rolls Royce battery carrier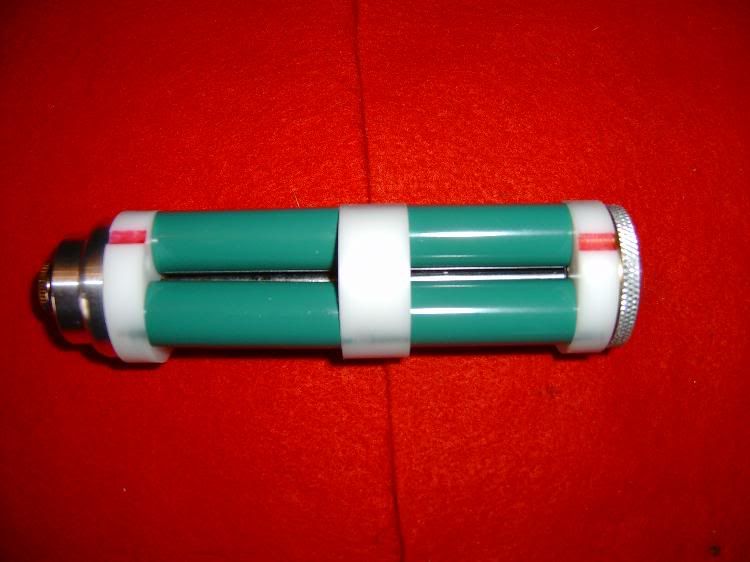 The new modified switch on right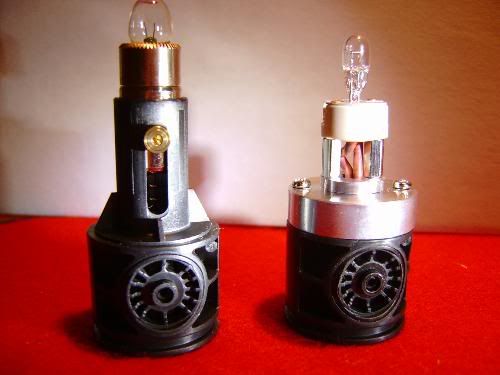 The few units I have ready are available in Black, Copper, Red, Pewter, and Splash blue.
WHAT IS A BLACK BEAR 678 LUMENS?
it is a modified Maglite 2 D (10 inches long) of which only the shell is left standard. New heavy walled aluminum parabolic reflector on your choice of smooth, orange Peel or stippled. (for a quality beam)
Modified switch with high temperature socket for the bi -pin superbulbs.
The Rolls Royce, the best battery carrier of them all.
The six Nimhs Sanyos HR 3 U the BEST Nimhs rechargeable batteries.
Pyrex lens.
Gold Pro treatment.
Spare Superbulb.
WHAT IT DOES:
WILL BEAT THE SUREFIRE M-6 (ALSO IN PICTURE) BY 178 LUMENS
(The M-6 six runs on six batteries for 20 minutes at a cost of $9.98 per 20 minutes)
The BLACK BEAR is rechargeable and will run for FREE.
PRICE: $250.00 shipped Priority Mail Insured.
CHARGERS,
YOU CAN USE YOUR OWN CAMERA BATTERY OR:
I offer three different chargers,
The Vanson charger with capacity for 10 cells, 12 hours charger. $35.00
The RC charger, will charge the Rolls Royce without taking the batteries out in one hour and a half
Price is $48.00
The MAHA 777 plus II, another charger that will plug into the rear of the Rolls Royce and will charge it in 3 hours, it also will charge Lithium Ion, Ni Cads, Nimhs chemistries and ANY batteries, phones, camcorders, two way radios etc.
It can also be used in the car
Price is $85.00
Here is a picture of it:
The Vanson 10 bay charger will work very good for civilians if they are not in a rush, it takes 12 hours.
I offer the others two chargers because so many of my customers are Police Officers that use my light on duty, and can not wait 12 hours to have the torch charged.
Please P. M. me here for more information or
E-mail me at:
jcharles11784(at)yahoo(dot)com
Bes­t regards
black bear
P/S:
TEKNIC IS SELLING HERE IN THIS FORUM MY MAG 951 GENERATION II AT A SPECIAL INTRODUCTORY PRICE, GET THE MAG 951 II FROM HIM WITH CONFIDENCE.
I AM BACKING MY LIGHTS 100 %