Item 1)
- Like New: Wilson Diamond Grips (Kingwood) for Officers Model or similiar sized framed gun. Pre-cut for Ambi Safety. Came off my Kimber Ultra Carry. Beautiful wood with Wilson badge.
Wilson sells them for $59.99 plus shipping.
I'll sell for 40 bucks shipped ConUS.
Item 2)
- NEW IN PACKAGE (never used): Navidrex Slim Grips (Mahogony) fully checkered. These are ultra slim design and perfect for concealment. Beautiful grain. I paid $17.99 for them (sale price). Please note: They will require Thin Grip Screws and Bushings, which I have NEW and UNUSED in S/S. They are allen wrench design and come with the tool in the unopened package. Brownells sells the s/b kit for $13.34. This set is for Officers Model framed guns.
Total price for the complete set is $31.33 plus shipping.
I'll sell for 25 bucks shipped ConUS.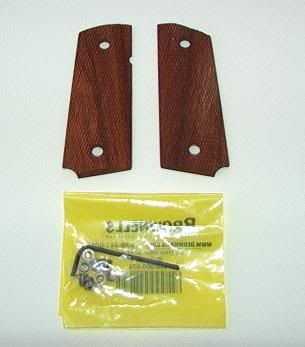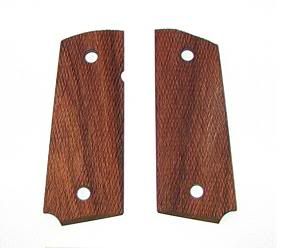 Item 3)
- Like New: Zeiss Shooting Glasses with Vermillion tinted lenses. Comes in it's Zeiss Carrying Case ...WITH AN EXTRA SET of Polarized Gray lenses. The frame, lenses and carrying case are in pristine/new condition. They have the adjustable nose bridge . They retail for $99.99 and the polarized lenses retail for $35.00.
The total price is $134.99 plus shipping.

I'll sell the glasses with the extra set of lenses for $115.00 shipped ConUS.
For questions you can PM or email me at:los3088@yahoo.com
Thanks for looking.
- Jimmy