WTS/WTT in MN -
Glock 34 9mm w/ Trijicon front blade newly installed, factory adjustable rear, Hogue slip on grip, 3 17 rd. LE marked mags, box, mnaual, etc.
I received it in trade and the origianl owner had maybe 200 or so rounds through it based on internal wear. I have fired approximately 500 rds or Federal American Eagle total through it. No discernable holster wear. It is the one pictured here although it has the Trij. front and the M3X, Glock 19 and poncho liner are not included
.
I would do $520 shipped or $500 FTF in the Minneapolis metro area.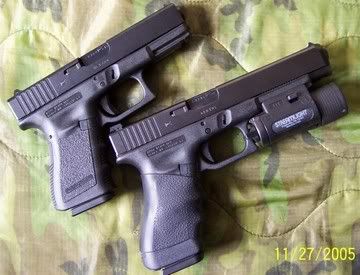 Trades I am looking for -
SIG P229 or P229R 9mm/.40 (no DAK)
HK USP 9mm/.40 prefer full size
Beretta Elite 1A, Elite II 9/.40
Email at matthewtstruck@hotmail.com