ACOG ta31 w/ Larue Lt100 mount $830.00
This baby is brand new. I got it Friday from a reputable dealer and shot it today (Saturday). I put about 200 rounds through the rifle with it mounted.
Both the scope and the mount come with everything that would come from the factory. The mount is the latest edition with the two QD levers one of which has a locking snap.
I'll try to get some pics up tonight but for now take my word for it they are in new condition.
Due to the price I will not be accepting paypal on this item unless you want to pay a huge fee. Shipping is 6.00.
Looking for aimpoont compm2/ml2 or an eotech rev f.
CLICKABLE PICS: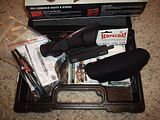 Email me IMechura@netscape.net
Thanks for looking,
Ian