Christmas for me! I need 2 pouches, one for a Pilot...please put a small d-ring on the "top" of the flap, so I can wear it on a lanyard around my neck, and it will hang straight down.
The second is for an SWR Omega 30, please set it up like the one you made for my M4-2000, d-rings on the back, and put a thread protector storage pouch on it, if you would.
Dittos on the blast shield, absolutely the best buy for an AR...suppressed or not!
p.s., olive drab on both.
Thanks, send me the total, I'll get a check coming!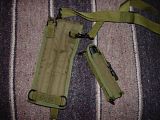 Just in case you didn't remember...btw, the shoulder rig is handy as can be with the P22.