I am posting this under general discussion because I have replies all over the board from people waiting for this new LULA and figured this would be the best way to get word out to all who have inquired,
I apologize to any who are offended by me posting this here, but I thought it would be best to place to get the word out to all who have been waiting for info.
Initial supplies will be limited and if you want to get in on the first batch you can preorder with paypal and you will be shipped as soon as they come in from Israel and not be left waiting.
Pay pal is: dennysguns@aol.com
Price for now is same as the AR15 lula. $22.95 + $3 shipping.
Patent is done so I can post pics when I get home.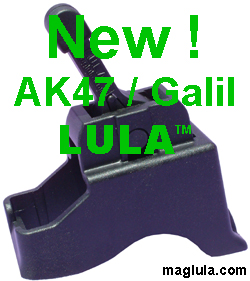 Testing Results 7/28/2003
Testing Results
I spent most of Monday loading and unloading various AK magazines. Here is what I found.
The AK LULA works just as well as the AR15 LULA.
It worked on every variant of AK 7.63 X 39 magazine I tried it on. These included steel Chinese, Russian, Yugoslavian, Hungarian etc. As to the plastic variants it worked perfectly on all that were tried these included Chinese red, Russian orange, Bulgarian, Romanian, all the Waffle mags we had from various countires. All flawless in 7.62 X 39.
The AK .223's I had were the Orange ones and I beleive they were converted 5.45 mags. Also tested on Bulgarian Black Waffle .223 and worked excellent.
In .223 the AK LULA worked perfectly on Israeli Galil steel, Orlites, and South African Plastic mags.
A short disclaimer before I delve into 5.45 X 39.
This loader is designed to work with all variants of the 7.62 X 39 magazine for the AK as well as the .223 Galil. I test the AK74 LULA on Bulgarian Waffle 5.45X39 mags and Russian/E. German orange pnenolic mags and it worked perfectly. We do not guarantee it to work on all AK 74 mags.
All in all with all the variants of magazines for the AK and the numerous countries of origin it works perfectly. AK 74 owners may well want to give it a shot also.
We are doing some slight mods to the mold and the instruction sheets and bar codes are being printed and full production will commence in about two weeks.
Link to AK FORUMS THREAD ON THE AK LULA
www.ar15.com/forums/topic.html?b=4&f=64&t=56964&page=1
Denny
All the best,
Denny