D.C.'s got it.
I started with a bare bones Mil Spec 1911. Won a couple of matches, saved some money and bam, got it built into now my carry gun/IDPA/L-10 gun. Did a little better, practiced more, saved more money and bought my first hi-cap, an Entreprise Arms in .40. That was a sweet pistol (that I never should have sold).
I sold it when I switched to Open Division where I happily run this:
Rusty Kidd 5" Viper in .38 Super. Thank goodness for sponsors, but the money that I did have to pay for this was well worth it.
After a couple of years of shooting Open and doing pretty well at it, I wanted to play in Limited and picked up: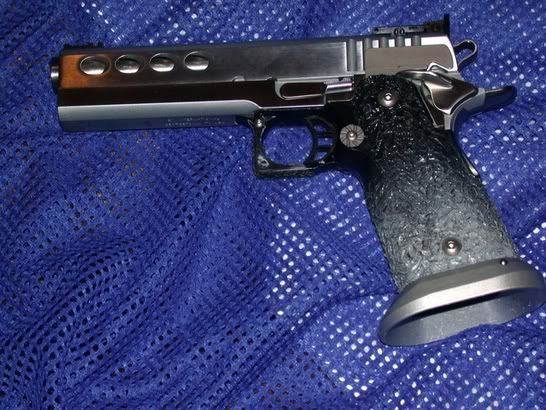 Brazos Custom Pro Series Limited in .40 S&W. Again, thank goodness for sponsors. I really wish I had a picture of the other side, but my father took them for me, since I'm in Korea (3 more months to go and back to the real Army!!!).
USPSA/IPSC is what you put into it and most of all what you want to get out of it. If you want to compete hard and travel all over your state, area, region, the country or the world, we can accomodate. If you want to hang out with the fellas and shoot, we can handle that happily too. The big thing is DO NOT GET DISCOURAGED OR INTIMIDATED by shooters that are running the "top fuel dragsters" of pistols (Open Division) with compensated, laser optics and 29 round magazines against your box stock 1911. I've been there. Heck, when my first 1911 was getting worked on, I shot a Taurus PT100, fixed sights against a Grandmaster Open shooter in a man-on-man shoot-off. Result? I got the crap kicked out of me, but it was still fun.
Cruise around
BrianEnos.com
and you will learn everything you could ever want to know.
Good luck!!!
SPC Richard A. White, Senior Medic
249th MP Detachment (EACF)
Camp Humphreys, ROK