I have two Italian-made 9mm Compacts: a 92F Compact (13-round mag) and 92F Compact Type M (eight-round mag).
The middle gun in this photo is my Type M. The other guns are my Beretta 92G Vertec (Top) and Kahr P45 (Bottom).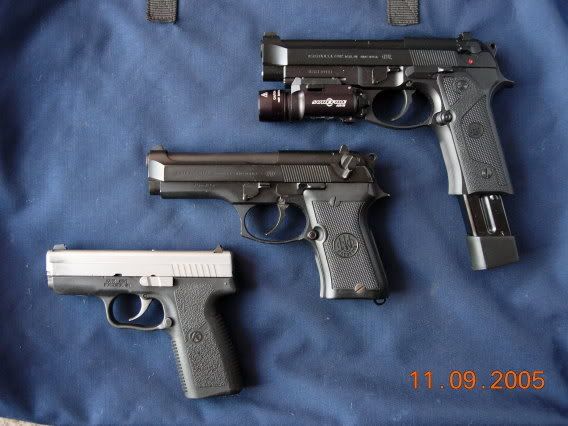 The Compacts came in 9mm (92 series) and .40 S&W (96 series).
The Compact line (which also includes at least a 92D which is a slick-slide DAO; not sure if there were any 92G which is a TDA gun with a decocker only) has been discontinued by Beretta which is very frustrating. Beretta has no more 9mm or .40 S&W compact guns. Only .380 ACP and smaller compacts. Beretta is shooting themselves in the foot due to this since people out there want compact guns firing at least .38 Special or 9mm cartridges. Beretta also canned their excellent 80XX Mini Cougar line and the equally compact 8000F Cougar Type L.
Beretta is supposed to come out with a compact version of their Px4.....maybe.
Until then, if you can secure yourself a 92 or 96 Compact.....get it. They are excellent guns, excellent shooters, and have developed somewhat of a cult following among Beretta fans....especially the Type M.