The ears or bosses on the bolt catch are pretty sturdy. The concern with that roll pin is the punch slipping more than breaking the bosses. It is a 3/32 punch and yes, the slab side punch made for installing it and removing it is very useful. Well worth the $15 (or $11 w/discount) at Brownells.
Breaking the ears on the trigger guard is more common. Supporting the underside and
keeping the trigger guard in place
while tapping the roll pin is a good way to prevent breaking. There are a lot of methods. One is to use a 1/2" thick piece of wood and slide it under the guard area. Here is a picture of a piece of plastic that is similar to using wood. This block self aligns and has holes under the roll pin that you can't see for removing the roll pin.
Without a grip installed: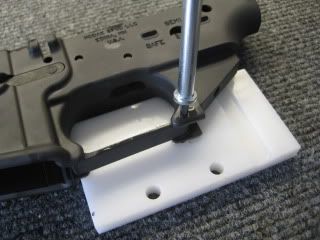 With a grip installed:
You might find protected vise grips or a c-clamp easier for the trigger guard, but they don't work as well on the bolt catch.