I have finished the build pictured below except for the Optics: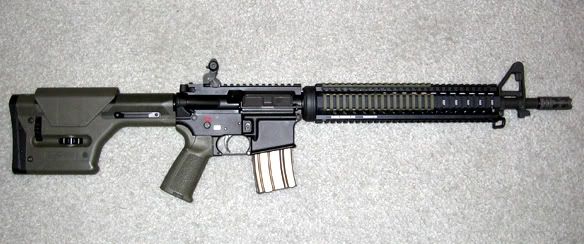 It's got the Magpul PRS and the YHM flip-up rear sight (which measures .840 inches above the flat-top when folded down).
The Magpul PRS' cheek riser sits far enough back to allow for the charging handle of the AR to be pulled back no matter if the riser is up, or all the way down - which means you have to have your head back a bit to use the riser.
That being the case, I read on Trijicon's website that the TA01NSN has an eye-releif of 1.5"....That seems like the first 'challenge' with regards to using an ACOG with my rifle.
The second challenge would be the ACOG clearing the height of my Yankee Hill flip-up rear sight using the 'standard' flat-top mount that comes with it. Can anyone speak to that ?
Thanks in advance for any help.