(I think this is what they are saying - Spec and Frog, correct me if it's wrong, please)
The 16"/.22 appears shorter than a 16"/.223. This distance is seen in the area between the FSB and the flash hider, which is important to your project. The barrel showing beyond the FSB (including FH threads) on a 16"/.223 is 6 5/8". It is 5 3/4" on a 16"/.22. A 7/8" difference. This is long enough to make an XM177E2 .22 visually replicate the original. The area of concern is the distance between the FSB and rear of the moderator. On an 11.5" barrel this was about 1 1/2". When you put a moderator on it comes up legally short, so most people increase that measurement to 2"or more making the barrel 12" or longer. Although it looks good, it is still off when compared to the original. I think this it what you are asking.
I set up some pictures for you to give you an idea. Also note that the 16" OAL inludes the threads hidden by the FH. They go to about the middle ring in front of the wrench flats.
This is where the moderator would sit on an 11.5"/.223 barrel compared to the 16"/.223 barrel it's sitting next to. It is too short. (DD 16" M4 carbine barrel/Brick Moderator/Ring)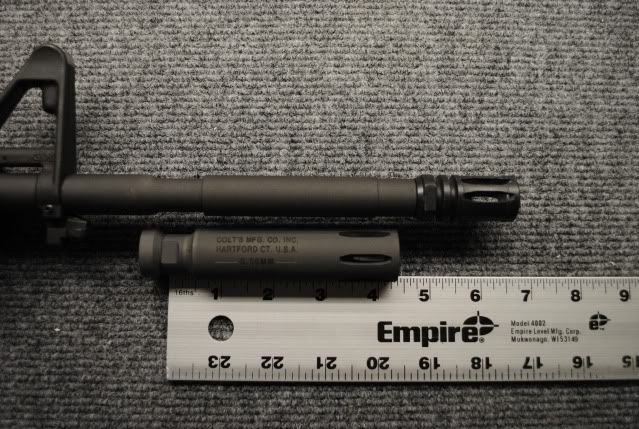 This is the proper placement (1.5" in front of the FSB like above) compared to a 16".22 barrel. It is plenty long enough and will come out about 1/8" over the 16" legal length. Even longer with the 1/8" of grenade ring spacing. (Tac Sol 16" Carbine barrel/Brick Moderator)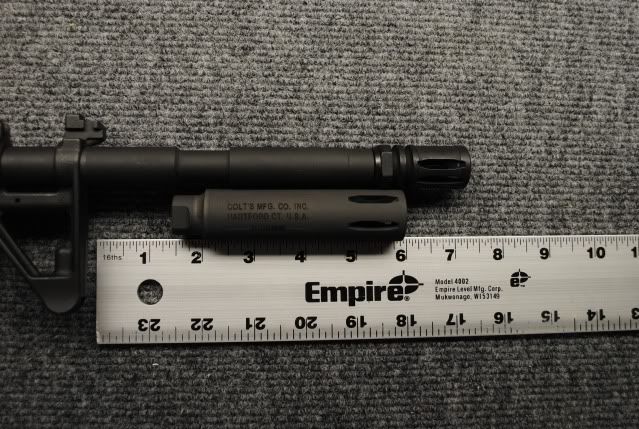 Of course the above are nominal measurements only to show it works. I'd recommend sending it to Heatnbeat since he would understand what you want and can make sure the measurements come out right. He may be able to turn the exposed barrel profile down to .625, too.